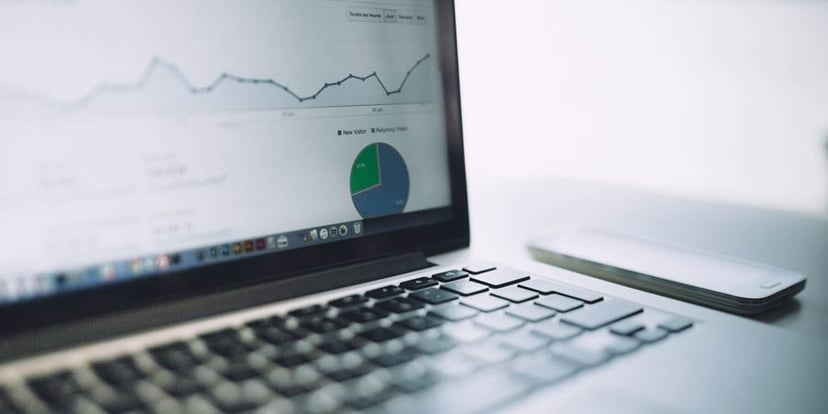 As a business-to-business marketer you face a range of challenges on a daily basis—managing budgets, developing content, planning for trade shows, updating web pages, reviewing data, dodging cold calls, trying to finding ways to generate good leads for your sales team…and on and on.
Somewhere among that long list of tasks, you should take time to evaluate what your analytics are telling you about your marketing strategy. Often, analytics provide highly indicative signals that you should change course on your marketing plans. And these days, for B2B marketers, a better fit is in inbound marketing.
While there are variety of ways to go about assessing how well inbound marketing fits your business, one way is to take a look at your current website analytics, which provide understanding into how visitors use your site, how they get there, and what efforts you can make to get them to come back. In addition the data tell you what parts of your website are performing well, and how you may be able to improve them.
But I Don't Have Any Website Analytics…
Whether it's due to inheriting an out-of-date site or budget/staff limitations this is a problem all unto itself—but not too uncommon for smaller businesses in industrial manufacturing and other B2B sectors. It's been said that you can't manage what you can't measure—so it may just be time to update your overall approach and make the leap to inbound marketing so that you know when and how your marketing efforts are working.
I Have Analytics, But I Don't Have Time/Don't Know What I'm Looking At
If you don't have the time or know-how to review your analytics, then they're obviously not helping you make educated decisions about your marketing efforts. Again, this is a problem unto itself and all the more reason to consider moving your marketing approach to one that is inbound and operates on inbound marketing platform. Such platforms offer analytics dashboards and reports that are easy to access and understand, and can help you keep track of data from a customer's first interaction forward.
I Have Analytics
While not a comprehensive list, some of the important areas of website analytics to look at to determine if inbound may be a good fit for you include:
Traffic
Your traffic-focused numbers (visits) provide some good insight into the appeal of your content overall as well as seeing where your traffic came from (social, direct, referral, mobile, desktop, etc.) and how they engaged with your site. Having a good handle on your traffic is essential to know what parts of your web marketing efforts successful or failures. If your traffic is consistently low or is erratic, it's time to look at the volume of content on your site (a contributing factor to being found on SERPs) and how you can change it up to better meet the needs of your visitors. Inbound might be the approach you need to make these improvements.
Conversions
Conversion analytics will show you whether is truly meeting the needs of the visitors/traffic that arrives to your website. If the percent of visitors converting is high, then the content of your web pages and landing pages is meeting their needs. If not there are issues to work out. In addition to the conversion percentage, you'll want to know from the conversions are coming to understand whether certain traffic sources converting poorly, etc. Also keep in mind that most analytics platforms only give credit to the last channel someone used to access your site before converting.
While the conversion numbers are great to look at – whether or not you are using an inbound marketing approach—an inbound platform will enable you to see into the conversions on a deeper level. That is, you'll be able to easily see who converted on what pages / offers and, as a result, will be able to directly nurture those contacts on an ongoing basis. For manufacturing businesses with long sales cycles, the ability to do this is particularly important.
Campaigns
If you've used a URL Building tool to setup and track campaigns, you have data on the range of marketing campaigns that you've set up to see how they performed: which campaign elements generated the most revenue each quarter, how email campaign A performed against email campaign B, etc. Depending on how many campaigns you have, the process of gathering and compiling the data could become a full time venture – something you may not be able to manage. In this situation an inbound platform can make campaign setup and analysis a significantly easier process.
Goals
If you've set up goals in your analytics package, you can track leads, but the data are more aggregate and you aren't readily able to see how specific individuals interacted throughout your campaigns. If you're okay with the aggregate approach, then you're good. However, if you would like to track how individuals interact with campaign content and be able to nurture them, then you ought to move to an inbound approach and platform.
Site Search
If your Google Analytics account is connected to your internal site search, you'll know every keyword people search on your site. This will tell you what might be missing and/or what they are having issues locating on your site. If the search volume is consistently high, then you've got site and content issues to resolve. While these issues could be addressed using a non-inbound approach, they could be just as equally or better addressed through an inbound approach that uses this data to create more targeted page content and offers.
Provided you have them and know how to set them up, your analytics definitely provide insights into your site's performance. But if you're looking to take the next steps from that report data and be able to close the loop in terms of measuring your marketing efforts (and the investment you make in it) an inbound marketing approach will help get you there.