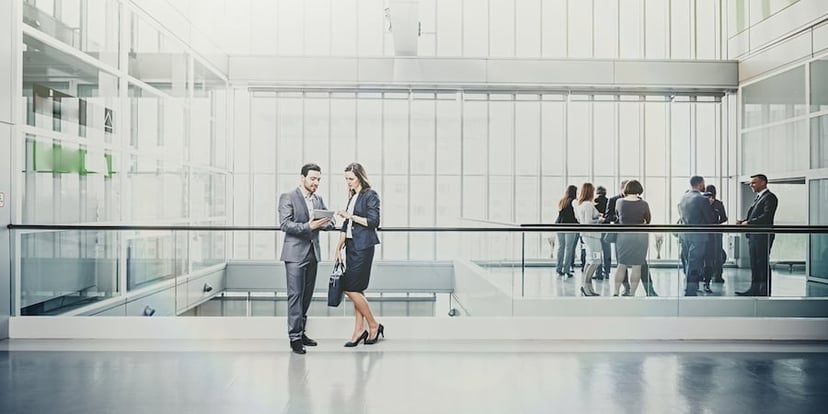 I spent 8 years—the majority of my career—at a large corporation and got to know what works in project management and what allows tasks to fall through the cracks. Creating and following an over-arching process for projects big and small is vital to project success. When you are working hard to create meaningful content that resonates with your audience, designing specific processes will ensure that timelines are met, teams are informed and results are delivered. Inbound marketers should formalize and streamline their process by borrowing these tactics from corporate project management.
Develop a Standard Operating Procedure
Having a standard operating procedure (SOP) is important for creating efficient, quality, consistent performance and reducing miscommunication. Setting up an SOP takes work on the front end—you will need to collaborate with everyone involved in order to establish the guidelines & document the process, but ultimately, it will save so much time once it is established.
An SOP will also make onboarding new employees easier and get them working independently, faster. It will ensure that as your amount of work grows, it continues to stay manageable, keeping projects organized instead of turning in to massive chaos.
Choose an Intelligent Project Management Tool
When executing inbound marketing plans, you will need a project management tool to keep various tasks on track. Managing multiple editorial calendars, social media schedules, webpage development, etc. can be overwhelming if you aren't organized. A good program will make it easy to streamline processes, reassign tasks, adjust schedules, and communicate changes to partners within the project.
In my previous role, because I was handling 50-100+ different digital initiatives all happening at once and to manage and maintain that workload, it was essential to have templates for each project type. Utilizing a template can save time in creating schedules, assigning tasks and keeping repeating projects consistent.
Additionally, having a documented, detailed schedule for each project that is easy to reference will also assist the project manager in keeping the job moving on time. We all know that the scope of a project can change as it progresses, but having a reliable tool that keeps everyone on top of his or her tasks makes it easy to modify the milestones will help you to keep producing content efficiently.
Project Kickoffs
Part of your SOP should include project kickoffs. By having a formal kickoff for a project after you have applied at template and created a schedule, you are setting the expectations for the entire team that is involved and it forces you to get organized right from the beginning. A kickoff can be in person, through email or within a project management tool, as long as it:
Outlines key dates and deadlines
Assigns tasks and communicates job responsibilities
Provides all information available and necessary to get the project started.
By explaining the project scope and setting these expectations in advance, everyone is able to plan time for the project and know whom they are effecting if it starts to pull off of the schedule.
Plan for All Digital Formats
In my last project management role, I discovered the challenges of having digital elements work properly across all channels. This isn't something that just happens automatically! It takes extra time and effort to make sure every webpage, email and post is seamless across mobile, tablet and desktop.
Make sure that time is planned in to each project and that a task is assigned for someone to build and/or check each channel before going live. More recently, the trend has shifted from building for desktop and optimizing for mobile to the exact opposite – building for mobile right from the start! Fifty-one percent of the time adults spend with digital media is on a mobile device so it can't be emphasized enough that having a responsive content is necessary to communicate a clear, consistent message to your customer.
Build Your Content Process to Include Experts
I leaned on our brand experts for every type of project. These experts knew their brands inside and out and would contribute by making sure what is being put out to the consumer speaks the language of the ideal customer and inspires them to purchase.
When creating inbound content, reach out to your best subject matter experts (SMEs) to give your content depth and provide the most valuable information to your customer. Some topics are extremely complex and no one can tell the story better than the person who is in the thick of it, developing or implementing or perfecting that part of their business.
These people are gold mines of valuable information and passionate about what they do and that will come through and give you content that resonates. Use SME's within your industry that are willing and excited to share their knowledge to help you produce quality, useful content, appealing on a more intricate level directly to your detailed buyer personas.
Look for Ways to Streamline
A good project manager is always looking for ways to maximize effectiveness. Having hindsight meetings after a new or large project is complete to get weigh in from each stakeholder can help you to create efficiencies for the next time around and encourage your team members to embrace learning with each large project.
If a type of project is often running behind, evaluating each stage of the process may help identify what needs to change. When a repeating project is becoming old hat for the team that may be an opportunity to shorten the timeline.
Delighting your customer can often stem from evaluating what is and isn't working in your current process.
These are all great ways that you can improve your inbound marketing and the process surrounding each project you produce. While that is important, don't underestimate the value in having a great team that works well together.
Taking time to let your employees build relationships and get to know each other on a more personal level will keep them invested in the company and each other.
Plan time in the workday for fun activities. The result will be engaged employees that communicate well, have compassion for each other and passion for the business.