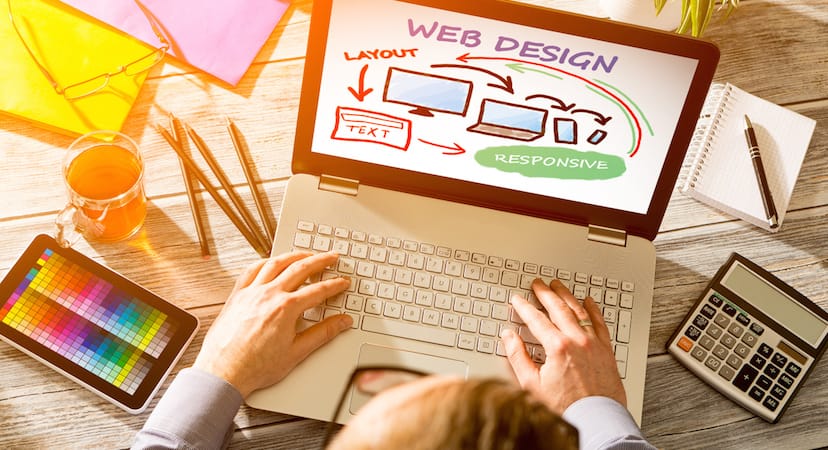 For businesses looking to redesign their website, Growth Driven Design (GDD) has been an increasingly attractive option, in large part due to what's known as a launchpad site. Traditionally, the website redesign process has involved a lot of front-end planning and strategizing, trying to get everything perfect before taking the new website live. The problem with this approach, however, is that it doesn't really leave much room for adjustments once the website is "done." You essentially develop your whole website around a certain look or concept, and there are no guarantees that visitors will respond positively once it launches.
Sounds kind of risky, right?
By taking a GDD approach, you place less emphasis on perfecting the website upfront, and instead focus on creating a minimally viable product - a.k.a. your launchpad site - that can easily be tweaked and adjusted as data becomes available about how users are interacting with it. This less rigid method results in much more efficient redesign, and typically costs between $20-30K—two to three times less than your average traditional redesign, as well as reducing the time it takes to actually launch the site.
Did that get your attention? If you're considering GDD for next website project, here are some different approaches you can use to take your launchpad site live, and some explanations about the various GDD terminology.
Your Launchpad Wish List & The 80/20 Rule
In the Strategy phase of the GDD process you determine the items you add to your wish list. A wish list is an ongoing list of items you wish to add to the site, not necessarily based on raw data but your knowledge of your buyer personas. A good rule of thumb to follow is the 80/20 rule, which reminds you to focus on the 20% of items that will produce 80% of the value and impact for visitors. These are the changes you'll want to prioritize when you start building your launchpad site.
3 Different Launchpad Methods
While every launchpad site starts with a wish list, there's really no "one-size-fits-all" solution to getting that launchpad site launched. In fact, there are several approaches you can use to build your launchpad site, which you can learn about in more detail on HubSpot's free GDD certification.
Refresh Method
If your website already performs well, or you recently relaunched your site but it needs a few tweaks the refresh method is the right fit for you. Rather than doing a complete overhaul, implement some of the major items from your wishlist that will get your current website aligned with your new strategy, and work from there.
Kick-Start Method
For businesses looking for an ultra-fast redesign, the kick-start method helps them build a brand-new site using pre-built assets, website templates, and already created content. This helps save valuable time and money, but it does have limitations based on what you're looking for. You can tailor your wish list around the templates, knowing what your site will potentially look like, but you're limited to what the templates offer.
Launch and Expand
For extremely large websites that are undergoing a big redesign, the launch and expand method is great for breaking that launch into various phases. Rather than having the whole launchpad done by a certain date, the project might be broken into 3 stages, focusing on a different area of the website each time. By compartmentalizing the process and keeping each area separate, you can more easily focus on the tasks at hand and work more efficiently. The key to this method, however, is knowing how many phases need to be completed before launching the launchpad site, and making sure each phase can be completed on-time.
No matter what method you end up using, the key to making a launchpad site work is getting a minimal viable product out there for your users then gather user data and feedback on its design. It doesn't matter if it's slightly flawed or imperfect; you'll eventually find those imperfections and smooth them out during your continuous improvement cycles. What really matters is getting your new website online ASAP, and not wasting time worrying about details that may not end up making a difference.
Want to learn more about GDD and what it takes to redesign your website? Stay tuned for more blogs in our GDD Series, and download our Growth Driven Design eBook.