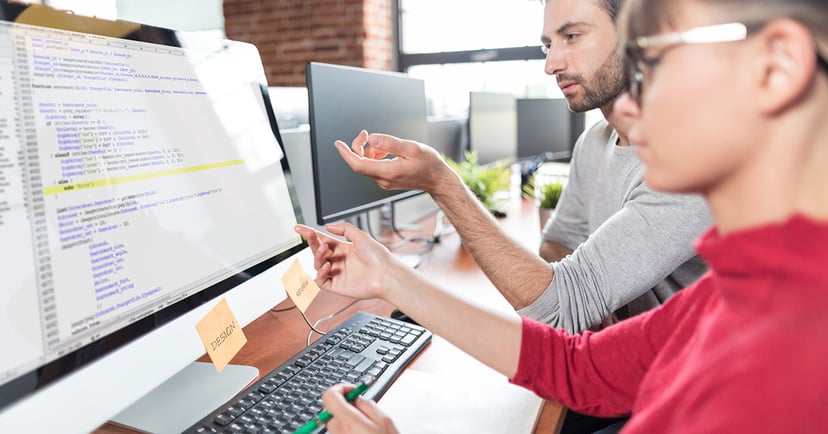 Any modern marketer worth their salt should be measuring and analyzing their efforts with real numbers, not just guesses. Down to the Tweet, you should know where leads are coming from. Of course, you're busy and can't spend all day analyzing results in real time. That's where UTM codes come in handy. These little snippets of code can turn good marketing analytics into excellent analytics.
What is a UTM Code?
First, what does "UTM" stand for? It's Urchin Tracking Module. Also called a "UTM parameter," a UTM code is a portion of text added to the end of a URL that enables you to track visits to that URL. These could be visits inspired by your social media posts, emails, pay-per-click campaigns — basically anytime you want to know where traffic is coming from. This is useful when you're testing what promotion methods work best and to track the performance of certain content pieces.
What Does a UTM Code Look Like?
Don't get intimidated by this long URL. Everything after that question mark is easily broken down into chunks.
http://yoururl.com/landingpage?utm_campaign=socialmedia &utm_medium=social&utm_source=twitterspan>
campaign=social media

– This identifies your campaign and organizes your analytics by placing different content in separate areas.

medium=social

– Identify the type of medium that you're featuring the link on. An example, other than social media, could be "email."

source=twitter

span> – Finally, identify the specific source where the link is featured; Twitter, Facebook, a sent email, etc.
What Types of UTM Parameters Can You Create?
Campaign
Source
Medium
Term
Content
You can set more parameters than the three in the diagram, yet those are great to get you started accurately tracking results. Just make sure you have the content set with an original URL on your site BEFORE you go about making a UTM code. Otherwise you don't have anything to build off of and track.
How Do You Create a UTM Code?
You don't need to be a coding wizard to create these helpful URLs. Both Google and HubSpot have you covered.
The intuitive Google UTM generator syncs nicely with Google Analytics. Just enter the needed information, and Google spits out a ready-to-use URL.
If you're already using HubSpot, definitely take advantage of the UTM creation tool in HubSpot. The analytics you're already familiar with are used, and seamlessly pull into your Marketing reports dashboard.
How Do You Use HubSpot to Track a UTM Code?
Here are instructions for setting up and measuring UTM parameters for campaigns in HubSpot.
In your Marketing Hub dashboard, select "Reports" on the top navigation bar then select "Analytics Tools" in the dropdown.
Look to the bottom righthand corner and click "Tracking URL Builder."
Click "Create Tracking URL" in the top righthand corner.
Complete each attribute of your UTM code and click "Create."
How Do You Start Tracking a UTM Code in Google Analytics?
Many CMS tools, such as HubSpot, allow you to track specific URL codes, but each CRM tool has its own specific set of rules. If you're not a HubSpot user, the most universal tool for doing this is Google Analytics. Here's a quick how-to using Google Analytics for UTM codes:
Log into your Google Analytics account that's associated with your website
Click "Audience" in the left-hand side menu
Click "Sources" under "Audience"
Click "Campaigns" under that
Look at your results
Google automatically tracks UTM codes associated with your website, so there's nothing to set up. The Google Analytics tracking code on your website is doing all the work behind the scenes.
Where Should You Use UTM Tracking Codes?
Social Media
Email Campaigns
PPC (pay-per-click) Campaigns
Anytime you want to know exactly where traffic is coming from
Initially, start tracking only a few URLs to see how the process works, then add more as you become more comfortable. UTM codes can really help prove to upper management that all your LinkedIn posts and articles published on your blog pays off. This is the best way to track specific promotions on your website because you have total transparency into what's going on.
I guarantee that you're going to have a much better picture of what works and what doesn't in your content promotion after you implement UTM codes and start seeing results.
Now that your UTM game has improved, what about your KPIs? A highly strategic approach to key performance indicators creates better planning and course adjustment. Access your free eBook, Key Performance Indicators for Inbound Marketing, by clicking below.
Related