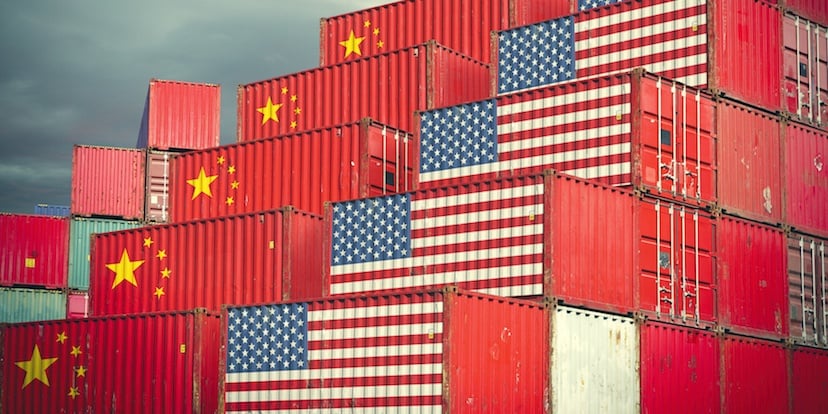 While economists aren't ready to call the latest tariff disputes between China and the U.S. a "trade war," some industries are already showing battle scars. Global markets have been on edge and have experienced major volatility in recent weeks as many industries keep a watchful eye.
The Trump administration, wishing to crack down on unfair trading practices and theft of intellectual property, laid out $50 million in tariffs on Chinese imported goods in early April. Topping the list are machinery, mechanical appliances, electrical equipment, transportation, base metals and chemicals, along with other miscellaneous products.
In a tit-for-tat retaliatory move, China responded with its own list of proposed tariffs. While some items, such as frozen pork livers and dried lychee fruit may not cause alarm for most manufacturers, others on the list are raising red flags, including:
Plastics
Lubricants
Stainless steel
Iron
Aluminum scrap
Agricultural and Meat products
Vehicles
And more
Negative Implications of Tariffs on Manufacturing
Original equipment manufacturers (OEMs) that have come to rely on imported goods have raised concern that the increased costs of many of these staple products used in their operations will make them less competitive globally. Some business lobbies and American companies argue that these restrictions penalize many U.S. manufacturers, and they're pressuring the administration to pull back the reins on Chinese import tariffs.
OEMs that rely on steel for production may feel the greatest impact. Each year, the U.S. exports more than 10-million tons of steel products. Conversely, about four times that amount is imported.
The agricultural and food manufacturing sectors which rely heavily on Chinese export opportunities will also feel the impact. The proposed tariffs by China impact everything from corn, wheat and soybeans to fruit, nuts, beef and pork.
Technology companies that rely on Chinese-made circuit boards, servers and chips are also feeling the pinch, arguing that the sanctions will likely drive prices up for consumers and businesses alike. Manufacturers that rely on Chinese technology products, whether it be as part of their supply chains or to run equipment and production lines, could feel the impact.
Another industry expecting volatility is aircraft manufacturers and their supply chains that produce everything from complex wire harnesses to plastic tray tables. According to IHS Markit, the aerospace industry exported $16 billion to China last year, making it the United State's largest export to China.
And, while China makes most of the headlines, other countries are subject to U.S. tariffs, too, and have also promised retaliatory measures that could negatively impact OEMs. Among them are several European Union nations and other countries like Mexico, Brazil and Canada — the top supplier to the U.S. of steel and aluminum.
The Upside of Tariffs
While some are crying foul, other industries speculate that tariffs on Chinese competition could help U.S. manufacturers and boost employment even further. Many small and mid-size manufacturers are calling for increased pressure and additional products to be added to the list.
For example, as reported by Bloomberg, a company that makes panel fasteners and hinges for walk-in coolers and freezers is asking for tariffs on Chinese hinges and parts that contain steel, claiming that Chinese government subsidies allow its manufacturers to sell finished products for less than a U.S. company can purchase raw materials.
Tariffs could encourage U.S. manufacturers to examine their supply chains and to buy more domestically produced steel goods. The country's infrastructure could see a boon in production, such as the construction of bridges, roads, railways, buildings and more. The impact could be far-reaching for manufacturers that supply these industries with equipment, appliances and other produced goods to complete their projects.
The head of Alliance for American Manufacturing, Scott Paul, believes that the plan to impose tariffs on steel and aluminum imports will help workers in many industries, according to Talk Media News (TMN).
Despite musings on both sides, there's no way to know how tariffs will affect OEMs. No matter the outcomes, manufacturers need to explore ways to differentiate themselves and their products by communicating what sets them apart to the right audiences at the right time. It's more imperative than ever to leverage the power of inbound marketing to attract and convert ideal B2B prospects. Need help with your B2B marketing strategy? Reach out to the experts here at Weidert Group to discover how an inbound program can help you ride the changing tides in American manufacturing.