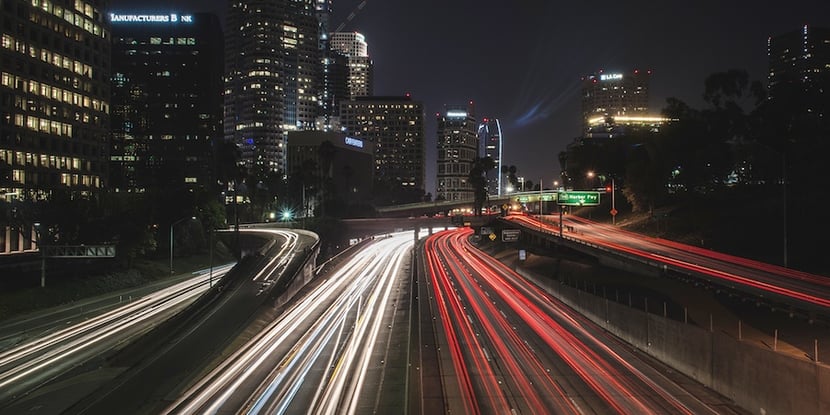 When implementing inbound marketing plans, one of the first goals we set is unique website visitors. After all, we need to attract more visitors to see the trickle down effect of converting more leads and closing more customers.
To set these goals we look at the baseline (number of visits today) and draw on our experience and inbound industry data for what that number should be 6 months, 1 year, and 2 years from now. HubSpot also has some helpful guidelines based on an MIT study of the ROI of inbound marketing. For example, an industrial manufacturer with 1,000 visits per month today could expect to see 1,500 visitors 6 months into their inbound program, 2,000 visitors after 1 year, and 3,000 after 2 years.
So we have an overall goal, but how do we get there? Once your inbound program is off the ground, you should see your website traffic increase. But where are those increases coming from?
Using reports to analyze where your traffic is coming from allows you to continue building momentum by leveraging channels to their greatest extent moving forward.
First, consider what you should be seeing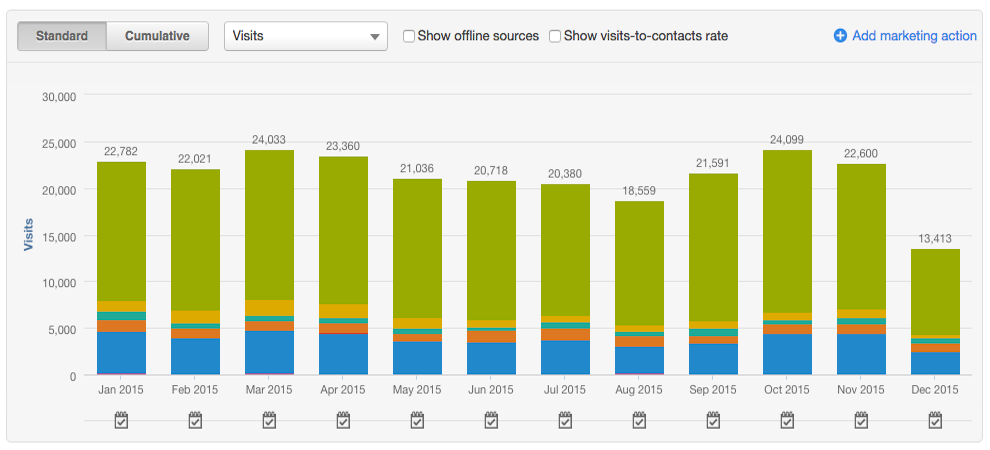 When we look at sources of website traffic, we're talking about what percent of your total visits are coming from channels like direct traffic, organic search, referrals from other websites, paid search, email, and social media.
The percentage of traffic coming from each source may vary depending on your industry and your inbound marketing activities, but regardless, let's walk through some things you might see and what you can do with that information.
If your content is relevant, you should see an increase in organic search because your personas will be searching for topics that your blog answers.
If your emails are relevant (meaning they offer the right content at the right time), you should see an uptick in email traffic.
If you're following/connecting with people who represent your personas (and offering relevant content), your social media traffic should increase.
Take steps to increase organic search traffic
If you're not seeing growth in organic traffic, first check that your basic SEO items are covered in all your webpages and blog posts (optimize page titles, use keywords naturally, meta descriptions for each page, etc.).
Also look at your blog headlines and page titles to make sure they accurately depict the content of the article. If these issues are already addressed, you should re-look at your editorial strategy to make sure your content is actually targeting questions your personas are asking. Otherwise your articles are not going to show up in SERP when your prospects are searching.
Look for email patterns
Spikes in email traffic generally correlate with marketing efforts that promote your content. Look for these spikes so you can identify emails and content that performed well (in terms of open rate and click rate). Analyze not only the content that was promoted, but also the way the email was written, day of the week it was sent, and subject line. Over time, you'll see patterns of what works to generate traffic.
Analyze social media spikes
If you see a spike in social media, dig into your marketing automation platform to find out why. Look at what content caused that spike, and specifically what channels the traffic came from (LinkedIn, Twitter, Facebook, Google+, etc.).
If your content isn't generating any traffic, make sure you're first connected with people who represent your personas. Theoretically your personas' networks would have similar interests, making them more likely to share your posts and generate clicks back to your blog/website. Next, you can also look at the way your posts are written (are they too sales-y?) and the frequency of sharing (best practices are once/day on LinkedIn and 2-3x/day on Twitter).
Expand referrals through link-building opportunities
Referrals are visits from links clicked on other websites. Link-building is good for not only exposure (getting your content in front of more people), but also for SEO, which will help increase your organic traffic as well.
Understanding your sources data tells you how people are finding your site.
Once you understand which channels are generating the most traffic, contacts, and customers for your company, you can use that information to help develop, or refine, your marketing campaigns. This will ultimately help you calculate the ROI of your inbound marketing investments.