By now in 2018, just about every segment of the manufacturing industry has seen significant changes to their production processes since the turn of the Millennium. The advancements in technology have been absolutely tremendous over the past 20 years, and it only continues to improve – at an extremely fast pace. Today, it's not just things like production line automation; it's an IoT-enabled production line that uses cloud technology and advanced software and analytics. And while you've probably heard the term "Industry 4.0," not every company has fully leveraged the components of this modern industrial revolution.
So, what exactly is Industry 4.0 today and why does it matter for small and mid-sized manufacturers? Here are some answers.
What is Industry 4.0?
The term "Industrie 4.0" was coined in Germany around 2011, as the government was trying to promote projects for the computerization of manufacturing. The "4.0" signifies the fourth industrial revolution, in which machines have the ability to communicate and interact with each other.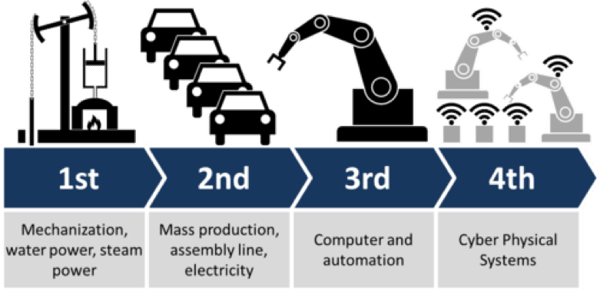 Industry 4.0 has grown to represent a number of different important systems and trends for businesses, including AI/machine learning, Big Data, and the Internet of Things (IoT). It's become an integral piece of the puzzle for managing the day-to-day operations of many manufacturers, as the advancements in technology make it easier than ever to track production schedules, check shipments, automate production, and more. That said, Industry 4.0 isn't just reserved for large manufacturers with massive inventories and processes to manage. For small and mid-sized manufacturers, it's imperative that they keep pace with the advancements and improvements Industry 4.0 technology creates, because today's online buyers won't settle for manufacturers that are lagging behind.
The Internet of Things (IoT)
The Internet of Things has been a buzzword for some time now and, put simply, IoT devices are internet-enabled devices capable of sharing data across a network, like smart devices. While things like voice assistants, smart homes, and other smart products might come to mind right away, internet-enabled manufacturing equipment has revolutionized how companies maintain machinery, automate their processes, and monitor the production status. Using injection molding as an example, this means equipment that records and monitors resin temperatures, machine performance, and production status; sends that data back to control where it can be analyzed by the engineers; and kick starts the next process (or make crucial changes). It could also mean using a smart tracking system once their components are finished and shipped to the buyer, while also monitoring incoming shipments.
Big Data
Fueled by the rise of IoT devices and equipment, "big data" is a term given to the vast amount of analytics garnered from having such advanced equipment and software systems. Today, companies can digitally track and monitor just about anything – from website analytics to manufacturing equipment performance – and they're leveraging this new information to make their processes more efficient and get a better understanding of their buyers. That said, it isn't just big manufacturers that have a need to monitor big data. Every manufacturer has a desire to be more efficient these days, and the best way to do that in 2018 is to take advantage of the tools at hand. Use your CRM system to decrease lead communication times. Use your new IoT-enabled equipment to track production and look for inefficiencies. Today, it can be the best way for the "little guys" to get a leg up on the competition.
AI & Machine Learning
There's been a lot of buzz surrounding AI and machine learning, and the advancements that have been made in both over the past few years. But despite there being a lot of buzz around them, many manufacturers don't quite know what they actually do or how to take advantage of them. In layman's terms, AI-enabled devices are any device that can perceive its environment, and use those considerations to achieve its desired goal. For example, if an obstacle arises during your production, AI-enabled equipment should be able to detect the problem and raise an alert, or even self-correct. If your machine temperatures are too hot or RPMs are too high, an AI-enable machine could detect these anomalies and shutdown before an impending breakdown.
Likewise, given the number of advanced sensors used in today's equipment and data generated from all the processes, AI is specifically useful in helping machines understand and contextualize that data, which would take much longer for any human to do. In doing so, it can help create machine learning algorithms that help fine tune production processes, product quality, and more. Automated quality testing using machine learning, for example, has seen defect detection rates increase up to 90%. For small manufacturers, you might not need an advanced AI-enabled plant, but having several AI-enabled machines can significantly improve some of your less efficient processes.
Why Industry 4.0 Matters Right Now
For small and mid-sized manufacturers, a lot of the buzz surrounding Industry 4.0 has been just that: buzz. The advancements and new machinery that are often touted as being the next big thing are often seen as huge investments only available to the manufacturers with the largest budgets. And while that might be true in some cases, it's not a reason to ignore the many other advancements where Industry 4.0 tech is available to everyone. As time goes on, these advancements won't just be the next best thing – they'll become standard operating procedure, so it's crucial that your company gets on board ASAP.
It's still early in Industry 4.0, but if we've learned anything from technology adoption and running a business, it's better to be early to the party than late. These are changes that will be impacting EVERY manufacturer in the coming years, and if you want to stay ahead of the curve, it's crucial that you start learning about and implementing these advancements in your own company right away.
The first step for manufacturers that don't have a formal strategy and action plan in place is to reach out to an IoT solutions consultant with expertise in manufacturing. These professionals help organizations of all sizes select and implement the most appropriate technologies for their situations – those that will have the greatest impact on efficiency and productivity and that will contribute to profitable growth.