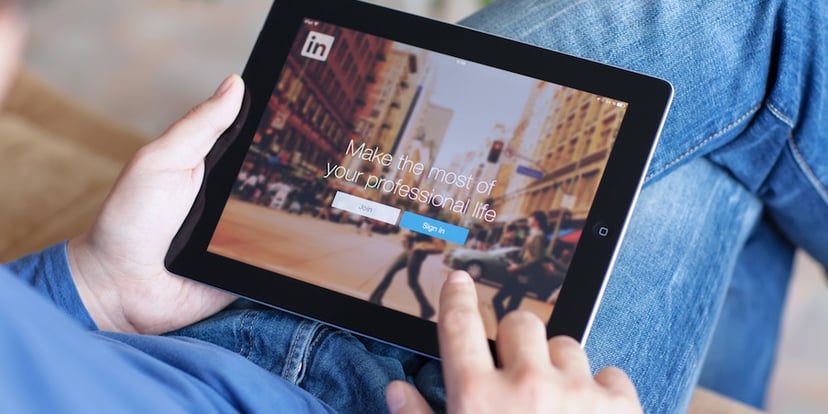 Does your company advertise on LinkedIn? It's said that 94% of B2B businesses use LinkedIn to distribute content, but are you taking advantage of its advertising options? While organically posting to your company page should be a crucial part of your social strategy, LinkedIn's paid options continue to provide results for B2B marketers, with conversion rates averaging 6.1%, compared to just 2.7% for advertisers on Google search and 0.89% on Google Display. With LinkedIn already having phenomenal results on their ads, they are about to take it one step further on their mobile app by introducing Lead Gen Form ads and we're here to tell you all about them!
What are LinkedIn Lead Gen Form Ads?
When looking at some of the biggest obstacles to earning conversions, LinkedIn found that having to fill out lead gen forms on landing pages was one of the biggest deterrents preventing users from converting on a piece of content – especially when accessing the content from their mobile device. This is a huge problem, with as many as 59% of LinkedIn's visitors accessing the network via mobile and 80% of engagement on sponsored content coming from smartphones. As a solution, they've placed those lead gen forms directly within the ad itself, and added an auto-populate feature that instantly fills out the form for the user, so they can submit it and convert on the spot within the newsfeed.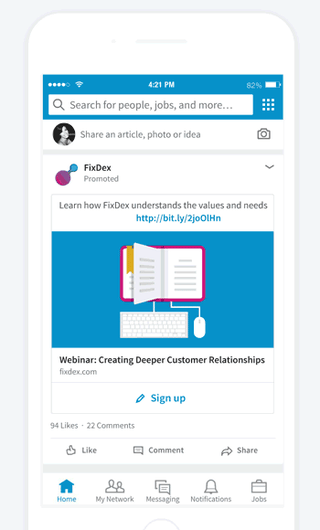 Once someone submits a lead gen form, advertisers get a comprehensive lead record, which includes the user's name, contact info, company, job title, location, and more. The data is pulled directly from that LinkedIn member's profile, which not only helps streamline the conversion process, but usually assures more accurate lead information, since you know better than anyone, people at times provide false information in those lead gen forms. Better yet, marketers can sync their lead gen form leads with their marketing automation and CRM systems using Zapier or Driftrock.
There are plenty of different form fields advertisers can choose from (with a maximum of 7 per ad), giving you freedom to experiment and optimize your forms. You will also need a valid URL for your company's privacy policy page, and you won't be able to post an ad without one.
As soon as a user pushed the "submit" button he or she will automatically see a custom Thank You page that can either link to your website, advanced content piece or any other relevant link you choose.
Here at Weidert Group we've run a few LinkedIn Ad campaigns. Jon, who you all may know as an SEO genius, also has talent in paid ads. He's run numerous LinkedIn campaigns for us and our clients and has only great things to say about the new lead gen forms.
"Lead gen forms are great for mobile social media B2B conversions. Because they are automatically filled out with a LinkedIn members information they are more likely to convert than standard landing pages that require more effort and tend not to function on well on mobile devices." - Jon, Director of UX
Ready to get started? Check out the video below to learn more, or head over to LinkedIn's Help Center to get started on some ads for your own company page.