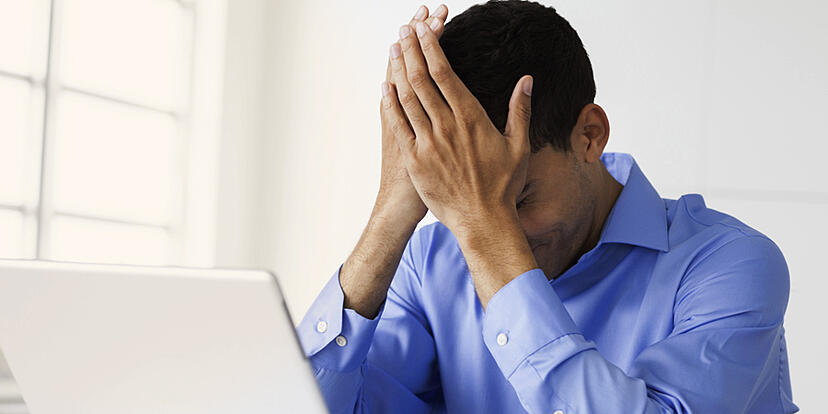 Most marketing managers know when they're company needs a new website. In fact, we often meet marketers who've been fighting to get the budget for an improved web presence for months.
The problem is most marketing managers go off of "feel" when it comes to their website...
"It looks old."
"The site structure is like that of a the 90s."
"Our website platform is too cumbersome to be used effectively."
While these frustrations are all valid in your role; they aren't very effective in the boardroom with a conservative CFO. To make the sell on why a new website is absolutely necessary for business development, you need to understand and articulate the true indicators that a site isn't working. Here are 9 such indicators that will help you build the internal argument for why a new website or a website overhaul is an important next step for your marketing efforts.
1. Your Site Content is Hard to Find
If you haven't Googled your company or its key products/services in a while, take a few minutes to see what site content appears and how you rank. My Weidert Group colleague, Jon Stanis, previously wrote about five search engine optimization (SEO) attributes that indicate it's time to re-do your site: Slow site speed, use of Flash, not mobile responsive, poor site structure and lack of keywords in URLs. You can read his article here.
2. Your Site Traffic is Sucking Wind
If your site traffic is low or declining, your sales conversion are most likely sucking wind as well. Keep in mind that getting the conversions you need is a numbers game. You have to draw in a certain amount of visitor traffic to get a certain number of high-quality leads that will convert into a certain number of new customers. So, if your site traffic is scant, you won't be able to fill your marketing and sales funnels with the volume of leads needed to achieve the number of new customers and sales your manufacturing company needs.
If you don't think the volume of traffic is too bad, have a look at the type of traffic your site is generating. Are you seeing the right type of visitors coming through—that is visits from individuals who aren't within one of your target personas and with whom you really don't want to do business.
3. Traditional Tactics Aren't Generating Enough Leads
If your company is still using tried-and-true marketing tactics—whether that's industry trade shows that are dying a slow death, outbound calling to purchased lists, print ads or one-off emails—and they aren't generating enough leads for the time and money you're putting into them, it's time to have a serious look at your website. In this instance, it's not just about a redesign, but rather a different strategy and thought process about the purpose of your site and how you can truly use it to generate and nurture the leads you need to fuel your marketing and sales funnels.
4. Waning Customer Interest
If your current customers aren't coming back to your site, a re-do is probably in order. While converting visitors to leads is a very important function of your website, it also needs to be a point of engagement for customers to boost sales or aid retention. Keep in mind it's up to 10 times more expensive to attract new customers than it is to retain clients, so if a site redesign can aid in that process, why not do it?
5. You're Afraid to Add a New Product/Service to Your Site
If you're getting ready to launch a new industrial product or service, it's (hopefully) been designed to address a particular problem or issue that your target customers need to solve. If your current site doesn't afford an easy way to add sections/pages for product information and technical specs and easily draw attention to the new offering through calls-to-action (CTAs) and logical placement within the site's structure, then it's time to think about a redesign.
6. Your Site Doesn't Align with Your Other Marketing Needs
Your site is not the end-all-be-all of your Internet presence. Beyond providing company and product information, your industrial website needs to be able to support other marketing efforts such as PR, social media, video and reviews. Why? These channels are excellent tools for developing relationships with visitors, promoting your brand ultimately driving visitors to your site. If your current site can't do this, you're marketing is missing out on positive exposure.
7. You Can't Find Information on the Site—and You Work There
As time's gone by, pieces and parts have been bolted onto your site to accommodate new equipment releases, technical content, spec sheets, etc. The navigation has become lengthy, sections are tucked underneath sections and what was once a clean navigation now resembles a Dr. Frankenstein creation. While this has helped you "make do," the content organization has become cumbersome for you and for your visitors and is providing a bad user experience—meaning you're driving people elsewhere. The best—and probably only—way to resolve this is a site redesign.
8. Your Site's Partying Like It's 1999
Site design and navigation capabilities have come a long way since 2011 let alone 1999. So if your website is the online replica of a company brochure, features pages that are full of just links, has images from 2004 or looks like it was designed by the VP's nephew, it's time to redesign. Your site's target visitors are more sophisticated than you think and are going to be attracted to a visually pleasing, easy-to-navigate website from the current decade.
9. Updating Basic Site Content is Painful
Back in the "old days," it was necessary to work through a web developer or other IT-type person to make basic site updates—a necessary, but often slow and painful process. If you still have to beg and plead with a developer, or the one person left on staff who knows how to make changes, it's definitely time for a redesign on a new content management system (CMS). The ability to regularly add fresh content to your site is too important to be held back by an older or a non-tech-person-friendly CMS.
Just as your manufacturing business evolves and grows, your website needs to as well. Declare your independence from a repressive, tyrannical website that's out of touch with the current reality—get started on a redesign today. Need some inspiration? Check out these five cool industrial sites: