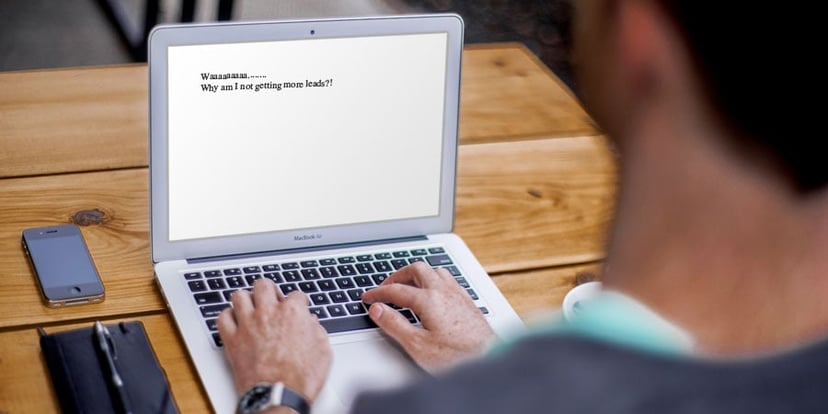 If you have a business blog designed to attract new leads to your site, you know how hard it can be to develop content ideas.
You might have started out focused on helpful blog topics that reach prospects' early pain points, but eventually, as blog topics become more difficult to develop, most companies turn back to their old sales lines and points of differentiation.
As inbound marketers, you have to remember to stay helpful in your writing—no matter how long it's been. For example, if you're an insurance company, it might seem intuitive to publish a blog headline like, "What Will Happen I Switch to a New Auto Insurance Plan," but you before you do, you should ask your team: Is that headline really speaking to our prospects' early needs? Or, is it actually aimed at prospects already considering us as a provider.
Far too many companies forget that a blog is meant to attract visitors, not turn them into customers. In order to grow your longterm list of leads, your content should be focused on remaining as helpful as possible to people early in their buyers journey.
If a topic is about buying, signing up, or getting on-boarded, then you can bet that it probably doesn't belong on the blog (at least in large quantities).
Understanding Blog Content as "Awareness" Content
What I mean to say is this: Any company who's really interested in attracting lots of new leads needs to make sure that blog content remains in the "awareness" column of your content strategy.
Let's review what that means.
In inbound marketing, the marketing and sales funnel is generally divided into three sections: top, middle, and bottom. These sections correlate with three different experiences in a buyer's journey through the funnel. First, they are gaining awareness. Next, they're considering a purchase. And Finally, make a decision about a vendor.
As a tactic, blogs show up in search and are easily sharable on social media. That's why they're perfect for helping prospects become more aware during their buyer's journey. Once they're considering a purchase, prospects should be directed to landing pages and resource sections where they can download content that's helpful in considering their various options. Some downloadable resources should still focus on gaining awareness, but for the most part, you'll be pushing leads toward a consideration mindset.
So then, why are so many companies publishing guides to buying and answers to purchase questions on the blog? Well, often it's because they're mismeasuring the length of the buyer's journey. They think that leads come in already aware of the purchase. What they don't realize is by publishing content that doesn't match leads' awareness stage, those companies are cutting off their potential flow of leads at the very first stage.
Increase Longterm Lead Flow by Dedicating Your Blog to Building Awareness
There's a correlation between companies who publish sales-y content on their blog and poorer-than-expected lead generation results. In order to build a funnel of leads for the long term, you want to increase visitors and conversions from the outset. That means remaining as helpful and introductory during the early stages of your buyers' journey as possible.
For more information, check out this full guide to writing and constructing an effective blog. Even if you have yours started, this guide can be a great refresher on adjusting the scope of your writing.