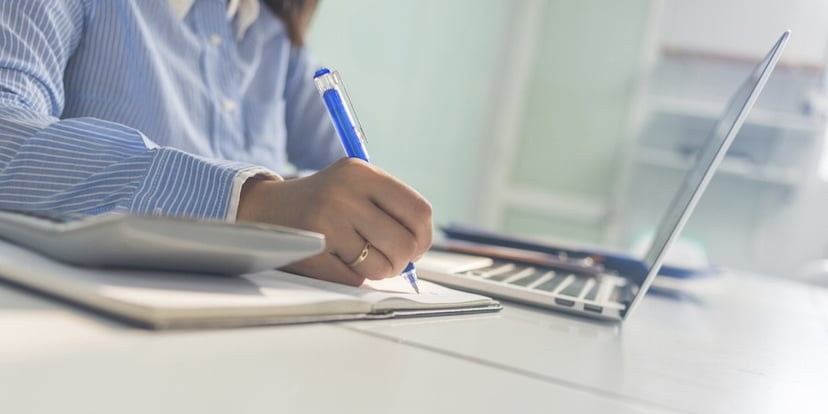 It's inevitable. Whether your company is just launching a blog or has been at it for years, you've certainly struggled with a high bounce rate at one time.
Bounce rate is a metric that tells you the "percentage of single-click visits," where a visitor views one page on your website and leaves without any additional engagement. According to a Quick Sprout study using data from Google Analytics, the benchmark bounce rate for a blog, specifically, falls between 70 and 98 percent!
That's a striking number on the surface, but it makes total sense considering today's online landscape. Even if someone finds your blog article helpful, there's such a wealth of information available on the Internet that a visitor could still bounce from your blog to find similar information elsewhere.
Fortunately, there are blog writing strategies that your B2B company can employ to not only capture your audience's attention, but also set the stage for continued engagement on your blog.
1. Don't Waste Time Grabbing Attention
It's not enough to have a catchy title — your introduction needs to be genuine and establish common ground with your audience. The visitor is on your blog to learn, so you shouldn't waste any time opening with extraneous information. Here are some attention-grabbing strategies to consider:
A) Start with a Question
This is the quickest way to turn a passive reader into an active one. After all, why are readers on your blog in the first place? They're probably looking for help with their most pertinent questions. Flipping the script allows the reader to more narrowly define their pain point and makes the rest of your blog article more relatable.
B) Share a Statistic
There's great power in numbers, and starting with a surprising statistic can trigger an immediate reaction. For example, you could share an industry-related trend that encourages potential prospects to take action. You'll immediately address their pain points and encourage your prospects to read on for a possible solution.
These are just two of the many methods to help "hook" your readers, and prevent an immediate bounce. But, how do you keep their attention?
2. Structure Your Articles With Lists
It's no mystery that highly structured blog articles — especially list formats — tend to resonate most with readers. List formats have broad appeal because they imply simplicity and serve as a visual guideline to keep readers engaged with your content.
They also have value in their ability to progress from an initial problem to a solution. Whether your list is successive (e.g., "A 5-step guide") or random (e.g., "7 ways to…"), there's a structure in place that increases the likelihood of engagement and interest in your blog.
3. Link to Related Blog Content
The most concrete way to discourage blog visitors from bouncing is to link to related content within the body of your article. By understanding your previous content, you'll be able to make appropriate connections that further engage your audience, and in turn:
Decrease your blog bounce rate
Increase conversion opportunities
Provide pathways for your audience to navigate more than one page
Establish your company as an industry thought-leader
Earn Your Way To a Lower Bounce Rate
There's no easy solution for lowering bounce rates on your blog. However, a thought-provoking intro, attention to your article structure, and leveraging existing blog content can go a long way toward attracting and engaging your ideal prospects.