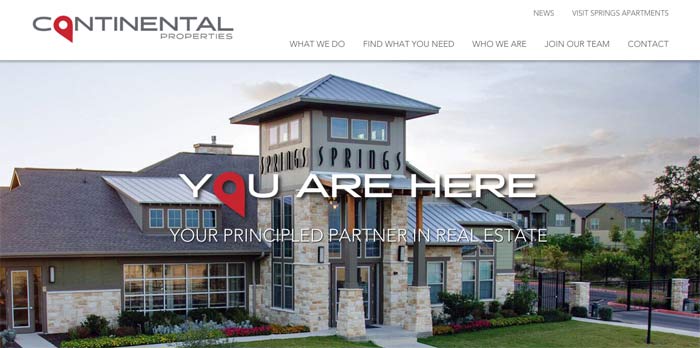 Continental Properties is a national commercial real estate development and property management company with projects across the U.S. Despite the prominence of the company and its impressive portfolio of work, their website didn't accurately reflect the company's current position in the marketplace. The site's design needed a refresh optimized for mobile usage, much of the content needed to be updated, and the site had been built in a program that made it very difficult (in some cases impossible) for the client team to make even simple modifications.
Continental Properties came to us initially, however, to do an inbound marketing program for their apartment homes brand (this company manages 34 apartment communities across the country). Our first project was to develop a blog and social media plan for 3 of their key apartment home markets. The goal was to create a community among residents to enhance their stay and to attract prospective residents by offering content relevant to apartment living.
What We Did
Program Overview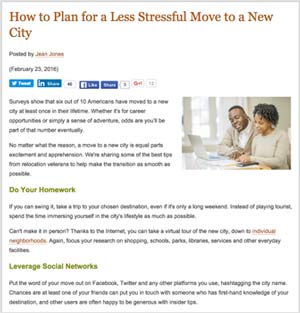 The websites of these communities were attractive and easy to navigate but didn't have blog pages or engaging social media profiles. They also were on a platform that made it tough for administrators to implement a blog or landing pages to convert site visitors, so we leveraged the HubSpot platform and integrated these new features with their current website, and implemented call-to-action (CTA) offers and a blog feed on their home pages. To date, we're responsible for the development of 50 new blog articles every month and the program has grown to supporting 11 of their key markets.

Website Redesign Project
The next project was to develop an updated brand presence and website for the parent company itself. We designed a dramatic site that more strongly showcases the company's culture, expertise, capabilities and properties, and features navigation that makes it very easy for the different target types to find what's relevant to them.
A custom tool was also built that allows site visitors to search past projects across the country using a variety of filters, which features engaging photography.
How Did It Work?
Here are a number of metrics for the apartment home brand we're pretty proud of:
Monthly organic search traffic has increased from 20,829 to 28,143 (35%) in 12 months
Monthly social media traffic has increased 900+% since the inbound program launched
Website contact conversions increased over 105% in 12 months
Engagement of monthly resident email newsletters has more than doubled
Could It Work For You?
The apartment homes brand blogging and doing social media for its locations is similar to a healthcare organization supporting local clinics with blogs and social media, or a financial institution helping branch offices promote its services and people. Because all of this is done from a single platform, all activity and metrics are integrated.
Topics: Website Design, Inbound Marketing Program