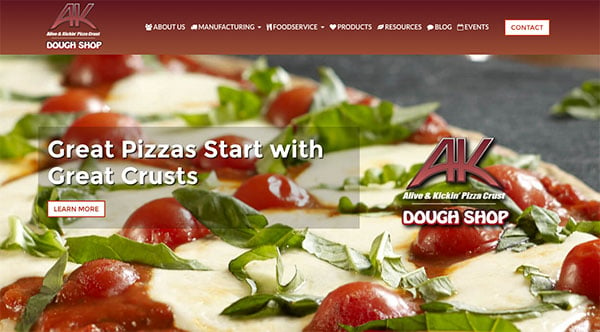 Alive & Kickin' Pizza Crust is a pizza crust manufacturer that produces a critical component of other food manufacturers' consumer products, and that also serves pizzarias, restaurants, and entertainment venues through their distributors. The company reached out to Weidert Group shortly after they'd acquired another company—one that made a complementary product that Alive & Kickin' Pizza Crust did not yet offer.
The president of the company saw evidence that inbound marketing was a more effective approach than traditional marketing, and also recognized that Weidert Group had significant foodservice and B2B experience. A final factor in their choosing us was that we had been a traditional agency for nearly 30 years prior to becoming a leader in inbound marketing, and the experience of that transition was going to be invaluable in helping this company do the same.
The first project the client asked us to undertake was developing a strategy and plan for integrating their new product line (the complementary products made by their newly acquired company) into their offerings – the need to make this capability known to its current customer and prospects was critical. Our second job was to help their sales team by increasing the number of quality leads while reducing their reliance on cold calling.
What We Did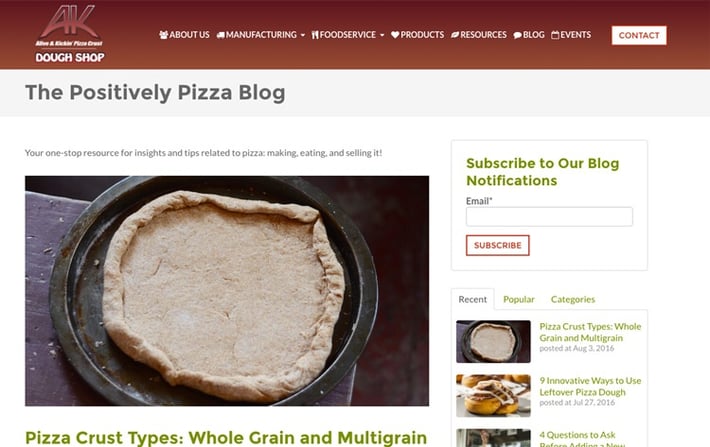 A new website for Alive & Kickin' Pizza Crust was our first recommendation, both because it was important to announce and showcase the client's new capabilities, and because the existing site didn't communicate many of the brand characteristics we knew to be important to its targets; like craftsmanship, expertise, customization and a genuine affinity for both the products and people in the pizza business.
The new site features beautiful product photography showing a variety of end products in which the client's products can be used, richer, more evocative copy, and, most importantly, operator-focused content offers. These offers address a wide range of restaurant operators' needs, with tips and solutions for issues including product quality and consistency, waitstaff and back-of-the-house employee training, equipment use and safety, patron loyalty and many more critical topics that play a role in restaurant profitability.
These content offers were promoted consistently and expanded upon in the new company blog. Part of our strategy was to increase the frequency of blogging from one per month to two per week, a move that resulted in a growth of traffic to the website of 700%. Blog topics are related to those of the content offers, with useful, easy-to-digest information operators can act on quickly and easily.
How Did It Work?
Here are some metrics related to the website refresh, content offers and regular blogging:
Overall website traffic increased from 400 visits to 2800 visits in 6 months, a nearly 7X growth
Blogging efforts have contributed to increased growth in organic traffic. One blog in particular titled "8 Different Pizza Crust Varieties: Which is Best for You?" averages 1,750 views each month
The number of contacts captured every month has doubled – they didn't have web contacts before we started and now average approximately 20 new contacts per month and have reengaged existing contacts.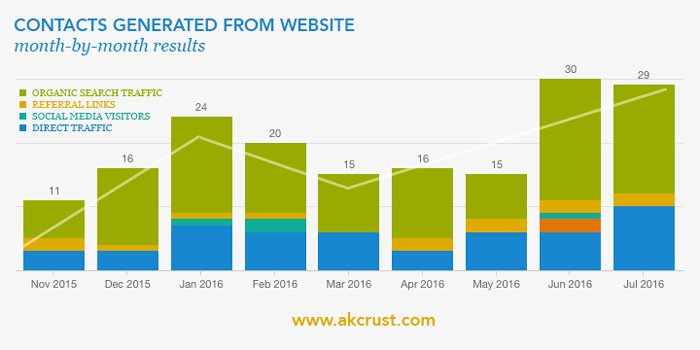 Could It Work For You?
Small restaurant operators, like most small businesses, have little time or money to spare, so when a potential vendor partner provides valuable content, the prospect is eager to engage and begin what could be a long-term relationship.
With the right content, a manufacturer can demonstrate knowledge of a prospect's challenges, provide information that makes their jobs easier/more profitable, build credibility, and show some personality that makes the prospect say, "I want to work with these guys!"
If your business serves those with tight budgets and significant demands on their time, like manufacturers who contract with parts manufacturers or inventory management services, creating and promoting content that gives them answers to the questions they have during the buyer's journey could be the very best way to attract prospects – and turn them into leads and customers.