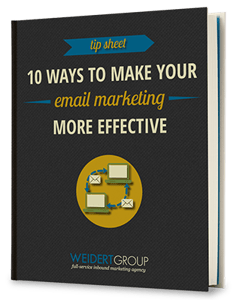 Email is your #1 strategy for delivering valuable content to your prospects and attracting them to your website. But you'll need the right approach to make email marketing work for you.
Misdirected, irrelevant or mass email blasts aren't going to deliver results. Not only are these irritating and a wasted opportunity, they can violate CAN-SPAM laws.
Download our 10 Ways to Make Your Email Marketing More Effective and learn how to:
create smart subject lines

improve your email marketing performance

identify leads worth cultivating

and more!
Fill out the form on the right to download our FREE tip sheet and make the most of your next email campaign.