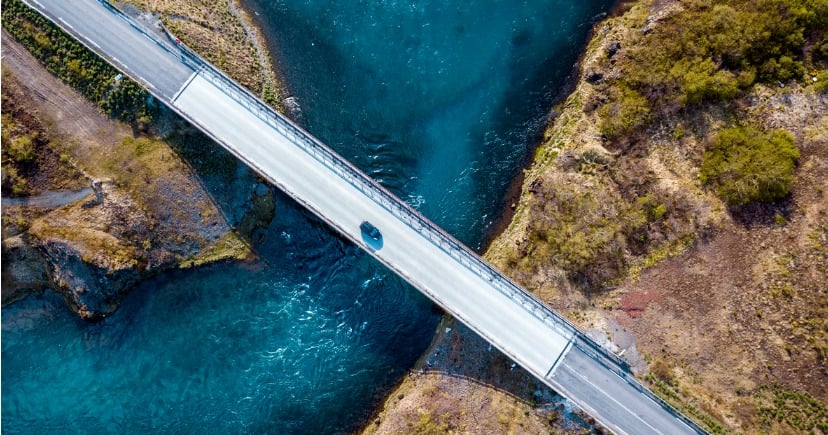 For many marketers, it's the most dreaded time of the year: Annual Planning. But it doesn't have to be. If you can shift your thinking and planned activities a bit, you can uncover the gap between your marketing goals and your current plans (and current performance) and create the kind of plan that, when executed, will attract the company's best prospects, deliver valuable information that helps those prospects in their purchasing journey, and nurtures and closes those prospects into customers.

Outlining Next Year's Goals
The best place to start with outlining your marketing goals is to fully understand your business' overall goals for the coming year. These may be goals like a revenue growth percentage, further penetration into an existing market, breaking into a new market, or improving overall profitability. Assuming leadership has formalized these goals (i.e., they're formally written down) and communicated them to sales and marketing, you should have a good base for setting specific marketing goals that directly align with business goals.
When it comes to your organizational structure, it's ideal for sales and marketing to jointly develop goals that hold both teams accountable and put them in a position to support one another. You can do this by putting together a marketing and sales service level agreement for the year, if you don't already have one.
So, let's say your CEO has charged sales and marketing with increasing sales by 10% in a specific business segment. You'll likely need to determine:
What's the customer mix currently look like in this segment?
Is there potential to encourage additional or more frequent sales with these existing customers?
What's the average revenue for a new or existing customer in this segment?
Knowing the average revenue, how many new sales or customers will be required to achieve the 10% goal?
You get the idea. Asking these types of questions will help you uncover how to tackle this business goal and also helps you formulate specific marketing goals to achieve it.
Evaluating Current Marketing Activities
As you begin to build out a solid list of specific marketing goals you may begin to have an "Oh, shoot" moment — when your hands get sweaty, your stomach drops, and your heart begins to race.
How are you going to achieve these aggressive goals, in order to meet your part of the commitment with your sales team, so you can deliver qualified leads and specific new business opportunities your sales team can act on and close?!
For one, stop relying on the same old marketing activities if they continue to deliver weak or non-existent results. This directly relates to the lessons you learn when conducting a sales and marketing review from the past year's activities. It may be hard letting go of certain activities, but you'll thank yourself later if you divert resources elsewhere to achieve better gains.
If you can't easily track the success of specific activities, honestly evaluate if the only person who'd notice that you pulled the plug is the sales rep from whom you buy media space or marketing services.
Also, take a hard look at KPIs you're tracking (or should be tracking), such as your website performance and current marketing qualified leads (MQLs) and sales qualified leads generated through your marketing performance. Do see room for improvement or stretch goals?
If you've been neglecting your website for the past few years — or decade — now is the time to shift your focus and give it the attention it deserves, in order for it to help fill your pipeline with leads and help you achieve those business goals. With a growth-driven design approach, you can quickly launch a new site and set yourself up for ongoing success through continual site improvements based on data and company objectives. Your site development efforts will thus have better focus and you can make improvements in digestible chunks, rather than one big bite.
Lastly, take a hard look at what you're doing

social media

to ensure you're utilizing the platforms in a way that make the most sense for engaging prospects and customers. No matter what industry you're in and the type of customers you're looking to attract, your content and the interactions you desire will stand a better chance of achieving results if you carefully plan and target boosted/sponsored posts in conjunction with your ongoing updates — simply having a basic presence is no longer enough.
Attacking The Gap
Ok, you've outlined some specific marketing goals that are tied to your business goals. And you've evaluated and critiqued your current activities and plans using KPIs, to determine what's working, what needs to be better supported with additional resources, and what needs to be dropped like a bad habit. At this point, you should be able to recognize the gap. If your current plans now are resulting in a 5% decline from last year's results, what makes you think it's going to get any better if you continue to do more of the same?
Depending on the size of the gap, you may be having another moment of panic. Take a deep breath. This is a healthy exercise.
Here are the steps to close the gap:
Step 1: Clearly outline those activities that aren't working. As mentioned above, by determining KPIs to measure effectiveness you should be able to easily identify the bad eggs.
Step 2: Make the decision to actually let go and stop spending your budget on those activities.
Step 3: Make the commitment to adopt new, or double down on existing, activities and strategies that you've determined will yield greater results.
If you've followed this process correctly, you now have freed up some budget from activities you're confident need to be dropped in the coming year.
Example Scenario:
Say your overall marketing budget is $250,000 and of that budget you've identified $150,000 that needs to remain in place as the basis of your marketing activities. On the flip side, you've identified $100,000 that can be redirected to new initiatives or put towards activities that haven't been properly funded to produce even greater results.
Using your website and current online activities as an example, let's say your company started a blog two years ago. You posted a handful of articles over a four-month period and it attracted a little additional traffic to your site, but your team ran out of steam before you could measure any impact on your business.
As for your website overall, you know it would benefit from design updates and some fresh content (e.g., better product photos, compelling case studies), and you estimate by adding some gated content resources, you could convert around 1.5% of traffic into leads if also supported with consistent blog articles.
Your traffic averages around 1,500 visits per month, so that's just 22.5 leads per month, but you're currently only getting 1-2 leads per month since your stale, outdated website turns visitors away and doesn't offer any conversion opportunities beyond a basic Contact Us form.
Imagine the impact you could have by:
Deploying budget toward refreshing your website's design through a growth-driven design approach that facilitates a speedy launch and incremental improvements based on data that tells you how your prospects are using your site
Adding some fresh content that shows your latest products with updated descriptions and modern photos
Incorporating relevant case studies that demonstrate your credibility as well as a couple of white papers or eBooks that help your prospects solve a problem
Budgeting to have a writer develop weekly blog articles for your team – which will help attract more visitors to your website
Even if your sales team is only able to close 5% of these 22.5 leads (meaning only 1 new customer) in a 6-month period, but the average revenue per new customer is $130,000, chances are you and your management will see the value and results of deploying budget in this area.
Going through this process may sound intimidating, but think how much better you'll feel coming to these realizations now compared to the middle of next year when you discover your plans aren't getting you to where you need to be. Now's the time to identify where you need to change directions to make a strong impact for the coming year.
For more help, download our eBook, How to Develop an Annual Innovative & Effective Marketing Plan, which will help guide you through creating a strategy and budget you can confidently rely on to help achieve your specific business goals.