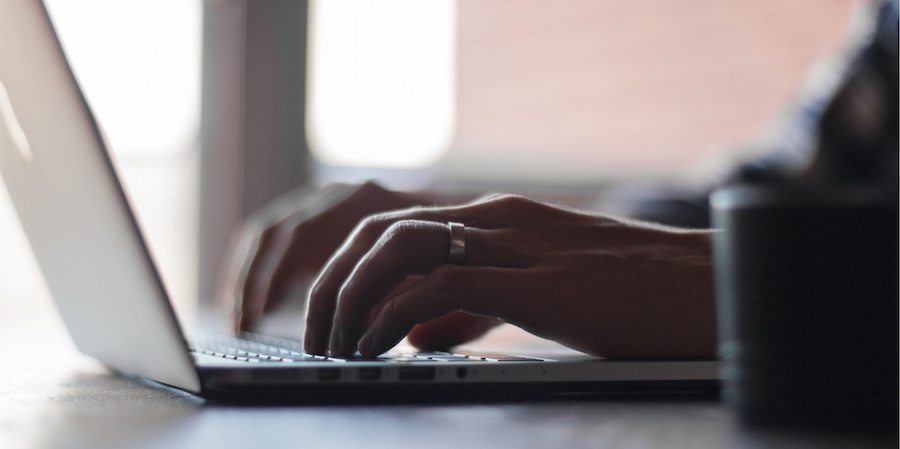 Google Alerts is one of the many free and useful online tools Google offers to anyone on the web, including companies that are looking for an easy way to monitor their online presence without an expensive monitoring service. Believe it or not, though, a lot of companies have either missed the memo or are uninformed about how best to leverage this tool to their benefit. Sound like you and your company?
Here are 7 helpful tips for leveraging this underutilized tool and an overview on how to get started
1. Newly Indexed Content

As you know by now, online content creation through methods like Inbound Marketing is the best way to survive in organic search these days. To keep tabs on your newly published website/blog content and when it's indexed by Google's search bots, utilize Google Alerts by tracking your company name, the page URL of the content, or the title of the blog article. By tracking the title of the blog, you can easily monitor if other sites republish your content to ensure you receive proper credit and to also ensure they're providing you with a follow link (versus a "no follow" link that doesn't offer SEO value) to the original article on your website or blog.
2. Tracking Backlinks
Similar to seeing when your blog has been indexed, you can also use Google Alerts to see whenever another site links to your page. This is especially important for businesses that blog, as you'll want to know which sites are linking to your content and are the source of your traffic.
3. Company Mentions
Google Alerts has to be one of the easiest ways to monitor online mentions of your company, since the minute it's indexed by Google's search bots you're notified by email. In addition to mentions in online articles/blogs, you can also be notified of mentions in social media conversations. We still recommend you leverage a dedicated social media monitoring platform but tracking both your company name and Twitter handle (your @name) is something you should leverage.
4. Product Mentions
Similar to tracking company mentions, it's smart to also track your specific product names or product categories. Since these alerts are free you can create however many you want, being mindful of how often you want to receive these alerts to avoid overfilling your inbox.
5. Executive & Key Personnel Mentions
Since it's likely your company's executive team and other key personnel will be mentioned online overtime, it only makes sense to track alerts on their names as well. This is good for reputation management and also for online engagement opportunities, to show others in your industry that your company is paying attention.
6. Competitor Mentions
Depending on your company's competitive landscape it can be difficult and time-consuming keeping up with what your competition is doing. Creating monthly or weekly alerts based on their company name will provide you with a nice snapshot of their activity.
7. Industry Topics
In addition to tracking your competition it can also be a chore keeping tabs on what others (competitors, trade publications, industry blogs, etc.) are publishing online within your industry. Creating alerts around these phrases ensures you'll never miss timely news updates, an opportunity to participate in a forum discussion or a chance to leave a thoughtful comment on someone else's blog that relates to your specialty.
How To Create Your Own Alerts
Now that you know some key ways to leverage this tool, here's an abbreviated overview on how to create your own customized alerts.
STEP 1: Start by going to http://www.google.com/alerts, where you'll be prompted to create your alert based on a specific search query, such as your company name or your own name.
STEP 2: Based on the alert you're creating, you can customize the following criteria:
Whether to track all online mentions for the particular search query or just news, blogs, videos, etc.
How often you want to receive alerts (as-it-happens, once a day or once a week)
Track all results or only the best results (as determined by Google)
And which email to send the alerts to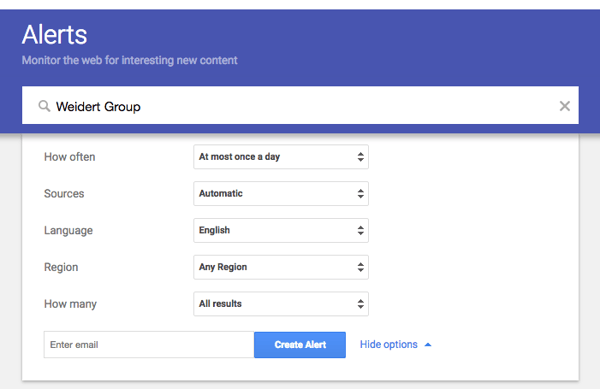 STEP 3: To further define your search queries to eliminate additional notifications that don't relate to you or your company, follow these tips:
Always add quotations around your desired search query, so Google knows you only want to track that query when the words are strung together in order
Use negative keywords if the name of someone on your executive staff is shared with another prominent person or if you have a product name that is shared with a company in another industry. Simply do this by entering "person's name - title or company name of person that shares the name you're trying to track" and Google will then know to eliminate their individual from your ongoing alerts
Hopefully you find these tips useful so you can begin to fully leverage this amazing resource as another tool in your company's marketing toolbox. If you're already using Google Alerts and have some additional advice or tips to share, please leave a comment!

Topics: Search Engine Optimization, Marketing Automation

Written by
Katelyn Fogle
Katelyn Fogle is an Inbound Marketing Specialist at Weidert Group. A seasoned professional in client service and account coordination, Katelyn plays a pivotal role in the strategic development and execution of inbound marketing plans for clients in a variety of industries.