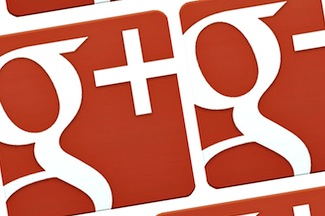 It's that time of year for resolutions, all those things you plan to do for 2013 but will probably give up by February. When it comes to your social media marketing for 2013, there is one resolution you need to make sure you keep all year long - adding Google+ to your social media marketing strategy.
Now, we've never kept it a secret here at Weidert Group that we were not big Google+ fans when it first debuted. While we've had a business page and most of us have personal pages, we've not given Google+ the love and attention we've dedicated to other platforms such as LinkedIn, Twitter, and even Facebook.
But as we've watched the growth in features and effectiveness, relegating this social media channel to a second-tier status just doesn't seem to be a good strategy anymore. Successful Inbound Marketing is predicated on being found when relevant prospects conduct an Internet search. Why not dedicate some time to a social media tool that will improve your chances?
We know it's going to take some convincing, but here are 4 reasons you should add Google+ to your social media marketing resolutions for 2013:
It's Google.
OK, maybe that doesn't ring like a great reason right off the bat, but think about it. Despite some valiant efforts by others, Google is still the #1 search engine out there, and Google+ is its social media tool. Content shared on Google+ is going to be indexed more quickly and show up on search returns faster than any other social media channel.
Critics are quick to point out that Google+ still lacks the engagement of other social media channels, with users averaging about 3.3 minutes compared to 7+ hours for Facebook. But remember this equation: Google+=Google. Using Google+ to share content and engage prospects will enhance your SEO efforts. It's why we added authorship tags linking our Google+ accounts to all of our blog posts.

Weidert Team member Frank Isca detailed those benefits earlier this year in his post Why Now is The Time to Reevaluate Google+ for Enhanced SEO.
Prospect Segmentation
When Google+ debuted, the concept of Google Circles did not go over well. But if you think about it, the concept is really quite brilliant. Given how noisy the social media universe has become, it can be a challenge to get your message to prospects and followers. Google Circles is really nothing more than a segmentation tool that allows you to target your messages to relevant prospects. In Google+, you are performing that segmentation on the front end, rather than at the time of sending your message.
New Tools
Goolge+ is rapidly closing the gap with its competitors when it comes to improved tools marketers can use to engage with prospects and followers. When Google+ first introduced business pages, it only allowed direct interaction with users who had already added the page to their circles. That meant business pages weren't able to +1, share, or comment on posts from users who had not added the page to a circle. That's about to change, and now business pages will be able to interact with any user. The Next Web published a blog Dec. 28 about the changes, which have subsequently been confirmed by Google.
The Next Web blog also detailed a dedicated Google+ analytics tool, though the search engine giant has backed off any specifics. When launched, the tool will provide specific data regarding which users are interacting with a page, how they interact, detailed demographics, and information about users' social activities including +1's, shares, and comments.
That's a treasure trove of information for marketers looking to determine what content leads to greater engagement.
When it comes to improved engagement, Google+ also introduced Communities in December, a feature similar to Facebook and LinkedIn Groups, but with greater flexibility in filtering and finding relevant conversations. Google+ Communities can be a great tool for showcasing your company's expertise.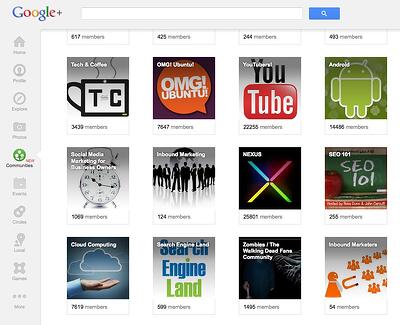 Ease of Use



Things can get cluttered when working in social media, but Google+ does a lot to keep things simple. First of all, posts appear in your feed with the newest one on top and you don't have to sort through a stream of app requests to view them.
The navigation is simple, and makes sense. Another big plus? No ads!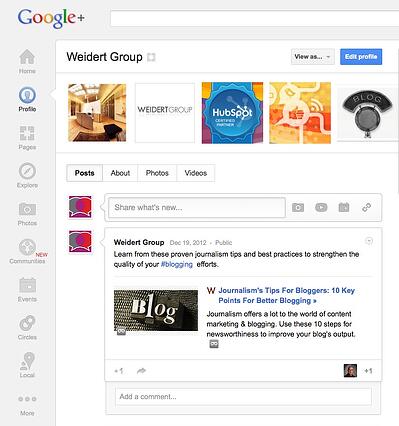 Google+ has taken a functional approach to its design, making it easy to post and engage.
With all the improvements Google+ has undergone in 2012, along with its growth to 500 millions registered users, it seems to have finally positioned itself a a top-tier social media channel. That's not to say you should abandon or relegate your other social media profiles. Google+ should be seen as an additional opportunity.
The name of the game is increasing the opportunities for relevant prospects to find and engage with your great content. Google+ has matured to the point where it is an effective tool for sharing your content, engaging prospects and sending important social media signals to the search engines for improved rankings.
We'll be working both collectively and individually to maximize our presence there in 2013. What do you think? Is 2013 the year you actively use Google+ for your social media marketing? We'd love to hear your thoughts on why or why not.
One other item for your 2013 resolution list: make sure all of your social media profiles are fully optimized for the new year. Learn how with our Social Media Optimization Playbook!