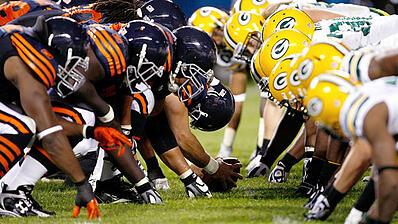 In our recent article covering the 9 Key Components for an Effective 2015 Marketing Plan, we mentioned how we use competitive benchmarking to help clients get an understanding of their inbound position compared to that of their primary competitors. But, where should you start? What should you look at and how can you gather the necessary intelligence to get a clear picture? And more importantly, what impact should the knowledge you gather have on your plan?
The best way to approach your competitive review is to look both at the activities your competitors are executing (i.e., an activity review) and the results of those activities (i.e., a performance review). It's not unlike a Packers vs. Bears game. While your final marketing plan should be built to achieve your specific goals and objectives (no team can take the same approach to winning), this 2-part competitive benchmarking approach will help identify what's working and what's not for others in your industry, resulting in a broad strokes outline of where to focus your efforts. In other words, we're going to be looking at the other teams' plays, their stats, and their actual record.
Activity Review
One of the best tools to get a general overview of your competitive situation is marketing.grader.com. Think of it as a marketer's version of the ESPN stats page—except it can provide activity and performance information on every company out there. This free tool gives you a snapshot of your online impact and guidance on where improvements may be needed. This same tool lets you enter the URLs of your top competitors to review your standing against theirs in five key activity areas: blog publication, social media, SEO, lead generation, and mobile capabilities.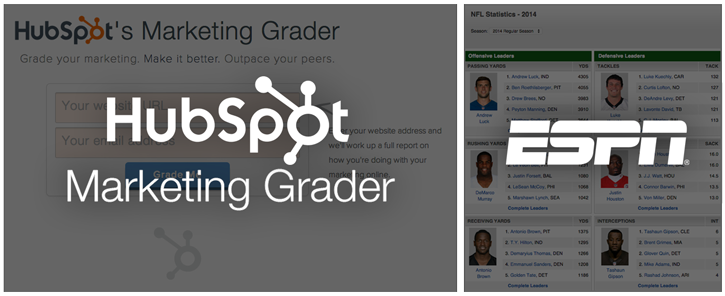 Blog: Which Companies Are Publishing and Sharing Value?
Beyond identifying which competitors have a blog and how frequently they post (1x/week should be a minimum), pay attention to how easy they make it to distribute and share their content. For example, do they have an RSS feed established? Are there links to the blog from the home page? Can followers easily subscribe to the blog either via social or email? Are social sharing buttons in relevant spots making it easy for readers to share the content with their followers? The more avenues available to access and share the content, the greater its reach and potential impact.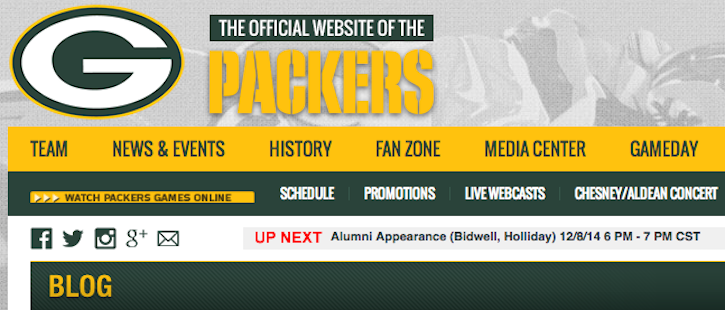 Social media: Who's Engaging B2B Leads Where They Are Online?
Take a critical look at how engaged your competitors and their followers are on each platform. The number of followers alone means nothing; the important data is how actively those followers like, share, comment or otherwise engage. Do your competitors have dedicated fanbases like the Packers or they more like the Jets? It's also valuable to identify which platforms your competitors are focusing on, their posting frequency and if their strategy seems to be working.
For example, if you're a global industrial products distributor and you're considering ramping up your Facebook efforts, a cursory review of your competitors' activities will likely tell you that's not a strategy worth pursuing. LinkedIn is likely the platform of choice in your competitive set.
SEO: Which Competitors Are Making Themselves Most Visible to Your Best Prospects in Search?
While it's true Google's algorithm continues to evolve, placing more emphasis on content and user experience, there are still some very basic SEO foundational elements that need to be in place that can give your site a boost over your competitors' sites. Without these components in place, performance is likely to suffer, so it can be helpful to use Marketing Grader to see where your competitors stand. If they're missing page titles and alt tags, then it's a lot like not having a kicker to clasp a field goal. It's a weakness to be exploited.
Image alt tags – Because search crawlers don't "see" images but rather analyze text only, it's important to give your graphics, photos, illustrations, etc., a keyword-rich identifier describing each piece of visual content.
Page titles without company name – Old SEO theory suggested your company name be in every page title acting as a consistently repeated keyword. Today, sophisticated search engines are recognizing this activity for what it is and are actually penalizing companies for the practice. Page titles should now have only user-friendly names incorporating a keyword if possible but only if it gives clear definition to the content included on that page. Chances are your competitors are still following old practices. If so, you have a clear opportunity to give your site an SEO bump.
Unique page descriptions – Similar to page titles, each description should be specific to the content on the page. Keyword stuffing, duplicate copy or promotional content that doesn't enhance the user's experience no longer adds value to your SEO efforts.
Lead Generation: Who's Doing The Best Job Getting Prospects to Raise Their Hands?
Look at your competitors' websites. When they get visitors to their sites, what's the process for capturing leads? Do they have attractive conversion opportunities beyond their contact form? In a B2B world, the value of a website should be based on its function as a lead conversion system. A team with a great quarterback isn't very valuable without strong receivers, and a website works much the same way. Are your competitors making the pass by offering valuable, downloadable content designed to further engage readers? Landing pages with strategically simple conversion forms are the single best way to convert high-quality, marketing-qualified leads.
Mobile: Are Prospects Getting the Online Experience They Deserve?
Quick, what's the most commonly used device to search the Internet? If you said mobile, you're right. For the first time, 2014 saw mobile Internet use surpass desktop/laptop usage. Amazingly, many companies are still using static vs. responsive design or, worse yet, have not added mobile to their CSS. If your competitors are not yet mobile-friendly, that could be a huge opportunity for you.
Performance Review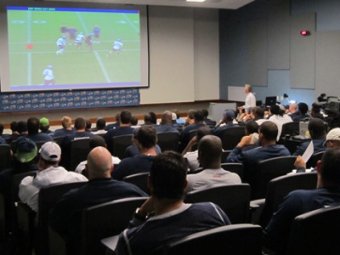 Reviewing competitive activity is important and gives you a big picture view of what your plan should include. However, just because a competitor is doing it (or not) doesn't mean it's working. Tools like HubSpot's competitive report, SERPs.com, TrafficEstimate.com, Alexa, Moz and a host of free online options will help provide a true performance snapshot of all of your competitors' tactics.
Traffic Rank – Of all websites on the Internet, compare your rank to your competitors. In this case, the lower the number, the better performance. #1 is the best performing website ever.

Indexed Pages – Search engines love content. The more indexed pages, the more robust and typically fresher your site looks to the search crawlers. If a competitor has 1,000 indexed pages and you have 4, chances are they're seriously outperforming you.

SERP Rank on target keywords, both local and country specific – According to internetlivestats.com, there are more than 1 BILLION websites on the Internet; that's a lot of competition competing for visibility! Conversely, recent heat maps demonstrate users are viewing fewer results than ever before. If your site doesn't hit #1 or #2 for your most relevant keyword term, odds are pretty high your site isn't being visited. I'm a big fan of SERPS.com. This tool lets you enter keyword phrases you most want to be found for and will show you where you rank and where your competitors rank. Experiment with geographic searches as well to make sure you're at least keeping pace with your competitors in your most valuable trading areas. #1 in Maine means nothing if your best market is Arizona.
Much like reviewing gameday films, a comprehensive competitive review will help you develop your plans and plays to effectively execute your inbound marketing program.