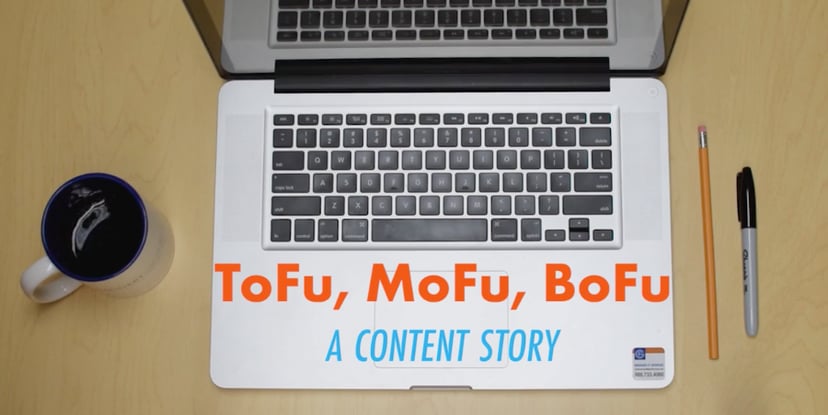 If you've been to our blog before, you might've seen us talk about ToFu, MoFu and BoFu content. No, we're not talking tofu the food; we're talking about top-of-the-funnel content (ToFu), middle-of-the-funnel content (MoFu), and of course, bottom-of-the-funnel content (BoFu). What's all that mean? It means that visitors come to your site in all different stages of the buying process, and it's up to you to create certain types of content that answers their questions. Whether they're just starting to learn about something or they're looking for specific answers that will help them decide on a purchase, different visitors need different levels of information, and if you know what they're looking for, you can create unique content to fit the different stages and cater to their needs.
Thanks for reporting a problem. We'll attach technical data about this session to help us figure out the issue. Which of these best describes the problem?
Any other details or context?
message
If you haven't viewed the video above, watch how it all works and come back here to see it explained.

Top-of-the-Funnel (ToFu)
If you were to break the sales funnel into three parts and categorize the prospects in each, the top of the funnel would be filled with prospects who don't know a whole lot about a particular subject, but want to build their awareness. They certainly aren't ready to make a purchase, and they probably don't have a final option in mind yet. At this point, they're just trying to gather the basic information they need to get started.
What kind of content are they looking for? Probably the best, and most common type, of ToFu content is blog articles, but ToFu prospects could also be interested in short tip sheets or eBooks. Remember, these prospects are just starting to learn more about a particular subject and aren't necessarily looking for long, thorough content just yet. They're likely starting their search online using search engines too, so a blog introducing people to certain subject is a great way to get people drawn into the first step of the sales funnel.
Middle-of-the-Funnel (MoFu)
Once a prospect finds all the basic information they need to start learning about a particular subject, they'll eventually move into the middle of the sales funnel, where they'll start searching for specific information that answers some of their questions, addresses a problem, or provides a solution.
What kind of content are they looking for? At this stage, prospects want content that continues to educate, but also starts providing answers to questions they've come up with along the way. Where a ToFu content offer might list the Top 5 options available to someone, a MoFu content offer would pick one of those options and explain it in more detail. Case studies, white papers, eBooks, webinars, podcasts, video tutorials, etc. are all common types of MoFu content.
Bottom-of-the-Funnel (BoFu)
Once a prospect has gotten all the information he or she is looking for, the last thing they need is an actual solution. In the bottom of the funnel, prospects here are just about ready to make a final decision and purchase, they just need some convincing of why your option is the best.
So, what kind of content are they looking for? At this stage, it might not even be content at all! Your leads have all the information they need already, they're just looking for something that separates one option from the rest. This is where free trials, free consultations, and discount codes help put your company ahead the field, and in the running for their final decision.
So there you have it! A complete rundown of ToFu, MoFu and BoFu content. Want to learn how to create the content? Download our content creation guide below.

Topics: Content Marketing

Written by
Alex Sobal
Alex has exceptional writing skills and the ability to learn new industries and their complex processes. While at Weidert Group, he was also an avid social media marketer and wrote frequently on online community engagement and content creation strategies for our blog.