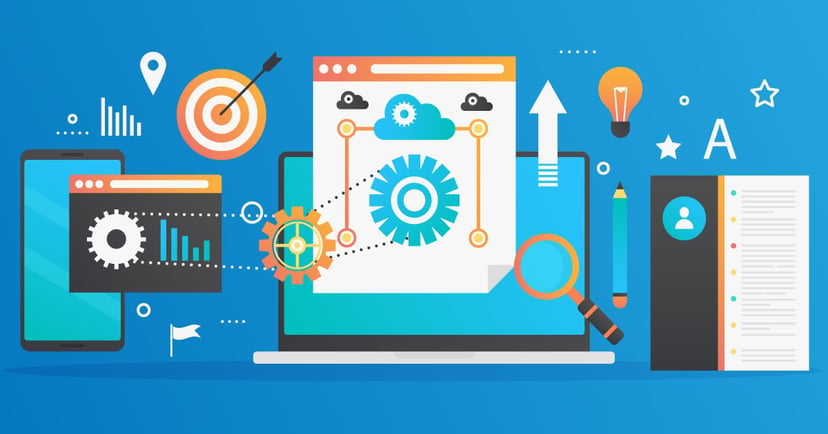 Did you know there are close to 200 million active websites around the world? That's why — even though Google processes more than 3.5 billion searches in a single day — it still isn't easy to grow traffic. But if you're a business trying to attract prospects to your website, you only care about the traffic representing potentially great business development leads or future employees for your business.
That's the context I'm addressing today: owning the search results that are valuable to your business by treating SEO as the complex, never-ending Rubik's cube of strategy, technology, and discipline that it has come to be, and accepting that vanity metrics don't matter nearly as much as the new business and talent metrics you can take to the bank!
Some marketers think of SEO as an afterthought or a "check the box" outsourced solution. We look at SEO as touching every part of an inbound marketing strategy, from your website to your content and even social media, but it really boils down to three key areas.
Leverage a Growth-Driven Design Website
If you follow our blog at all, you know we're big advocates of a growth-driven design (GDD) methodology for building a website. In a nutshell, GDD focuses on a continuous improvement approach to web development that treats UX (user experience) and relevant content as the guiding lights.
It used to be that companies would spend 6-9 months — sometimes even more than a year — developing a new website. Once launched, they'd sit back, watch and wait. New sites would usually demonstrate improved performance over what they replaced, but it wouldn't be long before the upward trending metrics would start to sag. Sure, simple updates and copy changes could be made, but eventually, things started to look a little dated, the product pages were missing all the new, good stuff, and next-generation technologies were missing altogether.
Typically, 3-5 years later the redesign process would need to start all over again. It's just a guess, but I think 3-5 years must be about how long it takes people to forget how painful the last redesign process was!
Contrast that approach to the GDD methodology. Start by selecting a content management system (CMS), such as HubSpot or Wordpress, that makes it far easier for marketing teams to make updates on their own. Instead of taking up to a year to build a site that has all the content and features imaginable to you and your team, start with a launchpad website and prioritize the most valuable content you have to offer — generally the 20% of content that produces 80% of the value for your visitors. By focusing on the valuable, relevant content, eliminating the low-value junk, and improving your UX, your new, typically smaller site, will immediately outperform your old clunker. At which time you're ready to begin the monthly visitor data-driven continuous improvement cycles that are the hallmark of GDD sites.
Create Pillar Content
When you launch a GDD website, there's no better way to gain SEO traction than by organizing your best content around content pillars. Content pillar pages cover a topic more in-depth than the typical article or advanced content piece and provide as much information as possible on the subject in one, convenient place. It's the ultimate in long-form posting.
At first, you might think that such exhaustive information could be overwhelming for visitors. It can be, which emphasizes the critical importance of properly organizing and designing the page to make it as user-friendly as possible. When done right, your pillar pages can be a one-stop shop for visitors to find everything they ever wanted to know about a topic without having to navigate away from your site.
Search engines will prioritize and showcase content that is most helpful to their users. The more extensive your pillar page content is, the more likely it is that Google will rank it higher in web searches for relevant keywords. If your company serves niche markets or offers highly specialized products, this approach can really help you stand out. One great way to create pillar content is to gather all those blogs and content offers on an important topic and compile as parts of an integrated story. Then, include internal hyperlinks back to the original content to increase your authority.
Even if you don't have a large archive of existing content to work from, you can get started by creating at least one pillar page on the most important subject you want visitors to know about, and then use your ongoing editorial plan to build it out. Remember, because you've taken a GDD approach, you can make continuous improvements as more information and internal resources are developed.
The Right Way to Think About SEO
Some still think of SEO as a mystical, intimidating outsourced service that only powerhouse web marketers can harness. In fact, improving your site's performance and user experience doesn't have to be that complicated — but it does need to be strategic. Having data is one thing; knowing how to leverage it to form strategies and tactics is another.
"That all sounds great," you say. "But how do I know what to improve, and how do I know if my visitors are engaging with all that information?"
Good question. If you want to stand out from the competition, you'll need to first consider how you can provide a better user experience than they do. Data from real users on where they're getting confused, when they're bouncing from your website, where they're spending a lot of time, what they're clicking on, and where they're getting stuck by forms or broken links is the best way to improve your UX. Tools like Lucky Orange, Hotjar, and Google Analytics are a treasure trove of this data.
In addition, when building your GDD launchpad site and pillar content, think about your competitive landscape: what's realistic from an SEO perspective? Identify the topic clusters that have the most potential and use them to guide your website and editorial content like your blog articles and landing pages. If you're in a really competitive industry, you may need to narrow your scope and focus on the keyword clusters and specialization you want to rank for. Here are a few of our favorite SEO tools to guide your content strategy.
We'd love to say there's one tool or a quick fix to get your website ranked on the first page of Google or another favorite search engine. Truth is, those who deserve to rank will rank. This emphasizes the importance of continually evaluating your website and improving it based on what you find. That's why implementing a growth-driven design (GDD) methodology along with a pillar content strategy is so effective. It helps focus your SEO efforts through analyzing user behaviors and making strategic decisions based on what you discover.
Click on the link below to discover more about how a GDD approach — hint, hint, it's a pillar page — can help build your website authority. Need help developing your website to begin with? We can do that too. Get in touch.
Greg will be speaking on this topic at AMA Northeast Wisconsin's "Brilliance in Marketing" series on Tuesday, March 12, 2019. Click here for registration info.