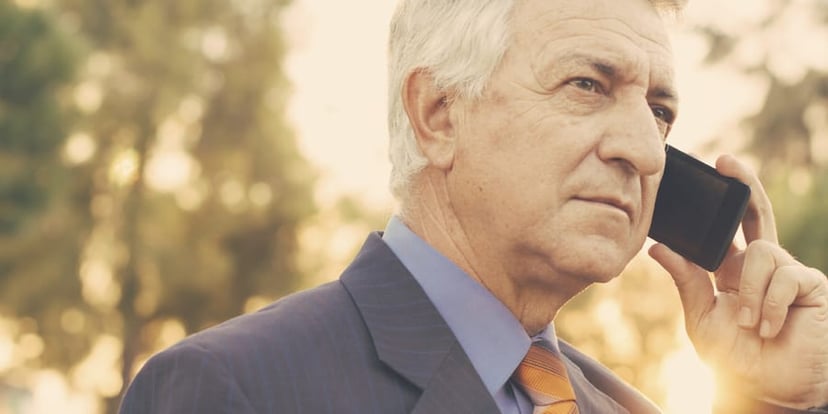 People sitting at the top of organizations are usually there for good reasons. They've often demonstrated an ability to produce top business performance results, and they've usually had careers full of well-calculated decisions.
OK, some are probably there because of their last names, but, in my experience, most C-suite leaders (CEO, CFO, COO, etc.) are there because they've earned senior positions by demonstrating good, sound judgment in matters of significance to their businesses. They haven't put the businesses' assets recklessly at risk; on the contrary, they have probably made some very astute investments that earned them and their peers attractive returns.
So if you're a vice-president overseeing sales and marketing, or you're a director of marketing, and you're starting to believe your business could benefit from a focus on generating leads with inbound marketing, you know you have to convince some people at the top. After all, their job is to recognize the difference between good and not-so-good uses of company resources. But before you can sell them on a solution, you need to get them to agree that the problem or opportunity you want to address is worth the resources.
What's Your Most Compelling Goal?
HubSpot just published the 2015 version of their annual industry report, State of Inbound 2015, a global survey representing more than 150 countries and nearly 4,000 respondents. HubSpot could have given it a less specific name like the "State of Marketing," since the questions and findings represented a broader view of what people are doing and thinking regarding marketing in general. But that's probably a discussion for another time.
To learn about what most occupies marketing minds, HubSpot asked people about both their priorities and their challenges. As Jamie Cartwright explained in his recent article, "What Marketers Are Prioritizing for 2016," marketers' priorities for the year ahead are all about growing business (according to the State of Inbound 2015 report). More leads, closing leads, proving ROI of marketing, growing business with current customers... Everyone has their priorities clearly focused on finding smart ways to grow; not growth at any cost, but smart growth that satisfies the increasing C-suite scrutiny that marketers are under.
The goal(s) you choose will be based on your situation; while most businesses want more quality leads, some would be best served by focusing on improving their closing rate, or reducing the average cost of new customer acquisition, or improving the quality of new leads. Getting an objective handle on current business development performance will help you focus improvement efforts in the area(s) that provide the best business impact.
Selling the C-Suite
So, once you have consensus around a clear goal that everyone can focus on, how do you get the CEO, CFO, and CMO to agree that inbound marketing is a strategy that will positively impact your specific goal? Make the argument around factors that matter most to them:
Growth
Inbound marketing starts with great content optimized for search engines, which attracts more quality leads at a lower average cost per lead than traditional outbound marketing tactics
Marketing automation facilitates lead nurturing so that more leads become sales qualified
Focusing sales efforts entirely on qualified leads results in a higher closing rate and a lower customer acquisition cost (CAC)
Predictability
Focusing on content creation grows marketing assets, which are largely evergreen. Committed inbound marketers report a majority of leads coming from older content that continues to attract
Growth in traffic and leads is predictable based on benchmarks and proven models
Risk Management
Inbound results are instantly measurable, so learning happens in real time
Modifications can be implemented instantly based on ongoing active learning
Sustainability
Evergreen content assets continue to produce economic value
Ongoing learning by marketing and sales teams contributes to continuous improvements in business development effectiveness
Solvency
Payback is predictable and relatively fast: typically 12-18 months
Investment to create and execute the plan is modest and controlled, with a majority of spend set up to pay as you go
ROI is attractive and continues to improve over time as you measure and improve both customer lifetime value (CLV) and CAC
I guarantee, if you take the time to make this five-point argument in the context of your current business development performance—and the business goals you've identified for 2016—your C-suite will be asking you how soon you can get started, and what took you so long to show them the light. Of course, once you show them how compelling inbound is for your business, you better be ready to act with confidence!