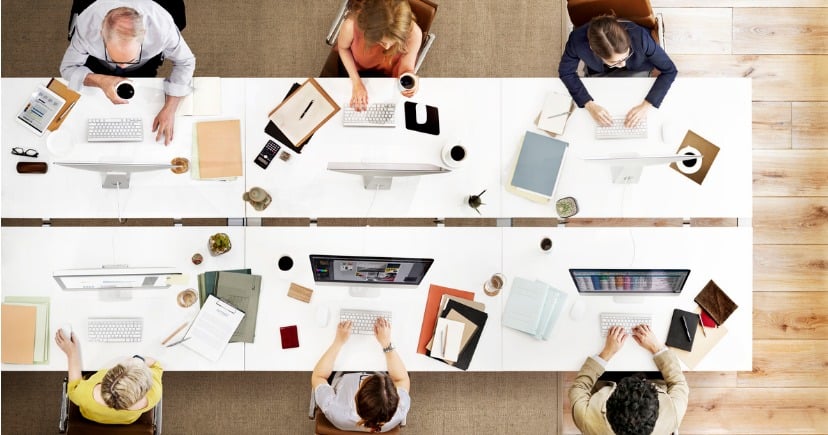 Every marketer knows that things aren't what they used to be, and I'm not even talking about the "old days" when traditional print ads and mass media campaigns reigned supreme. Consider the continual evolution of the smartphone (which you might be reading this article on) or how voice assist is revolutionizing search; not to mention the cloud, machine learning and more.
Marketing has evolved. So why are you still trying to get leads for your business using outdated methods and tools? It's the equivalent of releasing a feature film on VHS versus Netflix.
A recent study conducted by Maryville University outlined the state of marketing and the top skills marketers need today to achieve business growth. Here, we'll highlight a few major takeaways. I'll be honest — the number of skills we marketers need to acquire can be overwhelming. What this study shows though is that inbound marketing and its core components aren't going anywhere. If anything, you need to leverage inbound methodologies and tools more than ever.
Skill #1 — SEO and Data Analytics
Google updates its algorithm more than 500 times each year.
Wait, what?!? This statistic seems disheartening and startling at first glance. Of course, you can't expect to shift your approach to attracting inbound leads every single day. Thankfully, your customer's behaviors aren't changing as quickly as the algorithms are. First, stay focused on who your ideal buyers are and understand the ways in which they interact with your content. Commit to keeping a pulse on the metrics available to you to understand the behaviors of your customers so you can adapt your approach. Three of the best marketing analytics tools we've found are Hotjar, Hubspot and Databox. All three used in combination can be a powerful force in attracting more leads, nurturing them, and customizing your website and content to garner higher SEO rankings and create the best user experience possible.
Skill #2 — Content Marketing
86% of marketers use content marketing, but only 36% consider their blogging skills sophisticated or mature.
Blogging and creating advanced content like eBooks and infographics isn't anything new, but how people digest that content is changing (as is Google's way of ranking it). The previous mindset was to keep blog posts short and easily digestible — between 600–800 words. Now, however, users tend to explore more exhaustive, long-form content that can give them all the information they're looking for in one place. Another consideration is creating pillar pages on your website to separate your content into key subjects of focus and related topics. Doing so helps increase your search ranking for those subjects and your overall visibility.
Not to be forgotten is one of the oldest, yet highly effective online tools: email. 86% of marketers use email to distribute content, yet it's important to remember that the messaging in your emails is content, too. It needs to be engaging and highly personalized to the recipient. Addressing them by name is only the start. Marketing automation tools like HubSpot are a must in order to filter contacts based on their online behaviors, likes and interests so you can tailor content based on who they are and where they are in the buyer's journey.
Skill #3 — Video
95% of Gen Z uses YouTube, while 50% say they can't live without it.
Video is possibly the fastest growing and most influential tool you can leverage to generate leads and subsequent sales. It's also a major factor in recruiting efforts. In addition to the Maryville study, we gathered compelling statistics that stress the importance of including video in your marketing strategy, including:
72% of people would rather use video than text to learn about a product or service
59% of executives say that if both text and video are available on the same topic, they'll likely choose video
It's not just Generation Z that's using video, it's everyone. Industrials are especially leveraging this form of media. Video production needs to be part of your marketing budget now and into the future, as studies indicate its use will only continue to rise as a preferred way of digesting content. Not every video has to be studio quality, but for product demonstrations, company highlights and recruiting videos, you'll definitely want to invest in professional production that puts your best foot forward.
Skill #4 — Social Media
On average, marketers use 5 social media platforms to distribute content.
For marketing complex B2B industries, there's sometimes an attitude of, "Our customers don't use social media." Really? Considering there are more than 590 million active professionals on LinkedIn alone, I beg to differ. Marketers need to leverage LinkedIn and other platforms, such as Facebook and Twitter, to remain relevant in today's marketplace. Even if you aren't convinced that promoting your brand and products on social media is worthwhile, these platforms could possibly be one of the most effective ways of showcasing your culture and attracting skilled labor. And that alone is reason enough to maintain a positive and engaging social presence.
Skill #5 — Design
Design is the #3 most difficult skill set to find in new marketing talent.
Still rockin' that color scheme from 2004? Does your website layout and imagery overwhelm visitors the moment they arrive on your home page, resulting in high bounce rates? Just like fashion trends change with each season, so do design trends in marketing, especially websites. Because website projects can be expensive and take months to build, the thought of revamping it every six months is inconceivable for most. That's why we stress taking a growth-driven-design approach to website design. The idea is that you gain insights from analytics, user behavior metrics and industry design trends to make iterative changes over time. Instead of having a set-it-and-forget-it mindset, your website remains in a continual state of optimization. This helps prevent it from becoming stagnant and stale by adopting an agile, continuous improvement approach.
It's easy to look at current trends and statistics and feel like you need to be a Jack-of-all-trades and master everything. Not gonna lie; it's hard to do it alone. If you're not currently using marketing automation software to manage all these forms of communication, that's a great place to start. Even then, it can be difficult. We'd love to come alongside you to strategize and help you use inbound marketing to reach your business growth goals. To start, you can download our free Step-by-Step Guide to Inbound Marketing. Better yet, reach out and we'll walk you through that process.
For the full infographic from Maryville's study and an overview of all 11 modern marketing skills, see below: