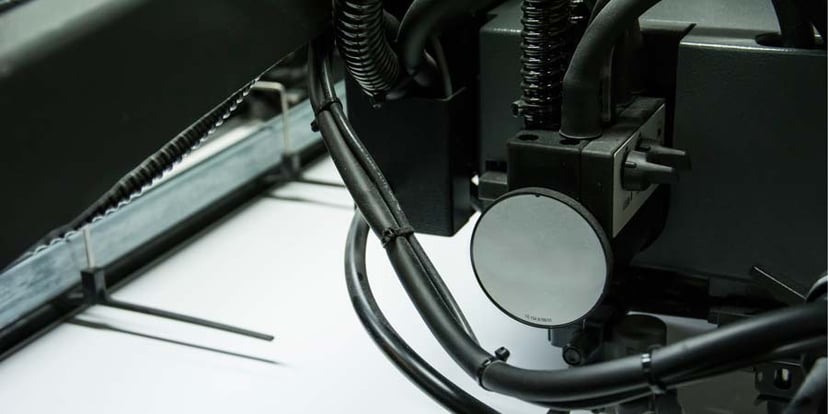 Whether it's a packaging line system, a petroleum storage tank or a set of industrial process controls, the products sold by manufacturing companies are complex, highly involved, high-dollar purchases. The buyers of these products—engineers, facility managers, operations directors—are diligent people who understand the significance and impact these buying decisions have on their company's bottom line. They do their homework.
In fact, according to The 2014 Acquity Group State of B2B Procurement Study, 94% of B2B buyers stated that they do some form of online research before purchasing, with about 30% of the total saying that they research 90 percent of products online before purchasing. Notably, this is up from 22 percent from 2013.
As a B2B manufacturing company, this means your website is most likely the initial place prospective customers have contact with you. By now you probably know about the importance of making sure your B2B site is ready for these researchers through thorough persona identification, content creation, SEO. But do you know how to measure the success of your site? Are you measuring the success of your site?
If you're not, take heart, because you're not alone. According to the Content Marketing Institute's 2015 B2B Manufacturing Content Marketing Report, only 12 percent of manufacturing marketers say they are successful at tracking ROI (and probably site metrics overall as well).
So, as a manufacturer, how do you measure the success of your site? Which metrics are important to track—given the product research required, lower traffic levels (compared to B2C sites), and long sales cycles?
Well, here are 6 that will help you track how your site and content efforts are performing so you can begin to optimize them. After all, you can't fix what you aren't measuring.
1. Site Traffic and Sources
Perhaps the most obvious metric to measure is site and key page traffic. Measure and evaluate it week over week, month over month, and year over year to gain perspective on how consistent blog publication and any content promotion (or lack thereof) affects traffic, what "normal" traffic looks like for you and to determine any seasonality trends in those numbers.
In conjunction with traffic, you'll want to track where it's coming from: organic search, direct, social, email, or referral. The organic search number will tell you how you're doing in terms of search engine performance and SEO. Direct will give an indication of those who type in your URL, although there are some things you should keep in mind with direct. Social and email numbers, obviously show visits that originated through those promotion efforts, while referral will tell you visits that came from another site. The ebb and flow of the sources data will enable you to gauge the success or failure of specific content promotion, along with the categories of site content.
2. Average Time on Page and Bounce Rate
For key site pages, average time on page will show you whether visitors are consuming content at an appropriate rate for what's there. Is it a full case study or just bullet points? The former should have a higher time on page than the latter, but if not, that's an indication that the study may not be as compelling as you initially thought.
Average time on page goes hand-in-hand with bounce rate, which shows you which page someone pops in on and then leaves without viewing other pages on your site. A high bounce rate will tell you what pages may not be living up to visitors' content needs or expectations.
3. Conversions - Rate and Source
Because sales processes for manufacturing are long and frequently complex, a visitor isn't likely to convert to a customer immediately. Consequently, it's important to think of the buying process as a series of incremental conversions and measure/track those conversions so you can see prospects' lifecycle changes (e.g., visitor to lead) and make adjustments to your content approach as needed. At the same time, you'll want to know which sources are converting (or not) so you can apply and/or adjust your efforts accordingly.
In the most basic terms, a high conversion rate says you're pulling in the right kind of traffic. What is a high rate? While a variety of sources will tell you anywhere from 1%-5%, it's really an individual standard—which is why you need to measure and track your own data. A marketing and sales platform like HubSpot makes doing so easier and will enable you to track what content a customer consumed during their buying journey.
4. Nurturing Email Metrics
Since the sales process is lengthy, you should have nurturing email campaigns in place to keep visitors and leads engaged and feed them key information that will help build trust and a relationship with them. Such campaigns are usually set up as email campaigns, so you should track the open, click and unsubscribe rates for the individual email sends to measure what topics/subjects are engaging well and how the different campaigns are performing overall.
5. Landing Pages and CTAs
A key part of building conversions are your landing page offers and their related CTAs. The page visits and CTA click-through rates will provide a clear understanding whether the offer (e.g., eBook, tip sheet, etc.) aligns well with a particular need and is compelling enough for someone to convert on it. You'll want to track this performance over time so you can see when the offer becomes stale and my need updating or replacing.
6. Number of Qualified Leads
For each offer and each form you should be collecting data that will help qualify new leads for your specific business (e.g., job title, industry, sales volume, etc.), that is the types of businesses that are a good fit for your company's products/services. Doing so will allow you to segment your leads based on your qualification criteria, so you can focus on them and not so much on the lookie-loos and others that you know aren't a good fit. Monitoring the number of qualified leads versus the total number of leads will be another gauge for how well you site is pulling in and converting the right contacts. It will also enable you to evaluate, over time, the traffic volume your site needs to generate that number of qualified leads.
If you're not tracking marketing metrics for your manufacturing business, you're in danger of making decisions based on best guesses and potentially wrong assumptions. The good news, however, is that it's never too late to start measuring, and there are many marketing automation tools available that can help you get there.