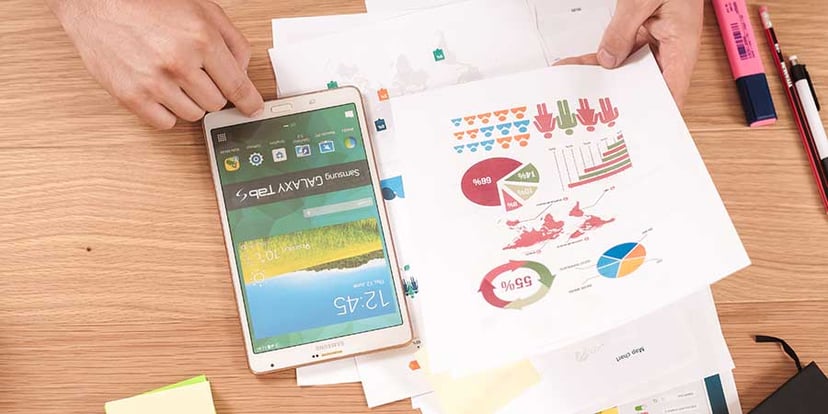 For anyone who's ever looked at social media analytics, you know there's a bevy of different metrics that get reported—many of which seem pretty similar. Whether it's clicks, likes, shares, comments, impressions, followers, etc., it's easy for all the charts to blur together and get lost in the data.
Likewise, because social media marketing is still relatively new for a lot of companies, people are still learning the true impact and meaning of these metrics. For example, if 10 people comment on your LinkedIn post, what does that really mean other than just 10 people wanted to comment on what you said?
To help you focus on the metrics that matter most, I'll go over the metrics that have the biggest impact on your company's bottom line, while also covering the vanity metrics that are less significant.
Most Meaningful Metrics
Traffic Back to Site from Social
This metric is one of the most important that you can monitor, because it tells you exactly what kind of impact your social media is having on your overall site traffic. You can even break it down by network or date/time to get even better insights, and pinpoint which posts and social networks are performing best for you. If you notice a spike on a certain day or network, take a closer look at the posts you shared to get a better idea of what works well.
New Contacts
Whether you get 20 or 200 new contacts for your CRM each month, it's important to know just how many of those are coming from social media. Of course, it helps to have your CRM software linked with your social reporting software, but if you're a HubSpot user, you're already set. If you notice a big spike in contacts gained, take a closer look at the posts you shared that day to see which of your content is best at generating conversions and contacts. Likewise, if you want to earn more contacts from social, make sure you're sharing advanced content offers that can earn a conversion right away.
Clicks
What's the big deal about clicks? To put it simply, 1 click = 1 person you've convinced that your content was worth spending their time on. Even if they don't "like" your post, you share your content hoping people will read it, and that's what a click indicates. People might like your post simply because they like your brand, but they won't click on something unless they're truly intrigued to learn more. The more clicks your posts are getting, you know you're doing a good job sharing content people want to read. If clicks are down, take a closer look at the content you're sharing, while also taking a look at the time they're posted. Just don't resort to clickbait!
Comments and Replies
As I mentioned earlier, comments might not seem that important, but with each comment comes an opportunity to speak directly with one of your fans or prospects. Even if it's just something simple like, "Awesome picture guys!" it's the perfect chance to start a 1-on-1 interaction with them, and show off your company's commitment to customer service to anyone who sees it. Likewise, because it takes a little more time and effort to comment on something rather than just liking it, you know the content you're sharing is good if it's getting people talking.
Less Meaningful Metrics
New Followers and Page Likes
On one hand, new followers and page likes are great metrics to track, because it shows you how much your social media channels are growing. You can also keep track of individual new followers to see if you're attracting the right target personas. That being said, given the number of fake online profiles out there, the validity of those new fans and followers can be somewhat questionable—especially on Twitter. With Facebook and LinkedIn, the majority of your new fans will be real people interested in your brand (and well worth tracking), but when it comes to Twitter, there are tons of profiles who follow any and every random account, just hoping for follow backs to boost their own metrics. There's no chance of these profiles ever converting on an offer and becoming a lead, so you sometimes have to take reports of new followers with a grain of salt.
Likes
Everyone always seems to be obsessed with how many likes something gets, but with a like just being a show of approval, it really isn't that helpful apart from showing you which posts people like the most. Even then, a lot of those likes on your page can often come from your own employees, their families, and their friends, so you can't get too excited about 20 likes per post if 15 of those are from evangelists or fans with no interest of becoming a lead.
Impressions
Impressions simply measure the number of times users scroll past your post in their newsfeed. It doesn't tell you if they stopped to read it; it just lets you know that it appeared X amount of times. This is a helpful stat for helping you gauge the reach on each network, but when it comes to sharing a blog article or other content, knowing how many people saw it in their feed really doesn't mean much.
Hopefully this helps clear things up for anyone struggling with social media reporting. Of course, different businesses might emphasize different areas of importance (i.e. focus on more contacts vs. trying to get more comments), but in general, these are the social metrics that have the biggest impact on your overall marketing success.