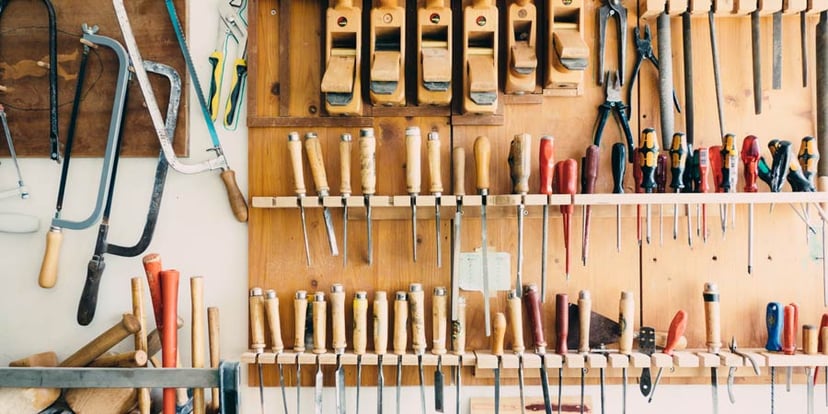 You've taken that leap of faith and purchased marketing automation software—either HubSpot, Marketo, Pardot, or some other suite. Now how do you make the most out of it?
The software itself serves as the framework for success, but it also takes a lot of work to use marketing automation to its full potential.
Your next steps require planning, lots of project management, and a way to analyze your improved digital marketing results. In other words, you're probably going to need a few more digital tools in your arsenal to make your marketing automation platform work to its fullest potential.
#1 Purchase after Marketing Automation: Content Management
1. Content Planning: Scheduling is Everything.
While your marketing automation software allows for the creation and scheduling of your advanced content, blogs, and emails, it is still critical and necessary to create an editorial calendar and project plan. Tools such as CoSchedule can be used to create a meaningful and powerful publishing schedule. Some features include an integrated marketing calendar and workflow management tool.
Once your content is slated make sure that deadlines are being met and projects are progressing by implementing a project management tool. This helps to provide a place to track the development of these pieces and centeralize communication. Some good options include Basecamp, Wrike, and WorkZone.
2. Social Media Planning: A Beast All Its Own.
Another piece of the planning puzzle is social media. There are several platforms that focus on social media planning and monitoring such as Hootsuite and Sprout Social. Some marketing automation software has social media capabilities built in, but depending on how large your social media efforts are, external tools can be very useful. These platforms provide extended analytics, advanced scheduling, engagement management, and opportunity for further brand amplification.
3. Graphics Tools: Make It Easy On Yourself
You'll want to consider how you will add imagery to bring these pieces to life. Utilizing a stock image library like iStock or Canva helps to ensure you have fresh graphics at your fingertips. Many companies don't need an entire graphics team. Stock photo libraries and online editing tools, like Canva, help to cut down on the size of your marketing team.
Marketing Automation Necessitates the Use of a CRM
One of the main purposes of inbound marketing is to generate better quality leads. Those leads need somewhere to go to be tracked and managed, so that they turn into customers. That is where a CRM tool can benefit your efforts. Some marketing automation platforms such as HubSpot have this built in already.
If you don't currently have one, consider it to be "phase two" after getting your marketing efforts up and running. Your CRM system should align with your marketing automation platform, the same way your sales team should align with your marketing team—easier said than done, right?
The good news, every year, CRM and marketing automation platforms are becoming increasingly integrated. HubSpot—an all-in-one example of this—is the clear leader in combining marketing automation and CRM. Salesforce, the leader in CRM, is also working toward this goal—providing a suite options, including the Salesforce Marketing Cloud and Pardot. With a fully aligned marketing and sales system, your business development efforts will benefit from:
Better organized internal communication
Clear tracking of leads' lifecycles and sales progress
Easily calculated ROI: How marketing efforts led directly to sales results.
Another tool for better internal communication and alignment is Zapier. This platform assists in building internal workflows and automating emails based on a variety of other platforms. For example, when you are posting new content online you can coordinate an internal, automatic email to be sent to your sales team to remind them to share the content with prospects. One less thing to remember that helps move data and information between two different platforms.
Furthermore, if you find yourself selling a software based solution or commonly presenting, a platform like Join.me or Gotomeeting could be another important tool for creating a streamlined process between marketing and sales. Both products' software base integrates directly with marketing automation and CRM products, allowing both marketing and sales to see when meetings happened and how they went.
Don't Buy Automation If You're Not Prepared to Analyze The Results
Most marketing automation software comes with analytics packages built in, but you want to make sure you're able analyze the metrics you need to form relevant KPIs. For example, getting started with Google Analytics is an effective, free complementary tool that helps to dig deeper into your website activity.
While all these tools are great on their own, they are even more powerful when used in combination. In other words, buying marketing automation is just the start, and it can easily start to build up. It's important to identify, on the front-end, how the costs of digital marketing tactics can build up and absorb your marketing budget. When you add together project costs, staff costs, and other services, at times, a more effecient way of operating involves outsourcing some of your marketing efforts.
To sum it up, planning is essential. With marketing automation, project management, content tools, social media, CRM, and analytics, you could always purchase more products to try and get your marketing efforts jumpstarted. But the real answer is in executing effectively. Learn more about building an effective plan in our complete guide on annual planning—click below.