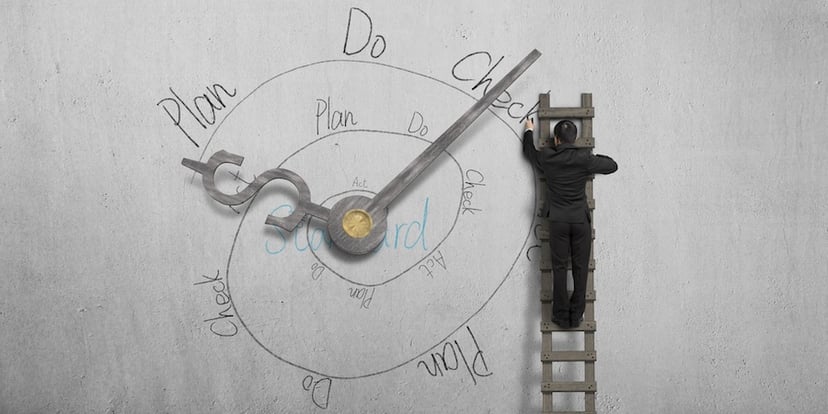 I don't know why it's called growth-driven design; a better term would be user-driven design – or, better yet, prospect-driven design. Well…no one's going to change the industry terminology for me, so let's just get on with it.
In a nutshell, growth-driven design, or GDD, is a more efficient and productive method of designing and maintaining a website that leverages user data to inform continuous changes to your site. Let's dig into how GDD is done and why it's a better approach to web development.
GDD versus Traditional Web Development
Twenty years ago, when most companies were just starting to understand the importance of building a website, the process of launching one was rather taxing: take 3 or 4 months to collectively decide what the company wants on its site, 4 months or so programming it, then let it sit and do its thing. It was like creating a brochure (remember those?): spend a lot of time and money developing it, wait a couple years for it to become obsolete, then go through the entire process again.
These days, marketers are smarter and the development process is more effective in making websites work hard to continually attract and engage the right prospects. A GDD website approach is:
Iterative. Unlike a traditional process, in which the plan-develop-launch-watch cycle lasts for up to several years, the GDD process is a continual cycle of sprints. Sprints are defined time periods (anything between one week and three months, HubSpot suggests 2 week sprints) during which a company's marketing team or their marketing partner work on improvements to the site.
Focused on the user. The improvements that are made to a GDD site during those sprints aren't based on whims of the company's marketing or management teams; they're changes that are made based on how prospects are using (and not using) the site. In other words, the site is always being improved based on data that tells you how your prospects are using your site.
Optimization. Most importantly, a GDD site is in a continual state of optimization – meaning, it's always delivering what prospects are looking for.
If, at this point, you're thinking, "Yeah, but we just redid our website," or "I like my site – I don't want to change it," you're in luck. Here's how to take a GDD approach for each of those scenarios:
You just redid your website. Great – you probably won't need to do much at all during your first sprint. But keep in mind that if you created the site in the traditional way (got feedback from stakeholders, worked with a designer, got feedback, changed things and then launched the site), your site might include portions that are irrelevant to your prospects. You might find, for example, that while your entire team was enamored with your Our History page, prospects don't care much. User data you collect will quickly tell you where you need to revise the content, improve accessibility/usability, make areas more prominent, etc.
You like the look of your current site. That's great, too – no one is suggesting you start over. The look of your site, while important to your brand image and the site's overall appeal, should not be the primary focus. What's most critical is the experience your prospects are having. So, keep the look of your site if you want, just modify regularly to improve prospects' interactions with your site.
Weidert Group has taken a GDD approach with our site, coinciding with our launch of a totally new look and content approach (though a company could start with its existing site). Now, we're in the midst of tackling our first sprint. During this month-long period, we'll be creating bios for all of our employees, adding content, and removing one area within the site that we no longer need. After that, we'll review the data to see what people are looking at, how long they're viewing it, what their page view sequences are, where they're clicking and much more. We'll use that data to inform changes to make for the second sprint…and on and on.
There's no reason to treat your website as something that gets "done" every few years. Like any important asset, it should regularly be given the attention it needs to perform its function: to be your company's smartest, hardest-working sales tool. Think about the benefits of taking a GDD approach (one of them being the ability to more easily budget for it), then download our GDD checklist to see if this is the right approach for your business.