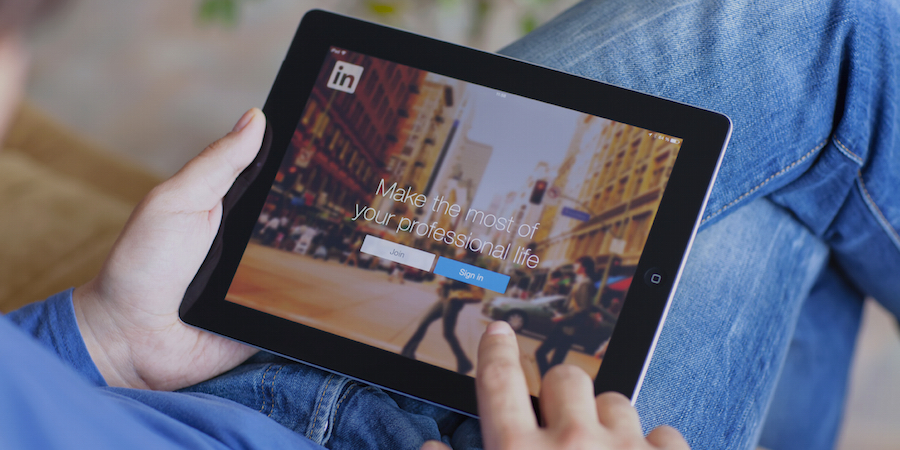 According to the 2015 B2B Content Marketing Benchmarks, Budgets, and Trends Report for North America, 94% of B2B marketers use LinkedIn to distribute content. In other words, if your B2B company ISN'T using LinkedIn, you're among only 6% of B2B businesses in the U.S. to not have a LinkedIn presence!
Let that sink in for a second.
When was the last time your company ranked in the bottom 6% for anything?
As the modern buying process continues to change and buyers conduct more pre-sale research online, social platforms have evolved into more than just a place to stay in touch with your friends and family—and nowhere is that change more apparent than LinkedIn. As a network full of more than 350 million business professionals, LinkedIn has become an indispensible resource for B2B companies that are looking to build their online presence.
Still think it's only used for job postings? Think again!
While career search features are still a major feature of the social network, LinkedIn has evolved to become much more. Today, it's primarily used as a platform for businesses to promote their products and services, build credibility within their industry, and interact with B2B decision makers in a professional setting. It's not just about posting jobs anymore; it's about building quality relationships with prospects and driving traffic back to your website.
If your business is among the 6% percent of B2B's companies that doesn't have a LinkedIn presence in 2015, you might as well not even exist by today's standards. To help change that, here are 6 more reasons why your company needs a LinkedIn page:
1. Of all the B2B leads generated via social media, over 80% come from LinkedIn (source).
Though Facebook and Twitter might be the most popular social networking sites overall, LinkedIn is where all the business decision makers hang out. Because LinkedIn is strictly intended for businesses and professionals, B2B companies will have better opportunities to generate leads, because users are already looking for business-specific, industry-related information.
2. LinkedIn generates the highest visitor-to-lead conversion rate at 2.74%, more than 3x higher than Twitter (.69%) and Facebook (.77%).
If you're doing social media effectively, your posts will help drive traffic back to your website. And while a visitor is merely just a traffic statistic if they don't convert on an offer, according to data from HubSpot, visitors from LinkedIn are 3x more likely to become a lead compared to visitors from both Twitter and Facebook. Because LinkedIn users are already looking for business-specific, industry-related content, they're more likely to convert on your company's offers.
3. 65% of social buyers consider it critical to check the references of vendors with their colleagues, friends, and acquaintances, and 73% prefer to work with sales professionals who are referred by someone they know (source).
First and foremost, a social buyer is someone who uses their online connections to support their purchase decisions. Even though more and more business is being conducted online today, it's clear that decision makers still value references from connections, friends, and colleagues. With a LinkedIn Company Page, you can provide a place for these social buyers to verify your company's expertise and check to see if you share any common connections.
4. 49% of social buyers research vendors by looking at their LinkedIn profiles, and 44% have actually found potential vendors by looking at shared connections on LinkedIn (source).
Need proof that you're missing out on valuable sales opportunities by not having a LinkedIn profile? Look no further.
5. Users have created more than 22 million groups on LinkedIn, with each user joining an average of 7 groups (source).
If you didn't know by now, we're pretty big fans of LinkedIn Groups here at Weidert Group. LinkedIn Groups are unique because they provide an opportunity for niche audiences to come together, network, and discuss the latest news, industry trends, and potential strategies. They're an excellent resource for prospecting new leads, and if you follow the best practices for using LinkedIn Groups, you can also help improve your company's reputation as a thought leader.
6. Social buyers have 84% larger budgets than non-social buyers, make 61% more purchases, and tend to have more seniority within their company (source).
By 2020, it's estimated that more than 80% of the buying process will occur online without any direct human-to-human interaction. With so many transactions occurring online these days, companies rely on their social buyer employees to help find the best products, services, and deals. Because these social buyers know how to navigate the modern marketplace, companies trust them with larger budgets and more responsibility. That being said, your company can't benefit from their buying power if you don't have an online presence!
LinkedIn is, without a doubt, the most valuable social networking site for B2B companies in 2015. Though Facebook and Twitter also have their benefits, LinkedIn is the only true "must-have" for B2B companies, and the evidence above helps prove this point. If your B2B company hasn't created a LinkedIn Company Page yet, it's crucial that you create one soon – before you're in the bottom 5%!

Topics: Social Media

Written by
Alex Sobal
Alex has exceptional writing skills and the ability to learn new industries and their complex processes. While at Weidert Group, he was also an avid social media marketer and wrote frequently on online community engagement and content creation strategies for our blog.