If you remember my post from last week, I'm sure you recall my story about the importance of marketing your company's customer service and other special features that separate you from the competition. Just because your customers can find you online, doesn't mean that they'll be happy to – and they won't hesitate to look somewhere else if another company can do it better. Simply put, in an online marketplace that's slowly becoming more crowded in every industry, you not only have to find new ways to attract visitors to your site, but you must also persuade them to stay and choose your company above all other options in their search results.
Going above and beyond just "good enough"
Even though inbound marketing is a relatively new concept to many businesses, its strategies and best practices have changed significantly over the past few years. In 2009, only 48% of businesses had a blog, but today, it's estimated that 76% of B2B companies have one! Whereas a business with a decent website, effective SEO tactics, and consistent content output could dominate the search results pages in 2009, they might not even crack the first 5 pages with a similar strategy today.
Because of this gigantic increase in the sheer amount of content available, consumers are now armed with more information and choices than ever before. And to make things more challenging, the speed at which they can find and access this information helps speed up their decision-making process. If they can't find what they're looking for on your website, it only takes 5 seconds to hit that back button in their browser and find an alternative solution.
To help inspire your business to go above and beyond the call of just creating content that helps searchers find you, we found 4 great examples of unique and convincing online features that businesses use to truly differentiate themselves from competitors, and earn more sales.
Working in an industry that isn't known for its sleek designs and great user experience, the developers at Nasdaq were faced with the challenge of taking their robust desktop Investor Relations platform and turning it into an easy-to-use mobile app. But this isn't just some watered down version of their popular desktop platform, however. Developers conducted countless user interviews and surveys to determine exactly how to perfect the design and functionality of the app. In the end, they were able to create something that allowed users to manage every aspect of their investor relations workflow, whenever and wherever they needed.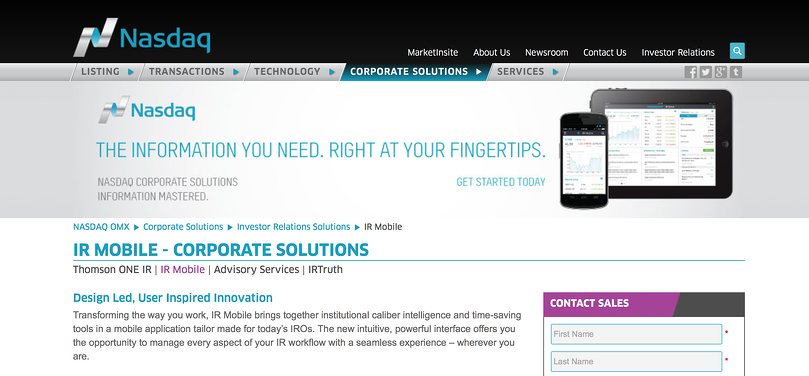 In the industrial supplies industry, you'll find plenty of businesses that offer the same (or similar) products as Grainger, and all for relatively the same price. What you won't find, however, is another app that makes buying all of these products easier. Looking at the Grainger Mobile App, users are able to track their current orders, check product availability at nearby locations, search for and order products at the touch of a button, read product reviews, and much more. Users on the iPhone app are even able to locate products by sending picture messages to customer service representatives using the live chat feature!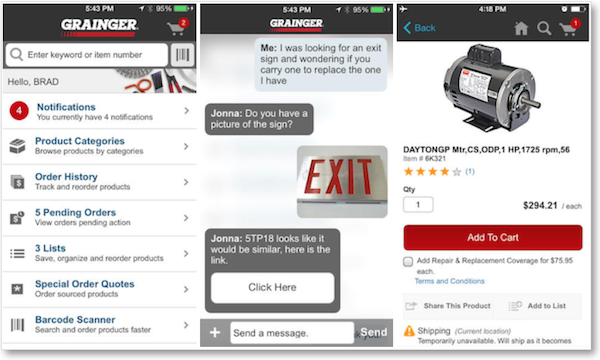 Known for being one of the leaders in the aircraft industry, Cessna redesigned their website to not only be more user friendly, but also more visually intriguing as well. Right away, users can choose from their 3 main aircraft types, and can find a wealth of information about each plane, jet, and turboprop. Potential buyers can instantly see what each plane looks like, and can learn more about their individual customization and specification options – making it quick and easy for searchers to find exactly what their looking for. Better yet, once they find what they're looking for, Cessna does a great job at hooking them in and making them want to learn more.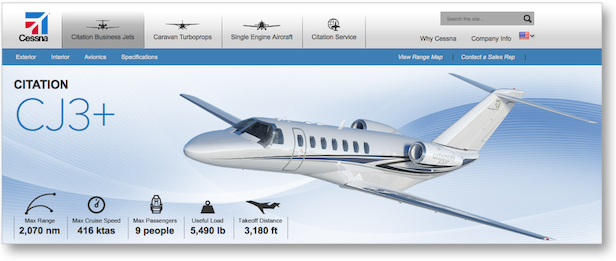 It goes without saying that we're big supporters of HubSpot's marketing software at Weidert Group. But what we really don't speak enough about is their great support and customer service behind the software. As an everyday user of multiple tools within the software, I've definitely had my fair share of questions for the support team. Yet every time I call, I know I can rely on them for quick, insightful answers. But their service goes beyond the 1-800 support. HubSpot schedules weekly calls between us and our channel consultant to discuss any issues and questions we have as an agency. In turn, they take this feedback (along with feedback gathered via other channels) and design future software tools with this input in mind.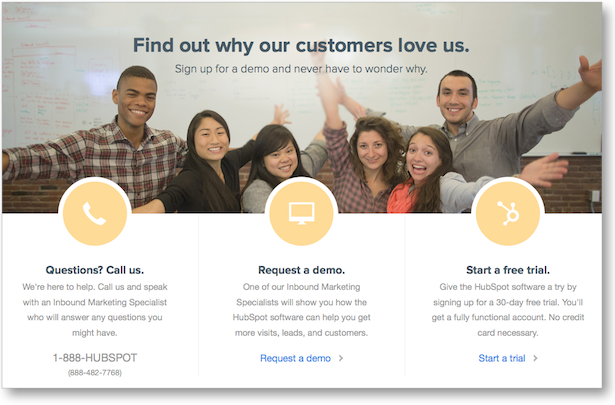 As I've said before, today, it simply isn't enough to just attract visitors to your website. Nowadays, any business can create an attractive website and get found in search, but it's only the websites that truly excel at winning over the customer that land the majority of the sales. Apart from your content creation and promotion strategy, what else is your company doing to set yourselves apart? Hopefully these examples inspire you to get creative and think big
Image Credit 1