ABOUT FALCON STRUCTURES
Falcon Structures has made it their mission to revolutionize the construction industry with modular container-based structures — what's often referred to as "modified shipping containers." Falcon uses these structures to manufacture everything from simple air-conditioned storage units and temporary construction crew housing to the building blocks for multi-story sports stadiums and military training structures for first responders.
OUR CHALLENGE
What Problems Needed to Be Solved?
Falcon was searching for a HubSpot partner that could apply industry and inbound expertise to:
Evaluate the company's existing branding and, if needed, revamp it to be more in line with what the company offers (and what its best prospects are looking for)
Leverage their industrial experience to precisely target and meaningfully engage the right prospects (communicate more clearly to military, construction, manufacturing and other audiences and not to consumers)
Review the company's SEO strategy and identify ways to improve its performance
Take Falcon's initial inbound efforts to "the next level" to reach short- and long-term goals and KPIs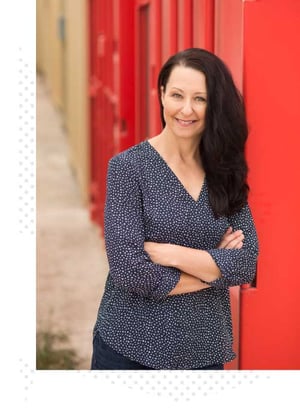 According to Krista Short, Director of Marketing and our main contact, a primary reason she chose Weidert Group is because of the way she found us:
"I reached out to them after doing some online research and discovering a very informative e-Book by Weidert Group. Based on that information, I could see that they've demonstrated the ability to quickly learn a nuanced business and customers like ours. The fact that we reached out to them meant that they were really doing inbound the right way. That's what we wanted for our company, too."

THE SOLUTION
The scope of this sizable project included both a complete rebranding of the client's company and a dramatic new website that reflected the new brand and more accurately addressed visitors' and customers' needs.
The Website Process
Weidert Group started by analyzing Falcon's then-existing site, going through more than 130 pages to understand the quality of the content and the many factors that influence the site's overall performance
We then reviewed the company's growth goals and identified what was needed in order for the site to deliver on expectations — both the company's and visitors'
We leveraged technology — LuckyOrange, Google Search Console, Databox, Salesforce, Google Calendar and HubSpot meeting links — to identify improvement areas where we could focus in order to offer visitors a more robust and streamlined experience
Many HubSpot features have been or are in the process of being applied to Falcon's site and ongoing inbound program:
To Attract
Blogs — A new blog template was set up; the client is optimizing existing posts to gain traction quickly and we're also creating new posts so we can quickly get critical mass (get search engines to recognize Falcon's content as relevant and valuable)

SEO — Weidert Group implemented a comprehensive SEO strategy, based on learning from Robbie Richards. We also developed topic clusters and pillar pages to broaden opportunities for search engines to recognize the integration of key information
To Engage
Email — We created all new templates and follow-up emails
To Convert and Nurture
CTAs — We updated the design of Falcon's CTAs and preview images to boost visual interest and engagement
Conversations — Using chatbots and handoffs to give qualified visitors the ability to quickly "raise their hands" and connect with a rep to get more information
Landing pages — Using data, we improved the client's form strategy in order to decrease abandons and increase conversions; we updated thank-you pages to promote additional resources

To Close
Meetings — HubSpot's Meetings Tool allows visitors to schedule a meeting with a Falcon rep, removing friction at a critical point in the buyer's journey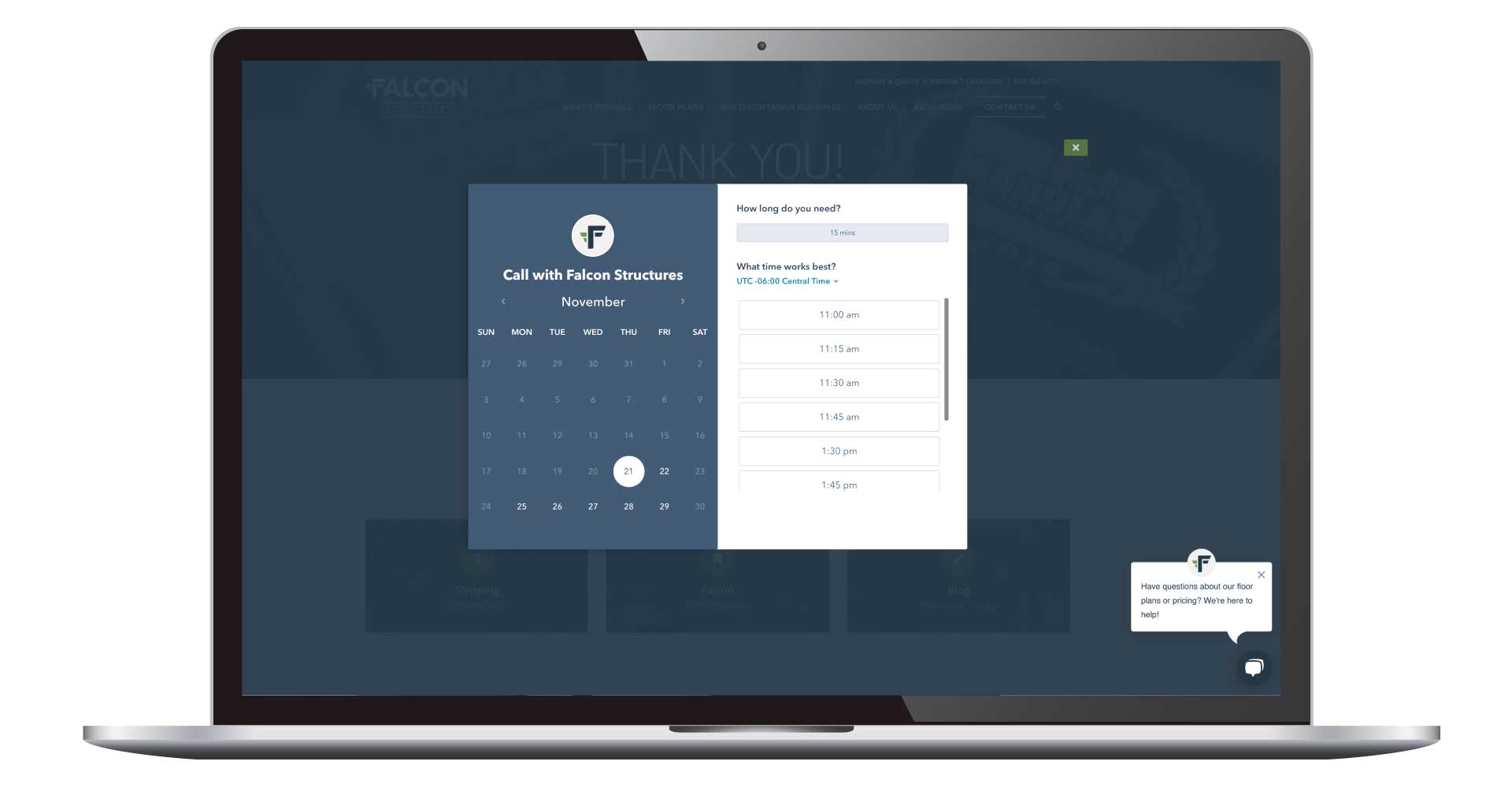 At the end of just 14-weeks, Falcon had a sophisticated new website that:
Reflected the expertise and sophistication of the company
Engaged visitors immediately with dramatic images and content that communicated more clearly the advantages of modified shipping containers
Presented the right information the different prospect audiences need in order to progress through the site and find what they need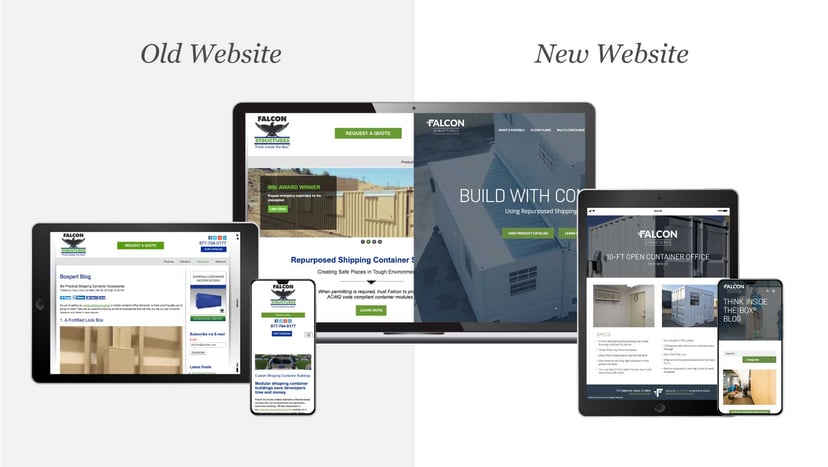 The Branding Process
Branding started with a full review of all existing assets (website, collateral, imagery, stationery, logo, presentation templates, etc.); we then developed point of view on the changes needed to more accurately communicate the essential characteristics of Falcon. At the same time we established new/refined positioning, value proposition and messaging, all with the prospect/user in mind.

The branding work started with the Falcon logo. Here it is before and after:

A snapshot of the overall brand transformation can be seen here, in before and after examples of the company's Style Guides:

THE RESULTS & IMPACT
Just 4 months after launching the new site, Falcon's inbound program is generating higher results than it was previously across the board:
Optimized blogs views have increased by an average of 141%
Overall blog views are up 195% this year
Views to the floor plan product catalogs have increased 300% since the site launched in June
109% increase in top-10 ranking keywords and 129% increase in the top 3 SERP results
41% increase in Clicks year over year and a 61% increase in Impressions YoY
Updated form strategy has increased view-to-contact rate by 27%
New contacts from website pages increased by 156%

Converted 4 of these contacts into customers (compared to 0 pre-launch in 2019)

Increased customer conversion rate from direct traffic by 1,117%
Increased closing rate by 18%
Organic traffic has increased 38%
Decreased the amount of "cold" leads by over 145%
Qualified leads: Falcon attributes 17 new opportunities worth $592K to the HubSpot Meetings tool

Website Calendar: 17 meetings booked
Emailed Calendar as part of inbound request follow-up sequence: 56 meetings booked

Unqualified leads — the prospects Falcon knows will never purchase from them — have decreased, proving that content is more aligned with ideal prospects. According to the client, "This is of huge value to Falcon — saving us valuable time and freeing us up to focus on other revenue-generating activities."
In total, 738 MQLs, 31 new customers, and a 14% increase in monthly sales
The Momentum is Building
The Weidert Group and Falcon Structures teams are working closely to execute the ongoing inbound plan and continue to build and enhance the tools to ensure optimum performance — this includes a structured GDD program for continuous website improvements. Our sights are also set on developing a detailed Service Level Agreement (SLA) that focuses the Marketing and Sales teams on collective goals, formalizes agreement on definitions of MQLs and SQLs, and details a process for working together to close even more deals.