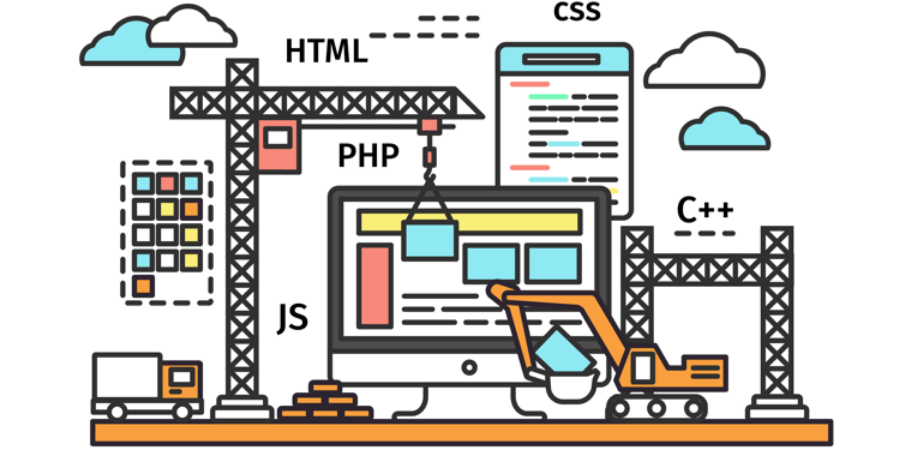 We often talk about having an inbound-focused website, but what is that exactly? Some components might seem obvious, like having a place to regularly publish marketing content, such as a blog. But other aspects of an inbound website might not be as transparent—like how your visitors move around your site and find the content they're supposed to.
Your website's structure can make or break your inbound efforts. A bad structure can lead your visitors to dead ends, causing them to leave your site before they even have a chance to convert. On the other hand, a well thought-out structure will have your site generating leads, SQLs, and customers left and right—increasing the ROI of your entire website investment.
What you need is a website designed with an inbound architecture.
What is an Inbound Architecture?
What do we mean when we say a site is designed with an inbound architecture?
To start, a well-designed general-purpose website architecture is made to help visitors find the most relevant information they need. It uses things like having an easy-to-understand menu and familiar locations for pages, such as having a link to the contact page in the upper right corner.
An inbound website has all of the same architectural details as a general website. You want your visitors to be able to find the information they are looking for easily, or to be able to contact someone quickly. However, an additional goal is to lead visitors along their buyer's journey, moving them from visitors to leads to sales-qualified leads to, finally, customers.
Step Into Your Site Visitors' Shoes
A First-time Visitor's Experience
Most of the first-time visitors to your website will not interact with your site's main architecture at all. More likely than not, they'll arrive instead via a blog article or news piece that they encountered through organic search or social media.
Knowing this, your architecture must be built with an understanding of where visitors are originally landing. Where your site guides visitors after they read the article they landed on is critically important to your inbound marketing success. Generally, we suggest using calls-to-action (CTAs) at the end of blog articles, to guide visitors immediately to a conversion opportunity.
But it's important to understand that an inbound architecture doesn't design just a single pathway for converting visitors into leads; it involves many. Blog CTAs should be the priority for visitors that read the entire length of an article, but for those who don't, you also should have secondary/tertiary opportunities that engage visitors, such as links to other pages within an article, or perhaps a blog navigation that helps visitors browse content that they'll find more compelling for their needs.
Either way, the ultimate goal for first-time visitors should be to expedite the time from initial landing to the opportunity to convert.
Using Thank You Pages to Guide Visitors to More Conversion Opportunities
Once someone has converted—giving you their information via a form on a landing page—a well-designed inbound site will focus on moving the lead through the sales funnel, in conjunction with tactics that get leads to revisit the website.
Immediately following a conversion, thank you pages are a powerful way to guide leads to next opportunities to learn more about your company. Specifically, if a lead just downloaded a whitepaper about one of your products, then your thank you page should be set up to guide them to see more resources.
Generally, effective thank you pages include the main navigation for your website, along with a featured opportunity to re-convert and learn more. The content offer is the primary focus of where the lead should go for next steps, but the navigation bar provides secondary options to learn more on the website itself.
Guide Returning Leads with Website CTAs
In the same way an inbound website presents converted leads with new offers on thank you pages, it can also present returning visitors with relevant offers on other pages.
Once a visitor has converted into a lead, your website now knows when they return to your site. By returning to your site, they are looking for more information—and thus, getting closer to becoming sales-qualified. You should help them by presenting more advanced content on the pages they visit.
Having CTAs that are personalized and change based upon a lead's status is very helpful in this situation. The more times they visit and the more content they download, the more advanced the CTA offers should be. Even if you don't have such functionality you can still put this idea to use. By tracking your website's visits you can determine what pages are likely to be visited by more qualified leads and place your advanced content offerings on those pages.
A CTA on Every Page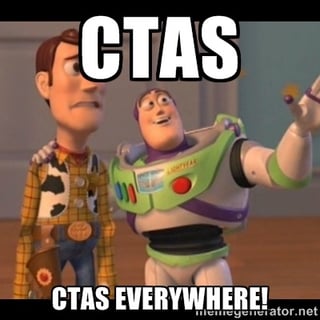 You may have noticed a pattern at this point: you need calls-to-action everywhere. Simply put, you should have CTAs on every page of your website. Not only does it make your content easier to find, it also makes your leads more likely to reconvert.
Having said that, you also don't want to barrage your visitors with ads for your content. One or two will do for most pages, and they should be simple and straightforward. While they should stand out they should not appear annoying by flashing or moving. Don't have your visitors punch a monkey to get your latest eBook!
Relevant to Your Target Personas
Lastly, you want to make sure your CTAs and their placement is relevant to your target personas.
If your target is someone on a mobile device you want to place your CTAs in stream with the rest of your content. That way they are likely to see it as they scroll around your website on their iPhone.
Perhaps your best customer is visiting your site on a desktop. You probably want your most important CTA in the upper left corner, as that is where most desktop users look to get more information or find a way to contact a company.
Increasing Your Inbound Marketing ROI
To sum it up, an inbound architecture always presents your visitors with the next step in your funnel. A first time visitor will see a CTA on a blog post leading to a downloadable offer. A returning lead will see more advanced content offerings. An SQL will get prompts to give you a call for more information.
When implemented correctly, and inbound architecture will boost the ROI of all your inbound marketing efforts.