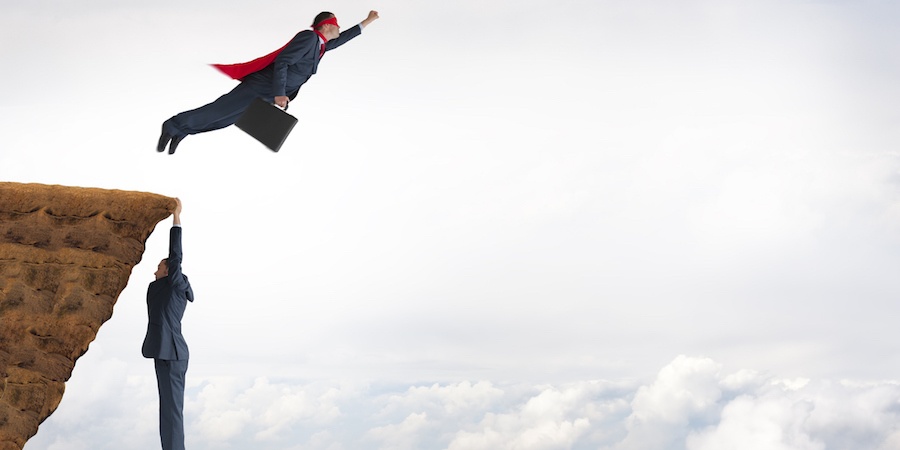 According to Forbes.com, the average person is exposed to 4,000-10,000 advertising messages each day – everything from TV ads and outdoor signage to radio spots and digital ads all over the internet. Woof. That's a lot of competition for your prospects' attention, and something that keeps most B2B marketers awake at night asking, "How do I reach the people I want to talk to, and what do I say to get them to buy?"
Today there are essentially two distinct paths a marketer can take to reach the prospects he or she needs: inbound marketing and outbound (or "traditional") marketing. Let's take a look at the essential differences between the two.
What is Outbound Marketing?
Outbound marketing, also referred to as "interruption" or "push" marketing, uses tactics that get a message to a large number of people in an effort to make a sale. Print/TV/radio advertising, social media advertising, cold calling, direct mail, email blasts and other methods are sent to a large audience of people (many, or most, of whom may not even be looking for the marketer's product). It's a one-way conversation that typically focuses on the product and reasons why the audience should buy it.
The problem with outbound marketing
The big problem with traditional marketing is that in order to be appropriate for the largest number of people, the message must be very general. In other words, it's impossible with traditional marketing tactics to be relevant to a variety of specific needs and challenges.
There are other reasons traditional marketing isn't working today:
Pushing messages out isn't effective anymore because your audience has options and ways to avoid them. Marketers who are still using the outbound tactics are asking themselves, 1) How do we reach buyers who are looking for our solutions? and 2) What will it take to turn those prospects into customers?
What is Inbound Marketing?
While outbound marketing pushes messages to a wide audience, inbound marketing is "magnetic." Rather than sending out general messages to an uninterested audience, inbound marketing allows you to attract your best prospects – and those who are actively looking online for solutions. When they get to your site, those prospects find help, guidance and education directly related to the searching they're doing online.
For a complete overview, check out our guide, What is inbound marketing for complex industries?
At the heart of inbound marketing is content: website content, blog content, and downloadable ("advanced") content offered on a website, like white papers, guides, tipsheets and others. When using an inbound approach, marketers develop this content to align with specific points in prospects' buyers' journeys:
at the beginning of their journey, a buyer is getting familiar with the problem and potential solutions;
in the middle they're comparing a small set of potential solutions;
and at the end of the journey they're doing due diligence needed to make a final decision.
There are topics (and types of content) that align nicely with each of these stages, and by creating and offering them (via your blog or advanced content), you're satisfying information needs prospects have at all points in their journey. And, since that journey is largely conducted online (an overwhelming majority (89%) of B2B researchers use the internet in their research process and they conduct 12 searches prior to engaging on a specific brand's site), they'll find relevant content when doing searches.
Here's an example of inbound marketing in action:
The facilities manager of a disposable tissue manufacturing company decides it's time for a new conveyor for the company's XYZ line of products. The first step toward purchasing new equipment is to do research online to understand his options, so he Googles "conveyor systems with best output." He finds an an ebook titled, "5 Ways a Cylindrical Conveyor Improves Productivity & Output." He clicks on the link, get to a supplier's blog and reads it. At the end of the post is an offer of downloadable content also related to conveyor output; he gives his email address in exchange for that content. He's now a lead in that supplier's system, so now the supplier is able to send additional content offers to this lead to draw him further down the sales funnel. The facilities manager is eager to be engaging with this supplier because he now has evidence of the company's expertise, and appreciates the useful information they've provided as he considers his options.
See how that works? While traditional marketing sends general messages to a wide (and often uninterested) audience, inbound marketing creates and offers content developed specifically for distinct audiences, relevant to multiples stages in their buyers' journey's. Prospects are attracted to that content as they do research related to their challenges, and once they find it on a supplier's site they become engaged in a conversation with that supplier.
Facts About Inbound Marketing
Does it work? Yes, it does! Look at just a few facts from Demandmetric about inbound that demonstrate its effectiveness and value to marketers:
Inbound marketing costs 62% less per lead than outbound marketing
Content marketing generates 3x as many leads per dollar than traditional marketing
57% of online users view content at least once per month and the average user spends 20% of their online time viewing content
Per dollar spent, inbound marketing generates 3X as many leads as traditional
70% of people would rather learn about a company through content versus advertising
High quality, relevant and valuable information makes prospects more likely to take action
Want to know more about inbound? Check out our complete guide to Inbound Marketing for Industrials to help you understand the ins and outs of using inbound to attract B2B manufacturing prospects.