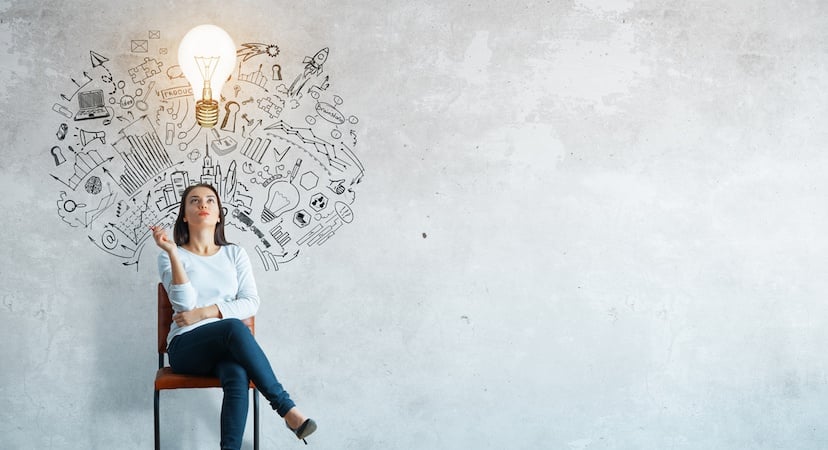 You've made the commitment to inbound marketing and are ready to fine tune your strategy.
Congrats!
Now comes the real grind. You're probably asking, "What elements of my strategy should I focus on first?" and "How can I best achieve my business goals?"

Fortunately you don't have to figure it all out at once. Through real-time metrics, you'll be able to make constant adjustments to content, lead nurturing tactics, budget allocation and internal/external expectations.
That doesn't mean you shouldn't have a plan, however. One source of truth, if you will, to guide your inbound program. Here, we'll take the planning process one step at a time, identifying 10 different must-haves in your inbound marketing strategy, regardless of your company's size or structure.
What should be included in your inbound marketing strategy?
1. Goals, Objectives & KPIs
Exactly why are you adopting an inbound marketing program? What goals do you want to achieve that you weren't able to achieve with a traditional marketing approach? When assessing your inbound marketing strategy, of course, you'll want to align it with the organizational growth goals outlined by leadership, such as increasing overall revenue or increasing sales in one of your target markets. Once these macro-level business goals have been communicated with your sales and marketing teams, both teams along with leadership should set SMART goals.
For example, an industrial equipment manufacturer that wants to increase sales to the agricultural market might set a goal to increase its agricultural sales by 15% vs. the previous year — it is specific, measurable, attainable, relevant and timely (SMART).
At this point in the scenario, it is imperative the manufacturer assess growth opportunities with their current agricultural customers as well as determine the number of new customers necessary to reach the 15% goal. Applying the same logic to your inbound marketing strategy evidences how assessing the current customer situation and looking ahead to potential opportunities helps identify objectives needed to reach the goal, and ensures Marketing and Sales are on the same page.
Frequently analyzing the results of your inbound efforts through key performance indicators (KPIs) is also a key to success. A major strength of inbound marketing is the ability to use metrics and hard data to do that analysis and, therefore, make strategic decisions. Some examples of metrics include:
How many leads your company generates within a given quarter or other specific time frame?
What percentage of the leads are in your target market?
How far have they advanced through the sales funnel?
Taking a look at KPIs (e.g., MQL to SQL conversion rates) will help reveal specific areas in need of change.
2. Competitive Benchmarking
Understanding how you stack up against competitors gives your company perspective on which inbound activities (e.g., blogging, emails, social engagement, etc.) are needed to help gain or maintain competitive ground. Being an early adopter of inbound in your market provides a great opportunity to make inroads with your best prospects, while those late to the game can benefit from seeing which areas where they're falling short compared to their competitors.
Fortunately, there are several stand-out tools such as SEMrush, Website Grader, Google Analytics, and likely your own marketing software platform, which can lend insight into your competition. HubSpot, for instance, allows you to monitor your competitors and see your website's traffic rank, number of domains linking to your site, social media streams, MozRank (quality of inbound links), and more — all in the context of your competitors. These ongoing and comprehensive insights help you determine which inbound activities are most necessary for improving your standing.
Related: Two Components Every Competitive Review Must Have
3. Positioning
Positioning drives all marketing efforts — inbound or otherwise — because without it, you can't articulate why your company, product or service is important, and you can't make a case for why any of these should matter to your target audiences.
In its simplest form, positioning helps you get your arms around "the big idea" against which all messaging is measured. Positioning helps you clearly define your best prospects, what your company/product/service will deliver, represent or mean to customers, and provide corroborating evidence to support the claim.
4. Buyer Personas
Buyer personas paint a vivid picture of the exact "person" you're targeting with your inbound marketing efforts by clearly defining their background, roles and responsibilities, key motivations, personality, goals, challenges/pain points, etc.
Related: 3 Types of B2B Buyer Personas
For example, a commercial insurance company targeting the construction industry might create a target persona named "Contractor Carl," owner or GM of a general contracting company. His persona profile might look like this:
Degree: Construction Management, Engineering or Architecture
Age: 35-45
Household income: $150-200K
Hobbies: Working with hands, outdoor sports, taking active vacations
Business: 5-50 employees, heavily involved in day-to-day activities
Goals: Minimize revenue/expense fluctuations, sustainably grow business
Pain points: Keeping enough projects in the pipeline, meeting deadlines, managing expenses, keeping employees safe, managing a mix of permanent and temporary employees
Creating in-depth target personas forms the basis of your inbound marketing efforts, especially top-of-the funnel content used to attract leads. Your target personas are those you're "talking to," educating and ultimately wanting to sell to, so it's important to define them before forming a content strategy.
5. Buyer's Journey
For many buyers, the journey down the sales funnel is relatively solitary early on. Only 19% of buyers want to talk with a salesperson during the awareness stage when first learning about a product or service. The consideration stage is when most people are eager to actually connect with a human being, with 60% wanting to talk with sales after they've researched the options and come up with a short list.
For salespeople, those statistics underscore the importance of mapping your buyer's journey (awareness, consideration, decision, experience) and understanding what and when content is needed to move them along in the funnel.
Knowing your buyer's journey helps you keep your inbound marketing efforts buyer-centric. Inbound marketing gives you the latitude to create and distribute relevant content at just the right time, in stage-specific formats that generally resonate with potential buyers:
In the Awareness stage, choose simple, straightforward pieces that outline the problem and begin suggesting solution angles such as tip sheets, briefs, blogs, guides and overviews.
For Consideration — where the majority of prospects are willing to talk with sales — more in-depth pieces that are based on specific problems and aligned solutions make sense such as eBooks, reports, white papers and video demonstrations.
In the Decision stage, choose formats that help you articulate value. Case studies, free assessments, vendor features/services comparisons and product literature work well in this stage.
Related: How to Create ToFu, MoFu and BoFu Content
And lastly, in the Experience stage "how-to" formats typically work best, including briefs, blogs, guides, FAQs or knowledge base articles and specific overviews.
6. Budget
Your budget for inbound will ultimately be based on growth goals and the timeframe expected for achieving those goals. How much does inbound marketing cost? Every program is different because every business and its goals are different. Hence, every budget is different, too. When budgeting for inbound, you'll need to include everything from your team resources to tools like your website CMS and hosting, marketing automation software, CRM and outside support.
If setting an inbound budget seems a bit overwhelming, take a look at where your current marketing efforts are falling short. You might decide that you're pumping too much money into trade shows, or overspending on paid advertising without getting the leads you expected. Consider cutting back in these areas and focus on how inbound activities can fill in the gaps. The beauty of an inbound program is its calculable ROI, which means you can measure and adjust your cost-return expectations, while also deciding the inbound activities most essential to your success.
7. Website & SEO Opportunities
A website is essential for inbound marketing success. However, without leveraging Search Engine Optimization (SEO) opportunities to drive traffic or using Growth Driven Design (GDD) to continuously improve your site, you could be missing key opportunities.
In a nutshell, SEO helps your site rank higher in organic search. Since many users don't go beyond the first page — and sometimes the first entries — of results, the faster you appear as a potential solution to their particular pain point, the likelier you are to generate traffic.
Get Our Free Website Usability Checklist
GDD, on the other hand, is a more efficient and productive method for building and maintaining a website because it results in a faster launch of an initial site, and it leverages user data to inform continuous improvements going forward. It helps keep your site current, dynamic and user-friendly, all critical to lead attraction and conversion.
In total, SEO and GDD practices amplify the effectiveness of your website and inbound marketing efforts.
8. Blog and Advanced Content Strategy
You know your business goals, competitive situation and the personas you're targeting. Now, what are you going to say, and how often?
A well-developed content strategy is really where the core of your inbound marketing plan takes shape. A content strategy should clearly identify your company's positioning, competitive advantage and why your prospects should listen to your advice over other sources on the internet.
It's imperative that your content remain relevant and helpful. It should always demonstrate how your company can benefit your personas and help solve their challenges, not act as a sales pitch for your latest "widget."
Part and parcel to what you're going to say is how and how often you'll say it. Your content strategy will include top-of-the-funnel blog content as well as advanced content pieces (e.g., tip sheets, white papers, videos, case studies, checklists, etc.) for lead conversion and nurturing. Developing and maintaining a regular editorial calendar will help you leverage these popular content formats to address personas' pain points and quickly attract leads.
Before building an editorial calendar, however, you'll need to determine how often you plan to publish content. A good starting point for B2B is one blog per week, as publishing at least four times per month generally translates to an increase in inbound traffic to your website. The key is to keep analyzing and evaluating the overall traffic and leads generated from each topic, which will help you determine the future direction of your blog as well as advanced content offers.
9. Nurturing Plans
Wouldn't it be nice if every lead you generated was ready to buy? While true in some cases, the reality is that the majority of your leads need some nurturing. Inbound marketing can help.
When a prospect shows interest in your advice on a specific challenge, you have what you need to know to strengthen your connection. Reach out to leads in your funnel regularly with more information and content that answers their questions. The goal is to become an invaluable, expert resource and ultimately guide the prospect through the sales funnel en route to becoming a customer. Consider all of the touch points you'll have with each prospect, which can include lead nurturing emails from a member of the sales team, or automated workflows prospects enter once they provide contact information via a landing page or other form. This organized approach will keep the prospects happy and ensure they don't get lost in the shuffle.
If you've established monthly KPIs for leads (MQLs, SQLs, and so forth) and the necessary objectives for reaching those goals, lead nurturing will become a more natural and effective process. Further, tying your lead generation and conversion rates to the customers generated through nurturing will give you a realistic projection of performance against your stated objectives by the end of the year.
10. Sales and Marketing Alignment
We all know about the tumultuous relationship that typically exists between Sales and Marketing, and likely the often-quoted statistic that reflects the tension: 87% of the terms used by Sales and Marketing to describe each other are negative. Sales tends to view Marketing as the irrelevant "pretty picture department," and Marketing views Sales as simple-minded, lazy, and incompetent. Ouch!
A benefit of inbound marketing is that it can help build some sorely needed trust and respect among these two teams and remove adversarial attitudes that can hinder the company's overarching goals. Developing a service-level agreement (SLA) that outlines roles, commitments and responsibilities for and between both departments lets the teams work together with clear expectations on how to reach their shared revenue goals.
According to HubSpot's 2018 State of Inbound report, in companies with an SLA in place, Sales teams viewed leads from marketing as better than those from referrals and outbound sources.
The SLA facilitates smarketing. It outlines the quantifiable activities and metrics, along with reasonable engagement timing and closed-loop reporting, keeping Sales and Marketing on the same page. Ultimately an SLA holds both teams accountable to each other, which can only improve the functionality of your inbound efforts (and the results for both teams, making everyone happier).
Identify Internal and External Expectations
Each company has its own unique makeup, and yours is no different. This corporate DNA guides decisions about how internal resources and/or an external inbound marketing firm is best suited to help you meet (and exceed) business goals. The success of your inbound marketing plan is truly a team effort. Don't make the mistake of thinking one department, or worse, one person can successfully satisfy all of the necessary skill set requirements.
Take these 10 components into account and set clear expectations for inbound marketing success for the current year and beyond.