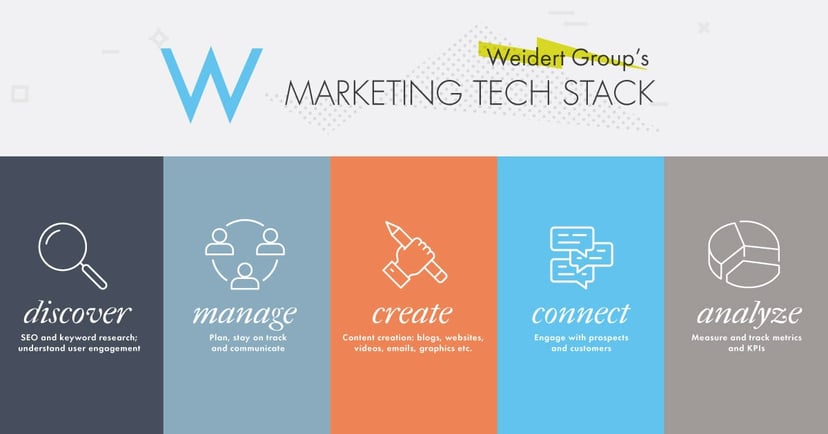 It's nearly impossible for inbound marketers to deploy their strategies without having the right tools at their disposal. But it begs the question:
Which tools?
The average B2B marketer can be overwhelmed when faced with having to choose between thousands of available apps, platforms and software to perform various marketing functions.
Which marketing tools does Weidert Group leverage in its inbound marketing tech stack? First things first:
What is a Marketing Technology Stack?
A Marketing Tech Stack is a collection of technology-based tools used by inbound marketers to help them automate, perform and report on various marketing activities efficiently across multiple channels. The combination of tools can vary depending on your type of business, its size, your budget and your strategic goals and priorities.
Marketing tech stacks often have these components and capabilities:
Email Management
Social Media Management
Online Advertising & Conversion Technology
We're inundated with requests from marketing technology platforms every day that want us to give their tools a try. And many times a specific challenge will send us on the hunt for a solution. But only those that allow us to improve our processes and, more importantly, our clients' results, receive serious consideration. Curious about which marketing tools Weidert Group leverages in its inbound marketing tech stack?
Weidert Group's Marketing Tech Stack
There are several tried-and-true services and technologies that have been in our Marketing Tech Stack for years and others we've more recently leveraged. While this list may change as new tools become available, here are those we rely on most often. You'll note that some serve multiple functions.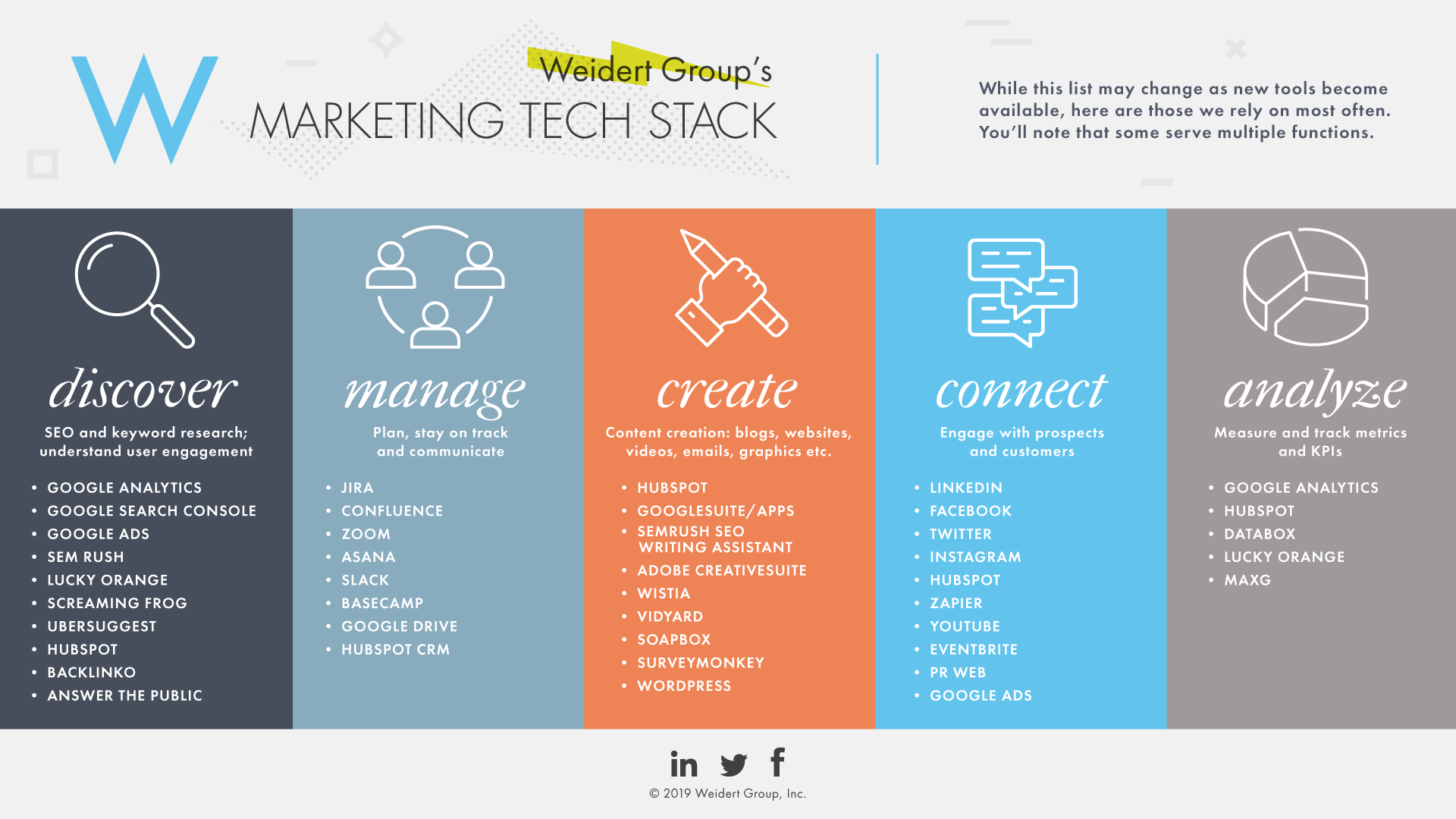 Discover
Whether it's researching keywords or understanding how users engage with content, these tools have proven helpful:
Manage
As an agile marketing agency, we rely on many technologies to help us plan, stay on track and keep in constant communication with each other and our clients.
JIRA
Confluence
Zoom
Asana
Basecamp
Google Drive
Create
A foundational part of inbound marketing is content creation: blogs, websites, videos, emails, ebooks, infographics and more. We're able to create massive amounts of content using these tools.
HubSpot
GoogleSuite/Apps
SEMrush SEO Writing Assistant
Adobe CreativeSuite
SurveyMonkey
WordPress
Connect
The most successful inbound marketing programs engage with prospects and existing customers through many channels outside their websites, including:
LinkedIn
Facebook
Twitter
Instagram
HubSpot
Zapier
YouTube
Eventbrite
PR Web
Google Ads
Analyze
The details are in the data. Measuring various metrics helps us see how campaigns are performing so we can continually improve.
The number of choices available to us as B2B marketers is practically endless, and new platforms will inevitably come on the scene as technology continues to evolve. When they do, we'll explore how and if they'll help us and our clients improve results and make our marketing efforts more productive and effective.
Staying on top of all the tools and tactics you need to execute a successful inbound program is a challenge and, let's face it, some of these tools aren't cheap. One of the advantages of working with an experienced B2B inbound marketing agency is they've already invested in these tools and can leverage many of them on your behalf.
The foundation of your inbound program is your website, so check out our comparison of two common web platforms in our Hubspot vs. Wordpress CMS Comparison. Just click the link below. And, if you want to learn what a partnership with Weidert Group might look like, reach out. We'd love to talk about how our combination of marketing know-how and the right tools can help you convert quality leads and increase sales.