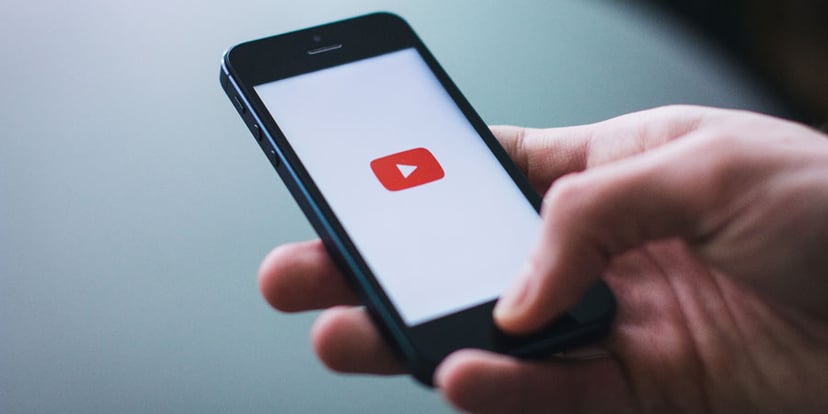 Let's face it: when most people think about social media marketing, they aren't thinking about the industrial B2B companies and manufacturers who use social media; they're thinking about the viral ads from companies like Taco Bell, Oreo, and Dove promoting their "fun", consumer-facing products. And while a lot of this can be attributed to B2C companies typically having a much larger and more engaged social audience to begin with, for the most part, a lot of B2B companies are pretty quiet on the social media front.
For manufacturers especially, social media can be difficult because the average Facebook and Twitter user doesn't give a rat's ass about custom-manufactured goods or equipment. They don't want their timelines filled with articles about manufacturing or the different materials and processes you use, because none of that is interesting to them. Even if it does interest them, sharing it on a social network primarily built for friends and family doesn't always work that well. You'll realize that there's a time and a place to share manufacturing content on social media, and getting it right can be a lot harder than most people think.

That being said, though social media marketing might not generate the same results for manufacturers as it does for companies in other industries, that's not to say it isn't worth your time. When it's done right, social media can be a valuable resource for lead generation and content promotion for manufacturers, and to help you make the most out of your social marketing efforts, here's what you should know about today's major social media channels:
Facebook
As the largest social network in the world with over 1.5 billion monthly active users, Facebook is always one of the first social networks companies think to create a profile on. For manufacturers, however, it certainly doesn't provide much value as far as lead generation goes. Because Facebook is typically used for personal reasons, you really won't have much success finding prospects doing business research on Facebook. Simply put, it's just not the place people go when they're looking for a manufacturer.
Before you rule out Facebook completely, though, don't underestimate its value in showing off your company culture. While your audience might not be using Facebook for buyer research, a lot of employees, customers, and other industry professionals would still "Like" your page to stay updated on the latest company news and events, including things like:
Job openings
Building expansion news
Mentions by local and national media
New hire and work anniversary announcements
Pictures from your company's Christmas party
Pictures of your company's softball team
Celebrating 5 years of no safety incidents
With Facebook, it's not important for manufacturers to have thousands of Likes or be active and posting something every day; what's important is that you show the human side of your company and find a connection with your audience in those regards.
Twitter
Much like Facebook, Twitter's overall popularity makes it a common place to start for businesses looking to build their social presence. With more than 300 million monthly active users, you're sure to find followers for just about any niche or industry, and from all over the world. However, like Facebook again, the majority of Twitter users use the social network for personal reasons, limiting its value for lead generation.
That said, what really makes Twitter a valuable social channel for manufacturers is its content sharing abilities. If your company has a blog (and it should), Twitter can help you promote your blog articles to a wide audience, while also using hashtags to make sure they're seen by the right audience. Though it's not exactly the best channel for sharing technical manufacturing content, that's not say there isn't an audience for it, as roughly 1 out of 5 B2B buyers say Twitter is important when researching technologies and services to purchase. In fact, if you search for "manufacturing manager" in Twitter's search bar, you'll find plenty of users who'd potentially be interested in your manufacturing content, it's just a matter of getting them to find your Tweets and follow you. The best way to do that? Position yourself as an industry thought leader by consistently sharing helpful industry content—whether it's your own or from third party.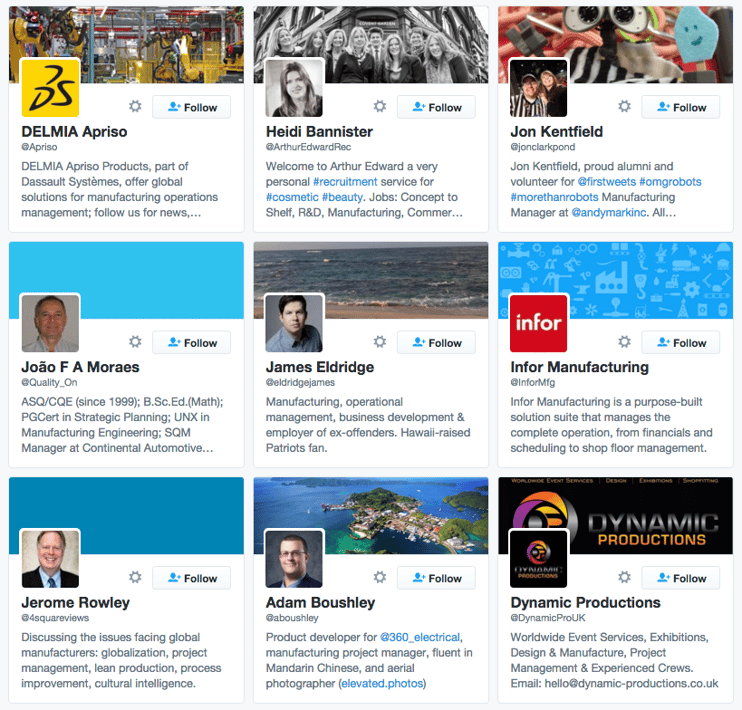 LinkedIn
While Facebook and Twitter might be the two most popular social networks overall, no social network provides more value to manufacturers than LinkedIn. Similar to Twitter, LinkedIn boasts more than 300 million monthly active users, but unlike Twitter or Facebook, LinkedIn is the only major social media outlet that has more users aged 50 to 64 than they do aged 18 to 29. This is due to the fact that LinkedIn is strictly a network for professionals, making it extremely important for B2B companies to have a strong presence here. In fact 40% of B2B buyers say LinkedIn is important when researching technologies and services to purchase, and 45% of B2B marketers have gained a customer through LinkedIn. Remember when I said that there's a time and a place to share manufacturing content on social media? LinkedIn is one of those places, and it's always the right time (as long as you post during normal business hours).
For starters, you want to make sure you fill out your company's profile page thoroughly, and use it to share helpful industry content on a regular basis. With other industry professionals frequently using LinkedIn and reading articles on here, being active and consistently sharing useful content is the best way to get your company noticed while also positioning yourself as an industry thought leader. When it comes to making the most of LinkedIn's lead generation capabilities, however, promoting content on your company's profile page is only the tip of the iceberg.
In addition to maintaining an active company presence on LinkedIn, you should also be encouraging—and even requiring—your employees to maintain an active LinkedIn presence. With a personal LinkedIn profile, your sales team and other workers can connect with industry professionals and potential customers, and build a relationship with them. They can also share your company's blog articles with their connections and any relevant groups, helping to get more interested eyes on your company's content. If you can get your team whole involved, you'll essentially have a content promotion and customer recruiting army at your disposal!
YouTube
This is one of those social media channels that people often forget about or neglect. I'm not sure if this is due to the extra work involved with making a video, or people not considering YouTube social media, but I'm guessing it's a little bit of both.
That being said, YouTube is one of the most underrated, underutilized social networks by companies today—especially manufacturers. While yes, it does require some extra work, knowledge, and equipment to create a nicely filmed and edited video, a lot of manufacturers don't realize just how helpful these videos can be when it comes to landing a potential customer, nor do they realize how easy or inexpensive it can be to create one of these videos themselves.
Read our blog: Video Marketing Tips for Specialty Manufacturers — Part 1
In the manufacturing industry, customers often spend tens of thousands of dollars on a single order or purchase, and they want to know that product or machine will work exactly how it's supposed to, when it's supposed to, every time. Rather than just taking your word for it, however, a video can show them everything in action, and allows them to get a better feel of what you're trying to sell. From product demonstration videos, to videos explaining your manufacturing process and comparing machines, there are lots of helpful videos you can make that can will help your company generate more leads and convert more leads into customers.
With so many companies getting online and having an active social media presence these days, manufacturers may feel pressured to join in and keep pace, but that's not always the best move. Facebook and Twitter don't require the same attention from manufacturers as they do B2C companies. Instead, it's wiser to focus your efforts on LinkedIn or YouTube. In fact, if you feel like either Facebook or Twitter isn't working for your company, don't feel bad neglecting either channel altogether. It's better to focus your attention on 2-3 social networks that earn results, than to try to make it work on 4 different ones.