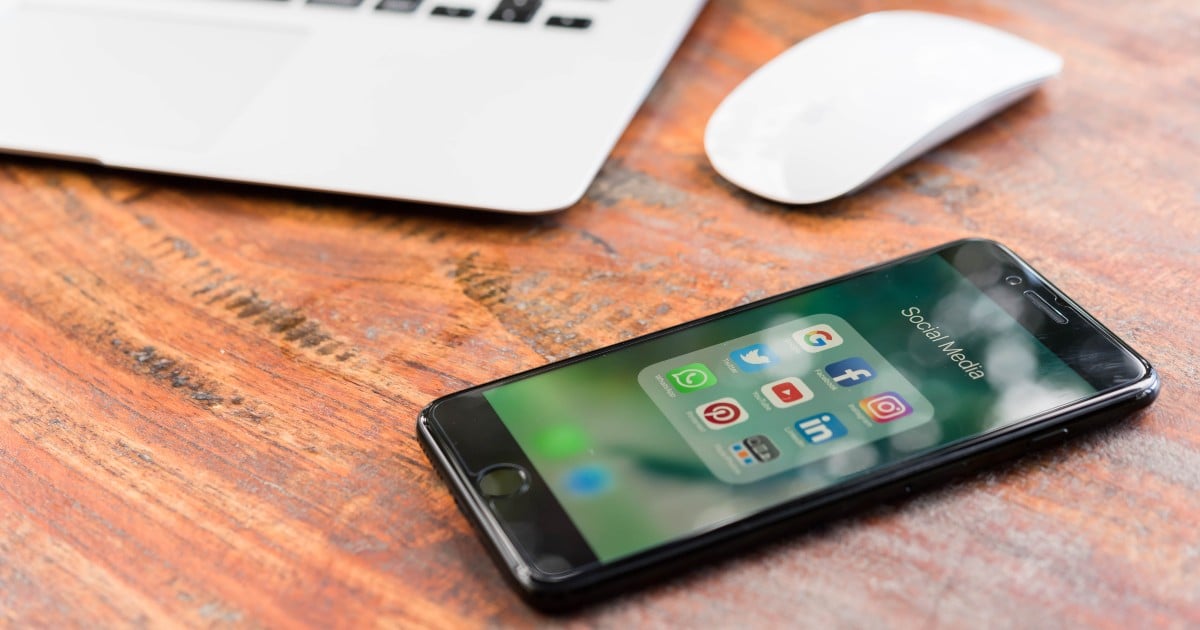 Let's face it: when most people think about social media marketing, they aren't thinking about industrial B2B companies and manufacturers; they're thinking about viral ads from companies like Doritos, Old Spice, and Snickers promoting their "fun," consumer-facing products.
Engaging people through social media marketing is a challenge for manufacturers, but one worth taking on. When it's done right, social media for manufacturers can be a valuable resource for lead generation and content promotion. Further, it can be a really effective tool for brand recognition and reputation management, as well as a touchstone for recruiting efforts in talent-strapped trade industries. It all starts with understanding the features and benefits of each major social media platform.
LinkedIn
While Facebook and Twitter are the two most popular social networks overall, no platform provides more value to manufacturers than LinkedIn. Similar to Twitter, LinkedIn boasts more than 500 million monthly active users, but unlike Twitter or Facebook, LinkedIn is the only major social media outlet that has more users aged 50 to 64 than they do aged 18 to 29. This is largely due to the fact that LinkedIn is strictly a network for professionals, with an estimated 90 million users being senior-level influencers, and 63 million are in decision-making positions.1 The need for B2B companies to have a strong presence on LinkedIn is readily apparent.
For starters, you want to make sure you complete your company's profile page thoroughly and use it to share useful industry content on a regular basis. Since professionals frequently turn to LinkedIn to consume articles and industry news, being active and helpful is the best way to get your company noticed. It also goes a long way in positioning your company as an industry thought leader.
When it comes to making the most of LinkedIn's lead generation capabilities, however, promoting content on your company's profile page is only the tip of the iceberg. You should be encouraging — and even requiring — that your employees maintain a current LinkedIn presence. Why?
Employee-shared company content has a click-through rate that's two times higher than if the company alone shares it.
Long-form content published as a native LinkedIn article about two weeks after a blog posts is particularly effective. So much so, in fact, it's considered a LinkedIn best practice.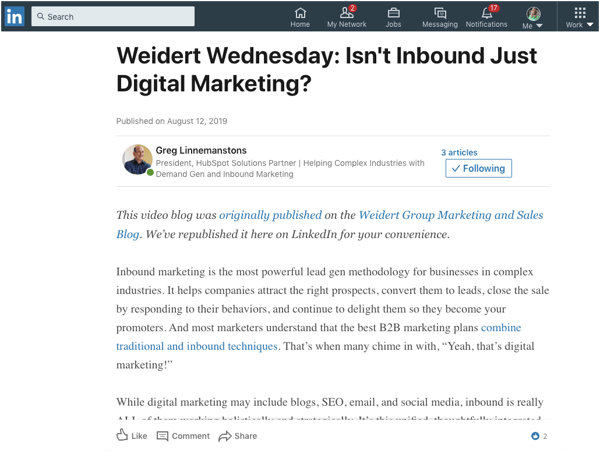 Through their personal LinkedIn networks, your sales team and other workers can build relationships with industry professionals and potential customers. If you can get your whole team involved, you'll essentially have a content promotion and customer recruiting army at your disposal!
Facebook
As the largest social network in the world, Facebook boasts 2.5 billion monthly active users — more than 75% of whom use the platform daily.1 Facebook is typically among the first social networks companies think to create a profile on, but for manufacturers it doesn't typically provide much lead generation value. It's a matter of audience. Facebook is typically used for personal reasons, so chances are slim that B2B prospects are doing business research on Facebook.
Before you rule out Facebook completely, though, don't underestimate its value in showing off your company culture.
While Facebook users may not be doing extensive buyer research, a lot of employees, customers, and other industry professionals would still "like" your page to stay updated on the latest company news and events, including:
Job openings, new hires, and work anniversary announcements
Company and building expansions
Milestones, such as celebrating 3 years of no safety incidents
Local and national media mentions
Photos from holiday parties, staff outings, and other company events
With Facebook, you have the opportunity to show the "human" side of your organization and make connections based on your company culture.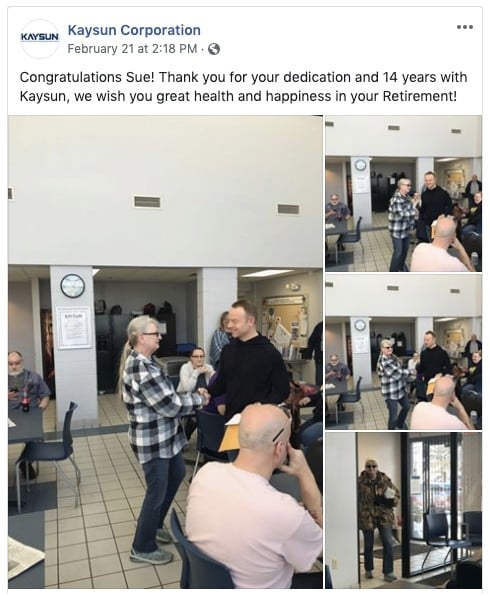 Also consider using Facebook Groups to expand your circle of professional connections. These online communities are built around a central topic — your manufacturing specialty, for example — and bring people together to discuss issues and share related content.
Twitter
Twitter's overall popularity also makes it a common place to start for businesses looking to build their social presence. With more than 330 million monthly active users — about 145 million using Twitter daily2 — you're sure to find followers for just about any niche or industry, and from all over the world.
Twitter's content sharing capabilities are what really makes it a valuable social channel for manufacturers. If your company has a blog (and it should), Twitter can help you broadly promote your articles, while also using hashtags to make sure they're seen by the right audience.
Though Twitter isn't exactly the best channel for generating leads, it certainly has an audience that is ripe for content consumption and industry news. Nearly 70% of B2B organizations are using Twitter as a digital marketing tool2 — hardly a surprise since ad views are 26% more likely to happen on this platform versus any other.1 Plus, with the emergence of Twitter as a place to engage in short but meaningful conversations, manufacturers can cultivate industry thought leadership by consistently sharing helpful industry content — whether it's your own or from a third party.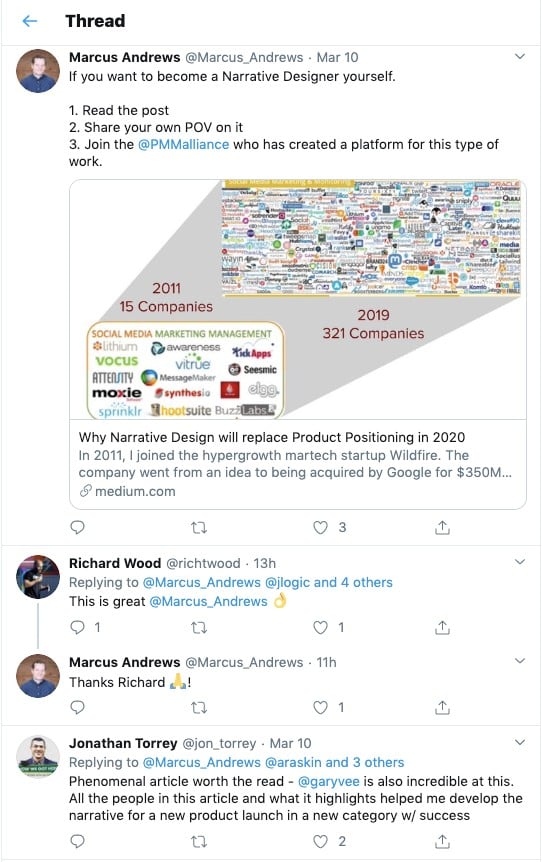 Instagram
Instagram's popularity has exploded in the past few years. A billion people have accounts, and 500 million use Instagram every day. An audience that expansive has marketers taking notice. In the U.S. alone, Instagram marketing usage jumped from 69.2% in 2018 to 75.3% in 2020.1
Video is a powerhouse for brands, and Instagram has captured lightning in a bottle. Users spend roughly an hour per day on the app3, so there's no arguing that visual content draws attention. Instagram spans generations — particularly popular with millennials and Gen Zers — and purposes. Industrial manufacturers are increasingly using Instagram as the preferred tool for recruitment and culture-building.
Its versatility bears out statistically. Nearly 90% of marketers polled by MediaKix believe Instagram to be the most important social media platform for influencer marketing.1 Instagram popularity is well worth leveraging by manufacturers and B2B marketers.
YouTube
B2B marketers frequently overlook YouTube as a viable social media channel, making it one of the most underrated, underutilized social networks by manufacturers today.
Yes, it does require some extra work, knowledge, and equipment to create a nicely filmed and edited video for YouTube. However, a lot of manufacturers don't realize just how helpful these videos can be when it comes to landing a potential customer or hiring skilled labor — and that it can be done relatively inexpensively.
RELATED: 4 Video Marketing Tips For Manufacturers
In the manufacturing industry, customers often spend tens of thousands of dollars on a single order or purchase, and they want to know that product or machine will work exactly how it's supposed to, when it's supposed to, every time.
Rather than just taking your word for it, however, a video can show them everything in action and allows them to get a better feel of the solutions your team provides. From product demonstrations and virtual facility tours to videos with your engineering experts, there are lots of helpful videos you can make to generate more leads and convert more leads into customers. In addition, there's depth of YouTube search engine optimization available to maximize effectiveness. Headlines, file names, tags, descriptions, and target keywords can all be used to grab priority search rankings and raise visibility.
Where to Start?
With so many companies online and having an active social media presence, manufacturers may feel pressured to join in and keep pace, but that's not always the best move for every single platform. Facebook and Twitter don't require the same attention from manufacturers as they do from consumer-focused companies. Instead, it's wiser to focus your efforts on LinkedIn, YouTube, and/or Instagram as they are proven to earn results for B2B marketers looking to generate leads and recruit skilled labor.
Looking to get started with some awesome videos you can use on your company's social media? Check out our library of resources all about video marketing by clicking the button below.