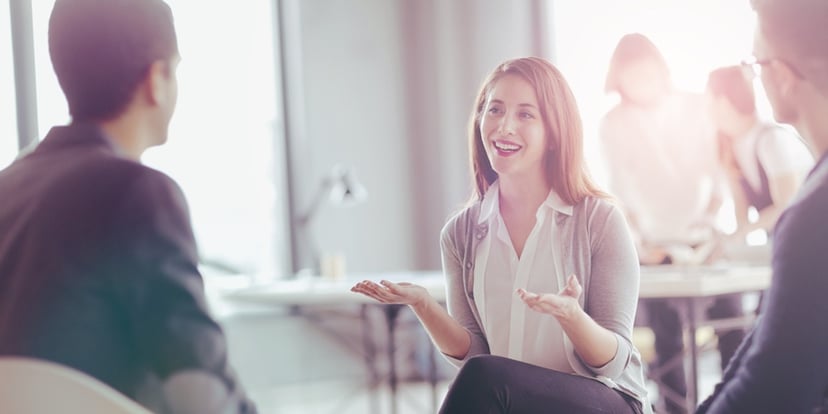 Inbound marketers understand the importance of a well-constructed content strategy and the need to create target personas that represent your best prospects. But the process of developing personas is just as important to make sure you're discovering information that will ultimately inform your content strategy. After all, there's no point in developing content unless it's going to resonate with your potential buyers.
For those new to inbound marketing, you may ask, "What is a target persona?" Put simply, it's a fictional yet in-depth description of your ideal customer that is so detailed you can easily imagine the persona as a real person.
One of the best ways to construct your personas is to conduct interviews with key people within your organization and, more importantly, with actual paying customers.
Start by Evaluating Your Own Company
But first things first. Our initial conversation with a new client — say that's you — isn't entirely focused on your customers, it's focused on you. We learn as much about you as we can to better understand your target markets, competitors, capabilities, goals, hurdles, opportunities and more. This helps create a "big picture" of your overall operation. Without this critical information, it's nearly impossible to discover who your ideal prospects and buyer personas are, and how you can speak to them.
As we conduct these conversations, it's not unusual for a client to gain a new perspective about their past efforts to achieve growth, or insights into attitudes or branding strategies that may have held them back. We can use this information to position their content and online presence moving forward.
Then Evaluate Ideal Customers
We also explore whether their previously held beliefs about their ideal targets are in line. Segmenting their best prospects from just any prospect is critical. To get to this conclusion requires answering some foundational questions:
Is the prospect in the "right" industry?
Is it the right size and does it have the right level of revenue?
Will it need your product/service over the long-term?
Does it have the budget to buy your product/service?
Note that, to start with, we're looking broadly at the characteristics of a potential client, as in the company, not a buyer persona or individual within that company with whom we want to communicate. Start broadly by identifying "what" an ideal business partner looks like and then home in on "who" you're trying to reach.
Identify Your Target Buyer Personas
Finally, on to the buyer persona! When we ask a new inbound client who they believe the ideal person to connect with to make a sale is, many will first mention a decision maker, such as a purchasing manager or business owner. While potentially true, equal or greater regard needs to be given to influencers in that organization. Chances are, decision makers commissioned someone they trust to conduct the extensive research required that goes into finding a solution to their problem — the ultimate goal is to have that research lead them to you! These influencers are often the ones who have the power to affect purchasing decisions.
Decision makers may have only been presented with findings and recommendations toward the end of the buyer's journey. Therefore, content needs to be created for multiple players based on what each wants to know. For example, a purchasing manager will likely want to learn about the financial implications and potential ROI, while an engineer will be concerned with performance and functionality. You should develop buyer persona profiles for each of these key people involved in the research and decision process.
Conduct Internal Interviews
We conduct internal interviews with various employees of our clients to find answers. Often, client-facing employees on the front lines have the best insights, such as customer and field service representatives and sales people. They're the ones who know which questions get asked most often, what delights customers and, just as importantly, what frustrates them and strains the business relationship. In addition to clearly identifying your ideal buyer personas or leads, these interviews can also reveal undesirable prospects who will be a waste of time to pursue and nurture.
Sample internal interview questions:
Describe your best (and worst) customer
What sets your company apart from the competition?
What issues or problems get brought up the most about your product or service?
What makes you feel most proud about your company?
Conduct External Interviews
We also conduct external interviews with existing or past customers — both those with whom the client has great working relationships and those who've had issues. These open and candid conversations prove to be most valuable. They reveal what customers think is best about the company and why it's better than the competition, how it's helped their business succeed, and opportunities for improvement. We also learn more about the process a buyer went through and how they were guided toward a decision to work with our client, giving insights into our future content strategy.
Sample external/customer interview questions:
Describe your path to get here (education level, areas of study, past work experience, tenure, professional goals, etc.)
Tell me about your role in the company and your relationship with [client name]
What do you worry about most in your industry? (competitors, talent, obsolescence, technology, innovation, etc.)
How do you learn about industry trends, news, innovations, etc.? (blogs, email subscriptions, trade pubs, colleagues, associations, etc.)
How do you use the internet to research vendors, products or solutions to problems? (Google, specific websites, online subscriptions, social networks, etc.)
What are some red flags that would make you not consider a vendor, or challenges to selecting a vendor?
Why did you choose to, and continue to you work with [client name]?
How did you find out about [client name]?
There are many variations of these questions that allow us to delve deeper into the minds and motivations of our clients' customers. It's important to seek clarification about specifics. For example, if someone says that blogs or websites are where they find information, exactly which blogs and websites? Knowing this information will help immensely when it comes to promoting and distributing your inbound content online.
Turn Buyer Persona Insights into Content Strategy
The ultimate goal of these interviews is to capture the values, fears, attitudes, aspirations, biases and idiosyncrasies that describe the ideal prospect for your products or services, and then determine how those motivations drive their buying behaviors so you can utilize that information in your inbound marketing and sales strategy. Without having a deep understanding of who you're writing to and what matters to them, you can't create content to attract, nurture, and close leads. Use the insights you've discovered to fill your marketing editorial calendar with articles and advanced content that speaks directly to their challenges and provide helpful solutions.
In the end you may have two or three deeply defined target personas you're creating content for, which you can use both as a source of inspiration and a critical filter to create and evaluate your content strategy. Just as importantly, you'll get to really know your customers and make yourself a much better marketer by discovering the inner workings of your ideal buyers.
We've got a lot more tips for identifying your target personas and mapping out their buyer journeys in our worksheet below, so be sure to check that out.
Editor's note: this article was originally written in 2013 and has been updated for comprehensiveness and current best practices.