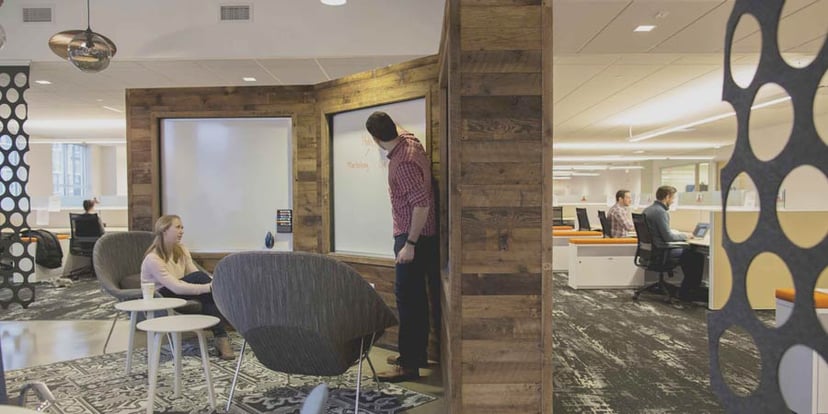 HubSpot coined the term "inbound marketing" in 2006, introducing a new methodology that transformed marketing to match the way people buy. It's taken marketing by storm, encouraging an approach of helping through marketing and using informative content to encourage prospects to become buyers.
Last week, HubSpot introduced a Inbound Sales Certification for salespeople. And although it wasn't the first day HubSpot has encouraged us to change the old sales playbook to match modern buyer behavior, it does mark the day that they've released their official version of the inbound sales methodology. As you'd expect from HubSpot, the inbound sales methodology is simple and straight-forward in a good way, aligning the buyer's journey with the sales process: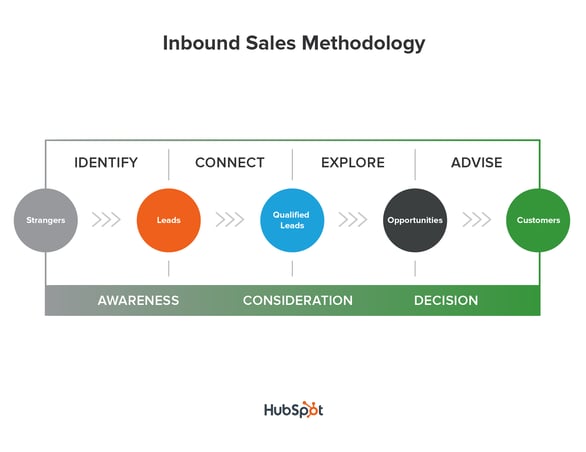 The four stages of the sales process (identify, connect, explore, and advise) may be called something different at your company, but chances are it's representing the same steps. The difference with this methodology is changing the way you sell in each step; first to focus on the buyer rather than the seller, and second, to personalize the entire sales experience to the buyer's context. To learn more about the ins and outs of HubSpot's new inbound sales methodology, you can check out their brand new inbound sales certification courses.
There are so many best practices of inbound sales to share in each stage of the sales process, but in this article I'll focus on the stage where you qualify your leads and learn how to best help them—the Explore stage.
3 Outcomes of the Explore Stage
At this point in the sales process, you've identified and connected with a lead and have determined that further conversation is warranted to determine if there's a good fit. By the end of the Explore stage, there are 3 potential outcomes according to HubSpot:
Determining a fit and getting buy-in for next steps
Determining it will never be a fit
Determining it's not a fit right now
All of these outcomes are good even if it means walking away (contrary to typical legacy sales goals of always advancing leads to the next step of the sales process). If your products or services are not the best fit, then it's time to be honest about the suitability of your product or service and, if it makes sense, recommend alternative solutions. Both scenarios are good for the seller and buyer because neither party is wasting time on a poor fit that could mean disaster for both down the road.
Exploratory Questioning Framework
Determining which outcome is the best for your lead is critical, but let's face it—it's not always easy. Using the right framework to ask the best qualifying questions will empower both the buyer and the seller to make the right decision. Fortunately, HubSpot's done a lot of our homework for us; they've been practicing the framework and questions to ask in their very own inbound sales process for many years. I'll share some of those questions as well as ones we've found to work for us below.
The first set of high gain questions can be remembered by the acronym, CGPT (Challenges, Goals, Plans, Timeline). These questions get to the heart of the matter—what is your prospect trying to accomplish, along with how, why and when:
Challenges
Many times, when I'm speaking with a VP of X like yourself in your industry, they have one of a handful of challenges. It's often A, but a lot of times it's B or C too. Do you ever struggle with any of these things?
I spoke with a similar company in your industry last week. They stated that their biggest challenge was X. Is that the same for you?
Is anything getting in the way of accomplishing your business goals this year?
Goals
What goals are the challenges you mentioned earlier preventing you from achieving?
What will success look like?
What is your top priority this year?
Are there other goals that are important to your company?
Plans
How are you currently trying to overcome the challenge of X and reach your goal?
Have you thought about trying to do Y to achieve your goals?
Would it help if I showed you how other companies implemented A in order to eliminate the same challenge you are experiencing?
What has worked well for you in the past? What hasn't?
Are your plans to reach your business goals set during an annual planning and budgeting cycle? If so, when does that occur?
Are these plans flexible?
Timeline
What timing is driving your initiatives?
How quickly do you need to achieve the goal(s) you mentiond?
How long are you prepared to deal with the X challenge?
Is hitting your goal a priority for your company right now?
What are the steps involved in executing your plan?
After challenges and goals are identified, it's only natural to guide the conversation to what the significance of those goals and challenges are. What are the consequences of not hitting the company's goals? What are the rewards? That's where CI (Consequences and Implications) comes into play:
Consequences
If you don't achieve your goal, what happens to the company? you? others?
How important is overcoming this challenge to your company?
Implications
If you were to fix the challenges, would it have much impact on the business?
When you achieve goal X, what will you do next?
In which ways is achieving this goal important to your company?
And, finally, once CGPT and CI have been discussed, it's time to move on to a coversation about next steps and the decision-making process, including Budget and Authority, or BA:
Budget
How much are you spending on your current plans?
Based on our conversation, it seems like you are spending $X on a solution that is not achieving your goals. What did you plan to invest so that you're 100% confident that you'll achieve your goals?
What return on investment is necessary to invest in a solution to achieve your goal of X?
Authority
Usually when my clients are making this decision, the CFO and VP of X needs to be involved. Is that true for your company as well?
What are the next steps in the decision-making process for your company?
It's All About Discovering What's Best for Your Customer
Not every call is perfect. You may not get all the answers to the CGPT-CI-BA questions above, but there's no doubt the framework will keep your conversation on track with the right questions to understand what's truly best for your customer. Kudos to HubSpot for laying the groundwork for a more effective inbound sales conversation.
What have you found to work exceptionally well for you?