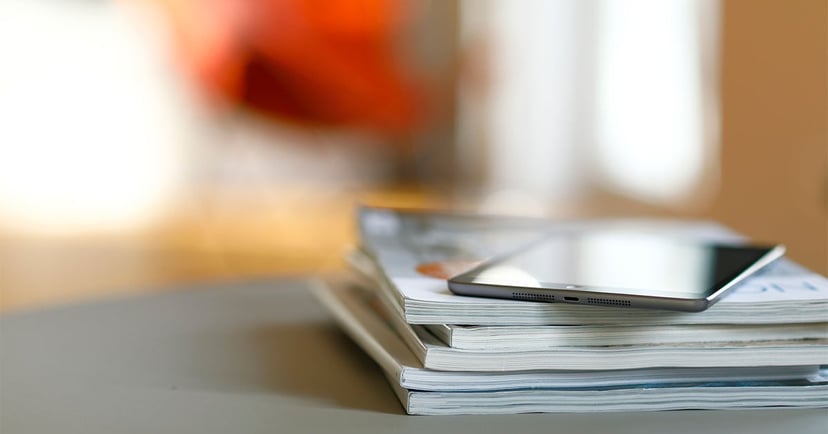 One of the basic tenets of inbound marketing is that "traditional marketing doesn't work anymore." While this is definitely true, some marketers take that as direction to throw out the old ways, even if a particular tactic has evolved to support modern inbound marketing.
Trade publications are a great example. Perhaps the physical copy of your favorite trade journal no longer sits on your desk until you read it and pass it along to coworkers. More likely these days, you go online to read articles and digest that pub's content digitally — when, where, and how you want.
Why Trade Publications Are Effective
B2B buyers now have complete control over the content they consume. So, while flipping through the latest issue may not be how most people get industry insights, they are still learning and growing. Trade publications are still vital because they're one of the "traditional marketing" methods that has evolved to meet their consumers' needs.
Aside from asking each of your customers one-on-one, what's a great way to get into their heads? Read what they read. By taking in the same content, you'll understand their daily challenges, see new techniques, and get the buzz on the latest equipment.
Again, trade pubs serve that need, yet they go beyond distributing content. They offer online forums, resource downloads, content libraries, and virtual networking sessions. Plus, the best industry publications are making themselves more relevant and valuable to marketers by becoming sources of lead generation.
Related: Why Trade Pubs Are Still Vital to B2B Digital Marketing in 2019
One great example is Packaging World, a force for news, trends, and innovations in the packaging industry. They have an information-loaded website, offer four different interest-specific newsletters, feature high-value downloadable content, host multiple PACK EXPO trade shows, conduct webinars, record a monthly podcast, and spotlight thought-leaders in the industry — all valuable areas for marketers to attract high-quality leads.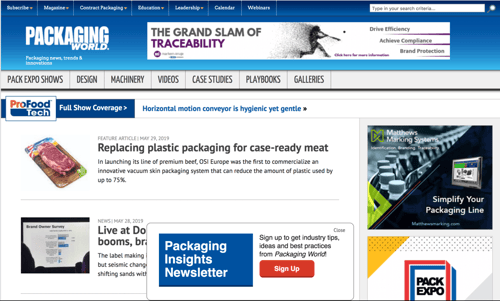 This is the go-to hub for professionals in all areas of the packaging industry, which in turn, becomes the perfect lead gathering opportunity for savvy business development professionals who understand relationship-building online.
How to Use Trade Publications in an Inbound Way
Trade publications aren't going anywhere. For me, there are three key ways that trade publications can boost B2B inbound marketing efforts. You'll see that they're all connected, and putting effort into all three is a wise move.
1. Inform Your Content Strategy
By reading and actively participating in trade publication content, you should advance your level of knowledge about prospects' needs and pain points. All the things that really keep decision-makers awake at night.
You'll find many trade pubs offering online communities. The activity is centered around the publication, but the discussions often go beyond simply commenting about their article content. By engaging in these actively and earnestly, you'll glean additional details about your prospects' challenges and establish trust with community members.
You can then brainstorm around the best ways to solve those challenges. Then, as you attract leads and guide them through your inbound marketing funnel, the needs-addressing content you create will perform better and better because you'll have them dialed in.
2. Expand Your Reach
Many digital publications are starved for fresh, relevant content. With ever-shrinking editorial staffs, these outlets covet high-quality industry contributions from a variety of authoritative sources.
In addition to showing that you understand the pain points of your buyer personas by posting on your own blog, write and publish articles in a trade pub, a source your prospects and customers obviously trust. Publishing content in trade publications is a fantastic way to establish your thought leadership and expose your expertise to new audiences.
Related: Putting It Over the Plate: Pitching to Score with the B2B Media
Imagine this: you're a supply chain management system developer, and you've seen several global manufacturers expressing the same concerns about their current system. This highly interested audience is waiting on pins and needles to hear about new innovations and platforms that can alleviate their concerns. In rides the hero (that's you). Because you've built thought leadership within that trade publication, you'll draw leads to your website for all sorts of conversion opportunities.
Plus, after you publish in that trade pub, readers may connect with you and your company on social media channels. From there, you'll cultivate a relationship at each touch point, and they'll eventually follow you back to your website to get more information or to contact your company. That's a high-level example of how trade pubs assist with lead generation. Here are more…
3. Support Lead Generation Efforts
Trade publications provide an opportunity to uncover new prospects and provide lead intelligence. That's always been the case, but in today's online publication world, authors, companies, and conversation participants are in a much more transparent position. The conversations and content that orbit trade publications are constructed by people that are both looking for help and have solutions to offer. Because that's understood by participants, the soft-sell approach can work wonders and move prospects along the sales funnel quicker.
Related: Making Your Trade Press Placements SEO Friendly
Another nice thing about top-end trade publications is that they aren't one-trick ponies. Like I mentioned earlier, many trade publications feel more like communities than simply content distributors. So, needless to say, every publication has a clean, high-value list of readers — whether that list is for subscriptions, paying members, or completely opt-in. That gives inbound marketers a chance to promote content by "renting" an extremely targeted list.
One example is Food Processing, a leader in food and beverage manufacturing. Not only is their website full of opportunities for visitors (white paper downloads, e-Handbooks, special reports), this trade pub also sells their own advanced lead generation service that includes advanced behavioral analysis of their readers, strategic content deployment, automated marketing workflows, and in-depth reporting. It's services like these that have the power to replace pay-per-click ads and paid social media campaigns.
Put Trade Pubs to Work for You
Your recycle bin may already miss the print versions of your favorite publications, but you shouldn't! From my perspective, using trade publications as part of your content distribution and inbound marketing strategy can positively affect your lead generation efforts. Yes, today's B2B buyers are using social media, yet when they're most looking for solutions for their company, they still find them on trade publication websites; even if how they got there was from that trade pub sharing that content on social!
Now that you're ready to engage deeper with trade publications, make sure that your own amazing content is getting seen by your prospects. Explore developing an effective set of tactics and activities by reading High Visibility: How to Share and Promote Blog Content to Reach More Prospects. Click below to download your copy of this 32-page guide.