Why do businesses blog? If you ask a content marketer that, he or she could give you a whole list of reasons. The two main benefits, however, are helping your website rank higher in the search results and providing you with marketing content to lure in prospects and generate leads. If done correctly, your blog will act like a 24/7 online sales machine. Simply create high-quality content on a frequent basis and watch the traffic and leads roll in.
That being said, what do you do when your blog is providing traffic and SEO value, but not generating leads? It seems like you're getting enough eyes on your content, but they're not converting on your calls-to-action. There are a few possibilities that could lead to this. Either:
A.) Your CTA doesn't align with your blog's message
B.) Your CTA isn't persuasive or convincing
C.) Both
If any of these answers seem to describe your situation, then it's a good thing you found this blog post. To help you optimize your blog for conversion as well as it's optimized for search, here are 4 useful tips for getting more blog readers to convert on your CTAs:
Don't Just Put Them at the Bottom
If you didn't have this suspicion already, studies have proven that a large percentage of blog readers don't read the whole article. In fact, the majority of readers only read about 60% of your article before exiting or sharing it on social media. If you're counting on your visitors to get to the end of your post before they convert, you'll only be left with a small percentage of readers. Instead, try utilizing slide-in CTAs that appear when readers reach the middle of your post. In a test at HubSpot, they found that slide-in CTAs had a 192% higher click-through rate and generated 27% more submissions than a CTA at the bottom of their post.
Mention the CTA Early and Create a Need
If you want to give readers a reason to make it to the bottom of your post, try mentioning your CTA before the reader has a chance to leave. If you can make them feel the need to convert on your call-to-action right away, they won't be tempted to leave so early. For example, let's say you're writing a blog on how B2Bs can use LinkedIn to generate leads and you want to use your "Guide to Using LinkedIn Groups" eBook as your CTA. Once you start talking about LinkedIn groups in your post, give readers a few tips on how to use the groups, but tell them they can learn more by downloading the eBook. If you do it cleverly and convincingly enough, you can make your readers feel the need to learn more and thus earn more conversions.
Make Your CTA Stand Out
If you're not getting enough clicks on your CTA, it could be because it doesn't stand out enough on your page. Maybe it's too small, maybe there's too much going on around it, or maybe it's just not interesting enough. Whatever the case may be, if you want your readers to convert on your offers, you have to make sure they notice them first.
Use Contrasting Colors
Plain and simple, contrasting colors grab our attention. The higher the contrast, the more our eyes notice, and we can't help but be drawn to it. Make sure you use colors that fit your website's theme, but also use colors that stand out. Notice how much the green and yellow pop off the black background in the example below? Likewise, the black CTA is very noticeable on the white website background.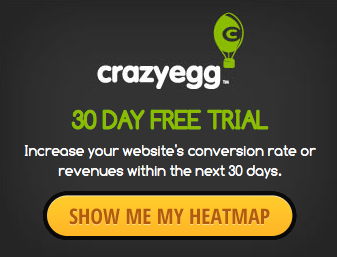 Make it Look Like a Clickable Button
If you're wondering why readers aren't clicking on your CTA, it could be because your CTA doesn't look clickable. Our minds have been conditioned to click on certain things, and if your CTA looks like a banner ad, your readers will probably avoid it. Experiment with rounded vs. square edges, 3-D effects, and sharp outlines, and try to make your CTA look as much like a clickable button as possible.
Use Click Triggers
Once you've designed your CTA, another way to draw attention to it is by using click triggers. Click triggers are additional messages or images placed near the CTA that persuade prospects to click and convert. An example of this could be a testimonial, statistic, guarantee, or even a visual, directional clue. In the example below, notice how Crazy Egg uses an arrow to draw your eyes down to their CTAs, while also listing Zappos and Amazon.com as happy customers to gain your trust.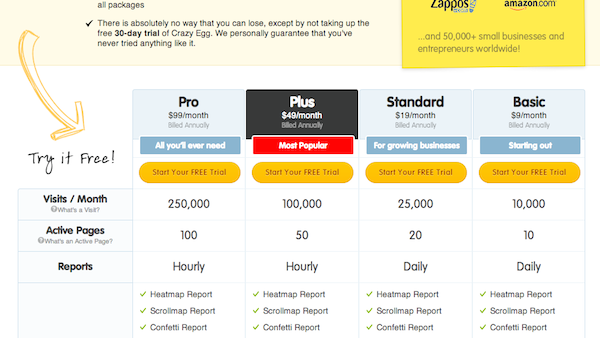 Be Creative With Your Copy
Another great way to grab your readers' attention and earn more clicks is to simply be creative with your copy. CTAs don't give you a lot of space to convince your readers to convert, so it's common for marketers to take a straightforward approach with their copy. However, as shown in the example below, being creative can have its benefits as well. Just remember that there's a thin line between creative and corny, and you won't earn more clicks with a corny CTA.

Your blog is your most valuable inbound marketing asset on your website. Make sure you're using it to its full potential by following these pointers for earning more clicks on your CTAs. And if you need help improving your blog's SEO, make sure you download our SEO Survival Guide eBook.