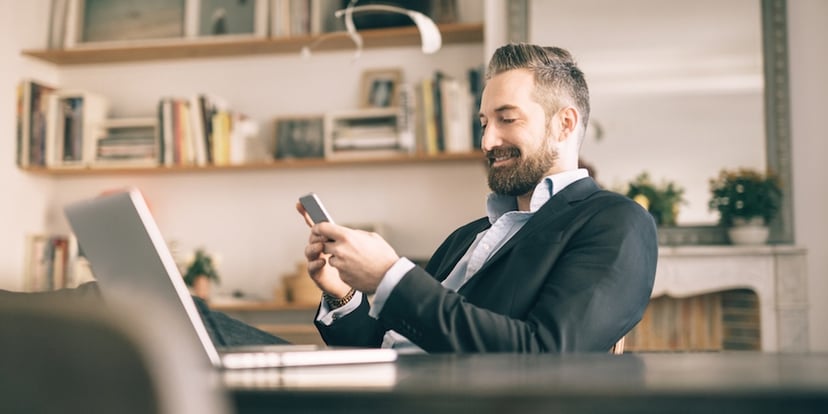 Social selling, not to be confused with social media marketing, is the process of using social media to develop relationships as part of the sales process. With buyers spending more time online researching their purchases, they're influenced by the content they see on social media and the people they're connected with. For salespeople, this provides many opportunities to keep buyers informed, address pain points, maintain contact throughout a long sales process, keep your company top-of-mind, and much more.
That being said, there are several nuances to being an effective social seller, as social media etiquette has changed over the past few years. LinkedIn is still the best network for social selling for B2Bs, but it can also be effective on Twitter and even Facebook in the right circumstances. To help show you how it should be done in 2017, here are five ways you can use social selling to build better relationships with prospects and current customers:
Prospecting
Of all the things social selling is good for, prospecting is one of the trickiest to do right in 2017. On LinkedIn, people aren't always open to receiving new connection requests from people they don't know, and it's even more so the case if they can tell you're a salesperson at a business that serves their industry. After years of being on LinkedIn, people have received enough random requests to know who is going to send them a salesy message. And while it might work for some people, it's equivalent to spam for most others. If you're going to connect with someone on LinkedIn that you don't know, it's best to do it in the most harmless, friendly way. Don't try to sell them on anything right after meeting them; remember, it's about relationship building. Try liking one of their new posts after connecting instead. See if they return the favor, and build from there.
On Twitter, however, it's a completely different story. Most active tweeters are used to getting several random new followers each week, and likely even some random engagement. Search for your target audience using the various search functions on the network, and don't hesitate to follow some potential prospects. Like LinkedIn, you probably won't be successful sending a spammy direct message to someone immediately after meeting them, but people are much more open to following back and potentially engaging with future posts.
Networking and Connecting
Here's where LinkedIn becomes very important to your social selling efforts. Once you make a real-life connection with someone at a tradeshow, conference, networking event, webinar, etc., you should always reach out to them on LinkedIn and extend that connection to social media. There's no awkward introduction message required, just include a reminder in your connection request of where you met them and even what you talked about if you want to continue your discussion. It's one of the easiest and best ways to grow your network of connections and prospects.
Informing
Once you've made connections with prospects and clients, you can slowly start to move them through the sales funnel and keep them informed with interesting content relevant to their buyer's journey and pain points. LinkedIn and Twitter are both great outlets for sharing your company's original content and other industry news articles that your prospects will find interesting. If you do this right, you'll build your reputation as a thought leader among your connections, and they'll start engaging with your posts, downloading your content, and eventually visit your website when they're ready to buy—or at the very least start researching. You can also see how people are engaging with your company page to see if they have any frustrations, questions or comments.
Upselling
While a lot of social selling is focused on getting new prospects to buy, social media is also a great tool for showcasing your services and capabilities to your current clients. Did you release a new software that's faster and has more features than the old version? Make sure your sales reps are talking about it on social media! Have them share a picture of an innovative part you just developed. If they're connected with their customers (and they should be), you want to display these exciting upgrade opportunities in a place where you know they spend a few hours each week.
Brand Awareness
Though you won't convert every single follower into a new customer — especially not right away — every post you create can help grow your brand reputation and awareness. In many B2B industries, companies might take years to make a large purchase or upgrade their resources, and in that time, your social selling efforts can help keep your company as a top option when that time finally does come. Sharing posts about your company culture is also a great way to make your company a more attractive option for potential candidates.
With 53% of B2B buyers saying social media plays a role in assessing tools & technologies and making a final decision, it's crucial that your sales team is dedicating at least a small percentage of their time to social selling efforts. It's no coincidence that 72% of B2B salespeople who use social media report that they outperform their sales peers, and more than half have said they've closed deals as a direct result of social. All it takes is an hour or two a week, and it's one of the most effective methods with today's buyers.