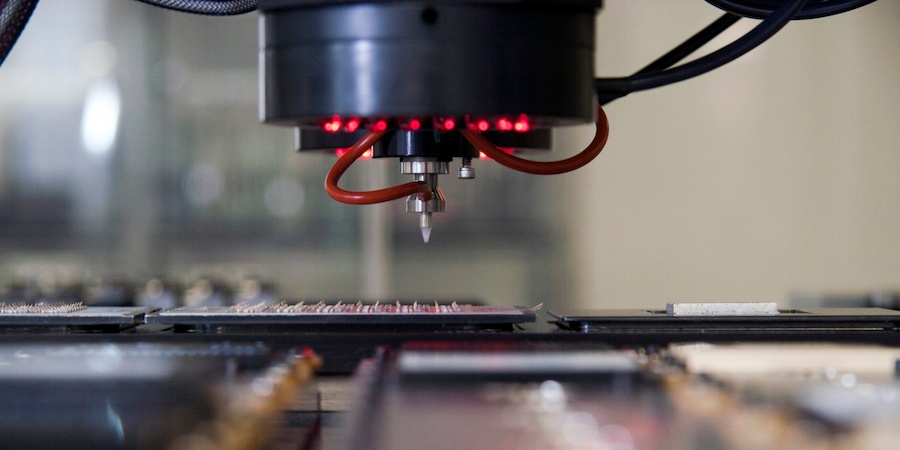 Even in 2015, there are a lot of misconceptions about inbound marketing and the importance of having an online presence. Particularly in the manufacturing sector, we still hear many prospects say that getting online really hasn't been a high priority for their company. And while it's true that manufacturer websites aren't necessarily known for drawing in gobs of internet traffic, the visitors they do attract are often high-value, sales-ready prospects. The trick is to turn some of that traffic into paying customers.
With 71% of B2B researchers starting their buyer research online these days, manufacturers can't continue to underestimate the importance of being online—especially in such a nuanced industry with highly-considered purchase decisions.
When today's buyers have questions, as those buying hi-tech equipment often do, their first instinct is to visit Google and browse the thousands of answers there. By having a website optimized for search and designed to maximize conversions, in combination with a lead nurturing strategy and regular content creation, hi-techmanufacturers put themselves in the best possible position to be found by both offline and online prospects, increasing the number and quality of new sales opportunities.
To help your hi-tech manufacturing company start developing its own inbound marketing plan, here's a step-by-step walkthrough of what your company needs to do to get started:
Step 1: Learn About Prospects and Their Pain Points
Interview Your Sales Reps, Customer Service, R&D, and Other Employees to Learn More About Your Prospects and Their Pain Points
Though you probably have a pretty good idea of what your prospects' main pain points are already, when was the last time you sat down with your employees and re-evaluated them, as well as your approach to helping solve them? If it's been a few years, I'm guessing some of their problems have changed. For example, while they might not have a problem with the way their old equipment functions, some prospects could be having problems with their old equipment integrating with the new production management software programs available today. By interviewing your sales reps, customer service, research and development, and other departments that talk to prospects on a daily basis, you can uncover these new insights you might have overlooked, and change your company's messaging to provide prospects with the answers they're looking for.
Step 2: Create Target Personas for Online Searchers
Once you've finished interviewing your employees and gathering information about your prospects, it's time you put that information to good use and develop target personas. These imaginary personas serve as the stereotypical prospects your company will target and encounter online (e.g., Marketing Manager Mike, Plant Manager Paul, Buyer Research Bill, etc.), and should help you focus on creating content that addresses their unique pain points. When creating these personas, your goal is to understand things like:
What are their job duties and responsibilities?
Who do they report to?
How much influence do they have on purchase decisions?
What motivates them?
What scares them?
What industry jargon and buzzwords do they use?
What type of information are they looking for?
What type of content do they prefer (e.g., blogs, videos, emails, etc.)?
Which social networks do they use?
What is their preferred marketing channel for finding information?
What applications do they typically use their hi-tech equipment for?
By developing these persona profiles and figuring out what really makes your prospects tick, you'll be better prepared to market your equipment to them, because you already know what they'll respond to best. And if you already have target personas developed for your company, make sure they're updated to reflect online searchers. The things that scare your prospects might not have changed much, but the way they access information about equipment could have changed significantly since you last created these personas, which will affect your content promotion strategy.
Step 3: Optimize Your Site Copy
Now that you know more about your prospects, their problems, and the different things they're looking for, it's time to use that knowledge to write website copy that's not only optimized for search, but also helps answer your prospects' burning questions. Make sure you use the same industry jargon that your target personas use when describing your equipment, and don't forget to explain how your product can address each persona's specific pain points. If your website copy was somewhat vague and filled with industry buzzwords before, tighten it up to specifically address the problems your prospects are looking for answers to. The more clear and transparent you are with your copy, the easier it is for prospects to understand your equipment's benefits—which can help lead to more sales. Remember, a blog article might draw a prospect to your site, but it's your Product Pages and other information that will truly convince prospects to purchase your equipment, so you have to get that right before working on anything else.
Step 4: Develop Content Topics for Your Target Personas
Learn to Write Articles That Help Your Ideal Customers in Their Respective Situations
With your website copy updated to attract more visitors and address your persona's pain points, now you can focus on the content you'll create to further help with those problems. Before you actually start writing anything, however, take the time to think of as many potential blog, video, email, or eBook topics as you possibly can. This way, when it comes time to create new content week after week, you'll have a whole list of fresh ideas to choose from.
How do you think of all these different topics, you ask? It's actually easier than you think. Let's say your prospects are having a problem with their equipment's slow throughput rate, for example, but don't want to risk increased speed for more potential mistakes. If your equipment can help solve that issue, coming up with a new topic can be as simple as saying, "How ______ Increases Throughput Speed and Product Quality While Minimizing Production Errors". Let's say you really want to communicate the unusual benefits of your new machine as another example. A simple headline like, "5 Benefits of ______ in Food Applications" is all it takes to capture the attention of your target personas.
Step 5: Turn Those Topics into Compelling Content
Build an Effective Editorial Calendar That Matches Prospects' Consideration Process
Now that you have your list of topics you'd like to address, the next step you should take requires taking those topics and turning them into compelling pieces of content. Looking at the list you just made, go through each topic and write down which form of content each topic is best suited for. For example, "5 Benefits of ________ in Food Applications" sounds like it'd be a nice, easy subject for a blog post. "How ______ Increases Throughput Speed and Product Quality While Minimizing Production Errors," on the other hand, might be better suited for a video explanation, with actual video of your machine in-action to demonstrate exactly what you're saying.
Once you've figured out which topics are best suited for which formats, you can create an editorial calendar for your company to follow, which will help you publish your new content on a regular, timely basis. This is something that's much easier said than done, however, and to help show you exactly how you can create a comprehensive editorial calendar for your company, make sure you read our blog post:
Editorial Calendar: The Key to Attracting Leads 24/7
Despite having websites with low traffic numbers and an industry that many people might consider "boring" or "too complicated," inbound marketing is the perfect fit for hi-tech equipment manufacturers, because inbound marketing is the perfect fit for any company whose prospects ask a lot of questions. As more and more people turn to Google as their go-to answer finder, even hi-tech equipment manufacturers can capitalize on the online searches about their industry, and those searches increase more and more every day. To find out more about why inbound marketing is perfect for manufacturers, and to help get you started with your own plan, make sure you download our free eBook below!