Discover How to Design an Inbound-Specific Website for Manufacturing.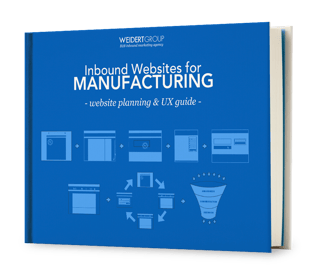 New buyers often have a lengthy sales cycle when it comes to industrial manufacturing—between three months and three years. Capturing their attention early in their search and answering their questions will put you at an advantage, and a strategically designed inbound website can accelerate their journey toward purchase.
With this free guide, you'll learn how to:
Use keywords and the power of search engines to drive traffic to your site
Structure your website's navigation and blog posts to help visitors learn about your industry and products
Accelerate potential buyers' urgency and interest in what you have to offer
Build navigation toolbars and landing pages that guide leads and capture their contact information so sales can follow up
You'll also receive sample pages and step-by-step tips on exactly which elements need to be on your website (and which ones need to go away).
Simply fill out the form to download Inbound Websites for Manufacturing: Planning & UX Guide.