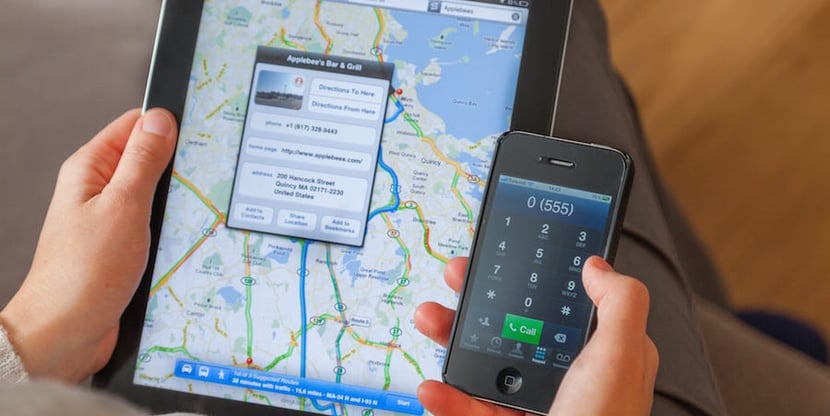 As a marketer working in digital, I rely a lot on the Internet and, as a consumer, I like features that make my life easier. This can happen only when we understand the value of relevant features and use them well.
Let's say you find a bakery that makes a decadent chocolate cake you crave; you Google the address and head out to pick it up. You arrive...and it's closed. "I hate Google! The shop's closed!" Google, however, is not to blame. If you're the owner of the bakery, not updating your information (hours of operation, location, etc.) can cost you business, but you can avoid this oversight.
My Business, Places for Business & Plus
Let's start with Google Places for Business, essentially the precursor of Google My Business.
Google My Business is the dashboard where you can manage all the information Google provides about your company when they look for you on Search, Maps, or Google+. From the phone number, website, directions, to pictures and reviews, Google helps you be found locally (and internationally), attract visitors and build your credibility as a business. Just as you spend time making your shop front attractive, you need to do the same with your online "shop window"—and Google My Business helps you do it.
Google+
Following the Facebook trend, Google wanted to create its own social network to connect all Google users. Having a Google+ account used to be a requirement to create a My Business page, but now it's just another feature of the "Dashboard." Your business can share posts and pictures, connect with visitors, and interact in communities (groups of people with the same interest) or collections (groups of posts based on the content/theme). Your customers and fans can follow you to receive your latest updates and share your posts with others.
How Do You Use Them for Your Local Business?
Google Plus
It works pretty intuitively, as most social networks. You need to have a Google or Gmail account to access your Google+; once you have an account you can add people and assign them to specific groups called "Circles" (Friends, Family, Colleagues…). Circles make it easier to reach out to a particular group of people you have in your contacts.
You may ask, "Who's using Google+?" This platform is still very attractive to communities, especially photographers—as the social network focuses a lot on photo content—but not exclusively. It's also a great opportunity for you to connect with a group of customers or fans.
As communities and collections are very specific to a type of people with the same interest (or a type of content focused on the same topic), Google+ helps you reach your ideal target with your messages. In other words, giving an interesting piece of information to the right audience is likely to create a buzz and boost your brand awareness by allowing this audience engage with your content. You can share updates, pictures, and also, you can organize and join events thanks to the event feature of Google+.
Google My Business
"What information should I register in Google My Business?" Everything! Seriously, the more the better. You want your prospects to find you and get in touch with you as easily as possible.
Information that's important to include:
Hours: Registering your business hours is critical! You don't want your visitors to wonder if you're open, or worst, to call your competitors because their hours are visible.
Phone number: Include your main number, plus mobile if you're often out of the office.
Address and directions: Your address will be represented on Google Maps by a pin pointing precisely at your building. A second benefit? Google offers a "directions" feature enabling anybody, no matter where they are, to follow the fastest route right to your location, in one click. Ah, technology!
Reviews: You should encourage your customers to give you a rating and a review, as Google takes this into account for your SEO. Needless to say, customers are influenced by those reviews while making a purchase decision.
Description: To be able to display a little description of who you are and what you do, you can visit aboutme.google.com, click on the pink plus sign and select "story." You can add a tagline and introduction to your business that Google will populate on your listing.
Pictures or virtual tour: "Listings with photos and a virtual tour are twice as likely to generate interest," according to Google. Nothing else to add.
Remember that people want to get in touch with you easily – they don't want to work to find you, and those who aren't already customers want information about your product or service.
Here is what I see when I type the keywords "Weidert Group" in Google: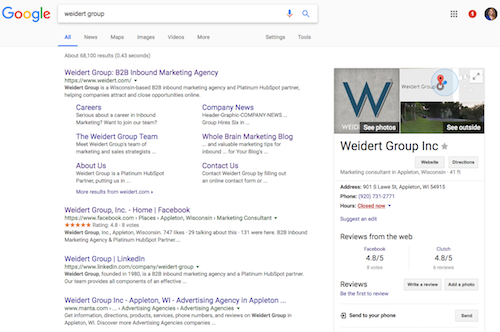 A nice listing, full of relevant information for whomever wants to contact Weidert Group.
Now, this is what I see when I type the keywords "Marketing Agency Appleton":
A map featuring the best Marketing Agencies in Appleton where Weidert Group tops the list. Take the opportunity to be found for who you are AND for what you do.
Best Practices and Benefits
Here are some best practices to help you optimize your use of these Google features. How many are you currently doing?
Multiple Locations: Let people know that you have different locations. Some companies think that registering their headquarter's address is enough to be found. Wrong! Google My Business is a great tool for local businesses. Having two offices in Wisconsin and California, how do you think people in Wisconsin will reach out to you if your only address visible on Google is the one in California? It's important to have all addresses registered so that, depending on the location of the search, Google will show the closest to the visitor. If the searcher isn't near one of the addresses, Google will offer him or her a list of the locations on a map. If you have several locations, we recommend you have one account to manage them all. Google made it easy by creating a bulk upload feature to add several locations. It can get a little tricky for businesses with a lot of locations, so make sure to be prepared to start adding your locations.
Don't neglect the reviews! Reviews are powerful and make you stand out, so monitor them and answer them when relevant. Connect with your audience and continue the conversation, especially when customers are willing to say good things about you.
Be consistent with your information. Your website and your Google+ must show the same information as what you entered in your My Business page. You might think that as long as your My Business page is updated, people will have the right information to reach out to you. Well, Google doesn't like contradictions. It'll try to make your information match what is on your website to avoid customer confusion, but this may not be the information you want your visitors to see. So, when you update a piece of information, do it on all your media.
Research, explore and use communities and collections on Google+! They're a good way to broadcast your ideas and reach your best prospects. They can also reveal influencers you want to follow or get in touch with.
Having a Google My Business page and appearing on Google Maps will help boost your visibility. The more information you give, the easier it is for your customers to find you. Do things well and Google will display your business as "verified" which will definitely increase your reputation.
Better reputation, people talking about you via reviews… you know what's coming next. Having an updated My Business page improves your SEO as your company appears in the top results in Search or Maps. "Websites that appear on the first page of Google get 54.8 percent of all clicks from users."
The easier it is to find you and the details about your business, the more likely you are to see increased number of calls or visits. Use the Insights feature to view and analyze these spikes in traffic, like number and origin of calls, keywords people use to find you and others. Knowing all this will help you adapt and refine your strategy so that you're continuing to be found.
And one last objective point: My Business is very simple to set up, it's free, and there's only one place to edit, update or add all the information about your business! No more excuses – it's time to optimize your local business search strategy!