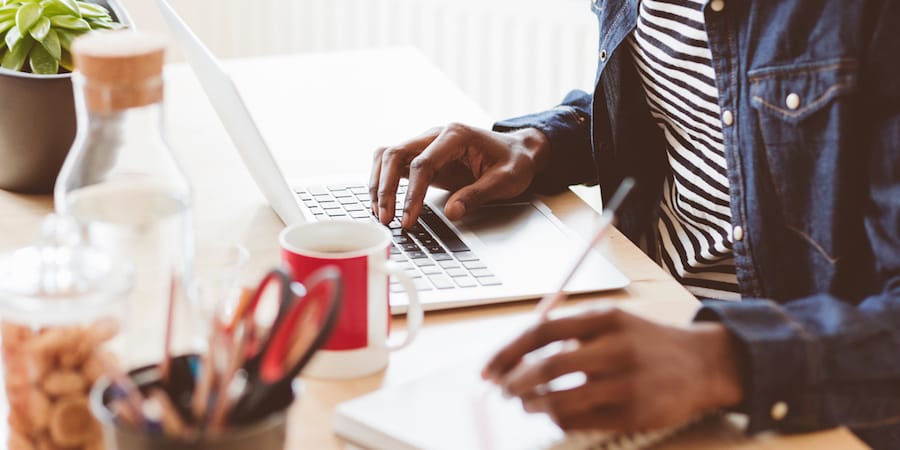 Is your company planning on launching a new website, or doing a website revamp? To keep from overburdening budgets, some companies take on the task of creating a portion of the content for their site, even if they're working with a web developer or marketing firm to "do the rest." They often find, though, that creating content is typically the most time-consuming part of developing or refreshing a website – in fact, in the more than 50 website projects I've worked on, the most painstaking part of each has been the content creation.
Plain and simple, there's often A LOT of content that needs to be developed in order to get a website completed, and not only is it time-consuming, but many bosses also expect perfection right out the gate. This leads to a lot of overpromising and under-delivering on the project timeline, adding more stress to the process. To help clients avoid situations like this, we give them the following advice to help make the content creation process easier:
1. Make it a Team Effort
When one person is assigned to create every bit of content for the new website, mistakes will happen – sometimes costly ones. Not only will that person (who may or may not have writing skills) be overwhelmed, but it's easy for things to fall through the cracks.
To avoid this mistake, tap into several people in your company to be a part of the content team. Some may act as subject matter experts, while others edit for accuracy, proofread, and even write content. The more the merrier, as they say, and also the more assured you'll be of the content's power to persuade prospects. Those creating content should be able to rely on others as they write – bounce ideas off of to make sure what they're considering is on-target and, once the content is created, people to proofread and generally evaluate the content's quality and usefulness.
2. Start with Strategy
Before your team starts writing content for your website, there should be a solid plan in place to ensure your content is hitting the mark – the "mark" being your best prospects. How do you know who your best prospects are? By knowing who your buyer personas are and what their buyers' journeys look like. These prospects are the people you're writing your website content for, and you want to keep their needs and pain points in mind as you create each page. This means aligning with their needs/questions at different stages in the buyer's journey with what they'll find on different pages. Pages targeted towards prospects in the awareness stage should have much different types of information than those geared towards prospects in the decision stage. For example, this blog post is an example of an awareness stage website page, in comparison to our pricing page, which is geared towards the decision stage.
3. Set a Realistic Timeline
Building or redesigning a website is often a long process, and can easily be underestimated due to being overly optimistic. To help you determine the amount of time people will need to spend creating content, work backwards from your planned launch date. This will help give you a better idea of the scope of the project, and can help you plan around people's schedules. Keep track of all the associated tasks on a calendar (being sure to note the start and end date of each task), and share capacity and project status regularly with your team. This way, they know what's being worked on and what might come their way, and will be able to prioritize their tasks.
Another crucial part of timeline management is team accountability. Any delays on your end create a ripple effect on your website developer, as they won't be able to work on certain pages if they don't have completed content. It's nearly impossible to design a webpage when the designer isn't sure how much content will be on it. In order to stay on time, it's crucial that you keep your team on track.
4. Continue to Improve
Post-launch, you and your web developer/agency will likely identify changes you want to make to improve the site. And that's okay. If you take a growth-driven design (GDD) approach to building and maintaining your site, your initial launch goal is to get a minimal viable product off the ground, and refine pages later based on user data you capture from the new site. You can test different ideas from your website wish list this way, and ultimately determine what is best for your user's experience based on data.
As you might already know, launching a website can be stressful and challenging, and it's even more difficult to launch a site on time. That said, if you can manage your time, resources, and tasks using the tips above, you should be able to limit any hiccups you encounter! Want to know about to continuously improve your website design with GDD? Download our free eBook below.