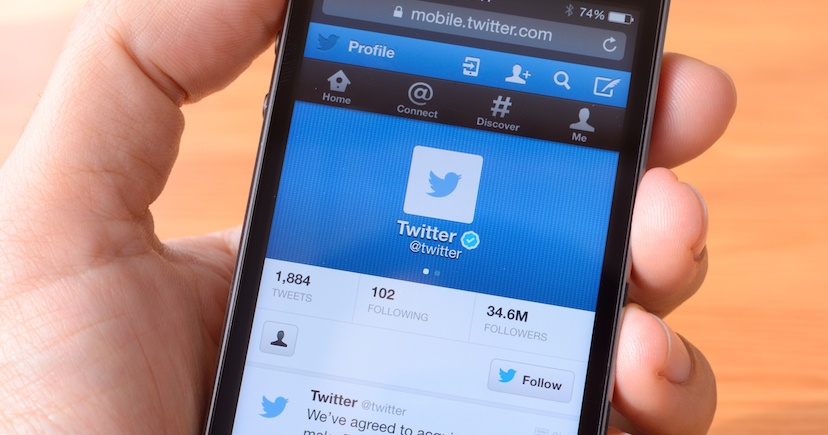 With so many different social media channels available for businesses to use, deciding which are the most valuable can almost feel a little overwhelming – especially for B2Bs. Whereas B2Cs can find and target consumers on just about any network, B2Bs often have a much harder time connecting with their audience on sites like Pinterest, Facebook, Foursquare, or Instagram. But what about Twitter?
Launched back in March of 2006, Twitter has grown to become one of the most popular social networking sites in the world. With more than 330 million monthly active users and 500 million Tweets sent per day, it's now one of the largest, around-the-clock news sources for just about anything and everything.

So why are B2Bs so unsure about Twitter?
According to the Content Marketing Institute (CMI) and MarketingProfs' 2017 B2B Content Marketing Trends—North America report, LinkedIn is the most popular social network for B2Bs with 89% of B2B marketers using it to distribute content. And although Twitter finishes in second with 77%, a lot of B2B marketers don't weight it heavy on importance in their content marketing success.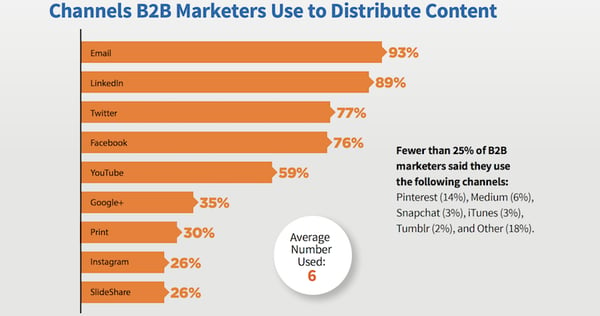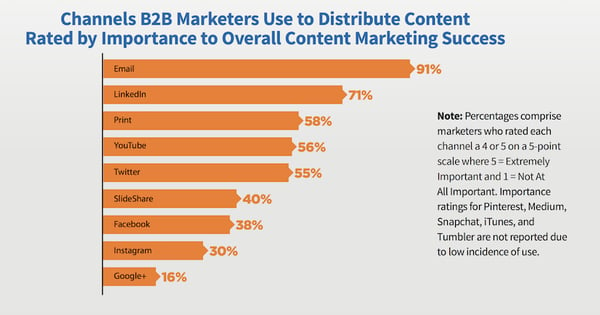 Looking at the graph, we can see that 71% of B2B marketers believe that LinkedIn is important. However, only 55% of the B2B marketers who use Twitter believe that. So what's the big deal?
Taking a closer look at LinkedIn, it's obvious why most B2Bs consider it their top social networking choice: target audience. Is your business trying to target business executives, thought leaders, and decision makers from various industries? Why not start on the social network created specifically for those people?! I mean, seems logical enough.
However, Twitter is full of those users too! Though you might have to learn how to find them, they really do exist – and in size-able numbers at that. As a matter of fact, to help convince your B2B company to start taking advantage of this valuable marketing channel, here are the top 4 reasons your B2B company should be using Twitter:
1. Target Audience
Let me repeat it once more: Twitter users cover just about every inch of the persona spectrum. Don't think they're on there for your business' industry? Check this out: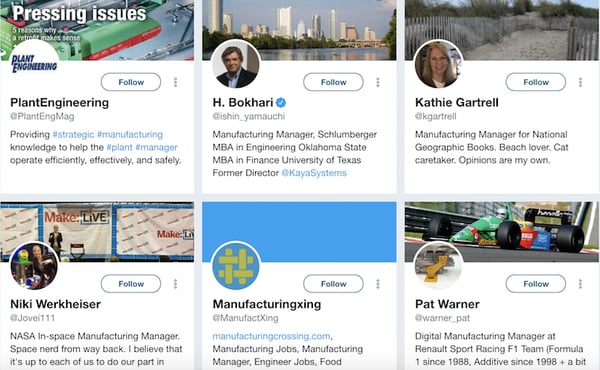 After searching for profiles with the words "manufacturing manager" in them, I was literally shown hundreds of Twitter profiles of professionals who work in a management position for a manufacturer. Try searching for terms that your target audience would use to describe themselves, and you'll be surprised at how many good potential leads you'll find.
2. Customer Service
In addition to offering a customer service email or phone line, many businesses have opted to use Twitter as a way to help their online audience get answers to their questions. Companies can setup specific customer service profiles, monitor their feeds, receive notifications anytime their Twitter handle or company is name is mentioned in a Tweet, and can respond instantly without forcing customers to call in and sit on hold for 15 minutes.
3. Competitor Analytics
Isn't it frustrating to not know where you stand amongst your closest competitors? If you don't know how well they're doing, what are you supposed to use as a benchmark for where you stand in the industry? By monitoring a few simple Twitter analytics (i.e. follower growth, Tweets, etc.), however, you can always check to see where you stand on the social media podium. Better yet, you can also keep an eye on your competitors' tactics and shared content!
4. Globalization
With over 330 million monthly active users across the globe, Twitter isn't just exclusive to the United States. If your B2B company serves multiple global markets, Twitter is the perfect social media channel to reach them all.
Though it's important not to over-stretch yourself on the different social networks, Twitter is a must-have option for B2Bs everywhere. Even if its user base isn't nearly as business-concentrated as LinkedIn's, there's still a plethora of professionals and B2B companies that your business can make connections with. Not only that, but it also provides you with an excellent social, mobile platform for sharing content and providing support for prospects and current customers. So what are you waiting for? If your business needs help setting up an attractive and effective Twitter profile, download our free Twitter eBook today!