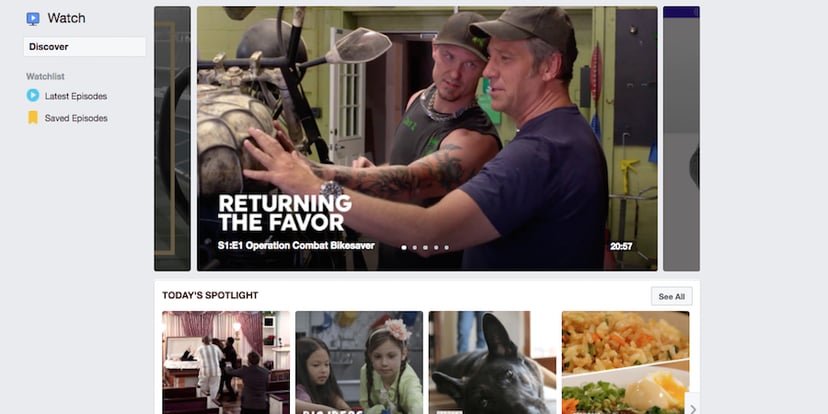 2017 has been a big year for Facebook so far, and they're turning up the heat with summer almost over. In addition to hitting the 2 billion user mark in June, the network has made a serious effort to position themselves as a prefered social network for B2B businesses. As a result, they've launched numerous new features and updates on the network, with their latest additions being Facebook Watch, 360° Cover Videos, an update to the Facebook Messaging app, as well as an important update to the Facebook newsfeed.
If you've been out-of-the-loop and missed some of these changes and updates over the past month, here's a quick recap of the new features Facebook has recently added:
Facebook Messaging App Update (Messaging Platform 2.1)
While this technically happened in the last week of July, this is one of the bigger updates to affect business pages. In a blog post from the social network, they explain their vision for the messaging app and how businesses can use it with their page to develop new ways to connect with their customers and enrich their conversational experiences on Messenger.
What exactly does this mean? It means that Facebook has upgraded their Natural Language Processing to help businesses create automated conversations (a.k.a. chatbots). So far, the technology can identify hello, bye, thanks, date & time, location, amount of money, phone number, email, and a URL. They've also upgraded the payment capabilities in Messenger to support customer checkout from within a message. With these additions, business pages will have more opportunities to connect with prospects, while positioning their Facebook Page as a go-to source when customers or prospects need a question answered.
Newsfeed Favors Websites with Faster Load Times
Just as the heading says, in the beginning of August, Facebook updated their newsfeed algorithm to prioritize webpages with faster load times. Facebook now takes into account the speed of your network connection and general speed of a website when determining what will appear in your newsfeed. If your connection and site speed are low, the story will appear lower in your newsfeed, and vice versa. For businesses, this makes it even more important to optimize your page load times and make sure you aren't being penalized.
360° Photos
With social networks encouraging users to share more visual content, Facebook has gone above and beyond by adding support for capturing 360° photos directly within the Facebook app. 360° photos can be shared like an any other picture on Facebook, allowing businesses to post them on their timeline, add them to albums, and even use them as their page's cover photo. It's perfect for showing off your cool workspace, and it's as easy as following the instructions below:
Facebook Watch
Undoubtedly the biggest new update for Facebook in August, Facebook Watch is the most recent feature added to the social network. With online video being in high demand these days, Facebook is hoping to take their 2 billion users and go head-to-head with online video and streaming giants, like YouTube and Netflix. Though the new feature seems to be geared more toward network-quality video and show production, including Facebook's own original series, it certainly opens the door for branded video content to have a place on Facebook Watch in the future.

Looking at the bigger picture for Facebook Watch, however, this is a move that should keep Facebook users on the site longer, as well as keep them coming back more frequently. The average person already spends 35 minutes a day on Facebook (as well as 40 minutes on YouTube), and with the addition of more high-quality video content, they're likely going to be spending even more time on Facebook and less on YouTube. This is a big win for businesses who advertise on Facebook, because it simply means more exposure.
As Facebook continues its reign as the most popular social network, B2Bs need to shed their outdated misconceptions about the network, and start embracing its marketing potential. Whether you use it for customer service or for its paid ad capabilities, updates like these continue to make the network more enticing for businesses, as well as users.