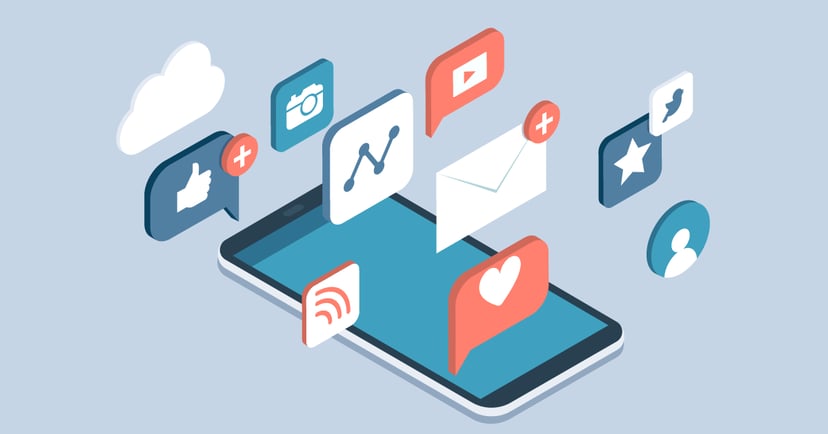 Are you overlooking one of your company's greatest potential marketing assets? It's a force that, when truly inspired, could transform your digital strategy and elevate your online presence in the marketplace. I'm talking about your employees!
Social media employee advocacy is an unlimited power source, and marketers are increasingly leveraging it to its fullest potential. While some organizations limit their employees' social media use during work hours, others are encouraging employees to share a company's brands and messaging throughout their personal social channels. Here's why your employees should play a critical role in your company's social media marketing strategy.
Employee Advocacy Gets Results
What if I told you there's a way to increase your web traffic by 500% and see a 25% increase in leads? Those are the kinds of results your company could see when employees become true social media advocates. Let's explore why this is and how it can happen.
Despite the latest and greatest marketing tactics, word-of-mouth is still an incredibly powerful channel. In fact, 83% of consumers say word-of-mouth influences their purchases, however the form in which that type of communication happens has changed. In today's digital landscape, word-of-mouth now happens within tweets, Facebook recommendations, and other social avenues.
The reality is that people are more trusting of content shared by someone they know personally rather than a faceless corporate entity. That's why a brand's message is 24 times more likely to be shared when posted on an employee's personal profile versus a company's page.
Consider the simplified example below. Say your company pages had 1,000 followers and generated 500 website visits per month and each of your 50 employees shared your content. Because each of those employees likely have a network of similar size, the impact on your marketing and sales funnel is exponential.
Happy Employees — The Key to Social Success
The types of results noted above have one major condition: employees cannot be forced to use their personal social media channels to promote a company's brand.
Creating a culture in which workers feel compelled to share their personal accounts of what's happening within a company and why the work they do matters requires a foundation that values individuals and their contributions. That type of culture cannot be created overnight, and it requires dedication and, more importantly, demonstration from leadership.
When employees are happy, they'll be more engaged and more likely to enthusiastically promote their employer and its mission. According to the Edelman Trust Barometer report, employees are the most credible voices on a company's work environment, integrity, innovation, and business practices — well ahead of the CEO, academic sources, and media spokespeople.
A global B2B procurement software provider, Coupa, experienced great success with employee advocacy. What years ago was a weekly email with a product promotion and company content grew into social media streams with relevant content (corporate blogs, professional development, leadership seminars, industry news). Just one month after employees began sharing information with their own followers, Coupa's social media reach more than quadrupled.
OK, you may not have the social leverage of a global brand with 500 employees. But don't minimize how pivotal a role employees can play, especially for B2B companies with highly complex products and services. In fact, employee advocacy works better for B2B companies than it does for B2C companies.
Make Social Sharing Easy
Just because you have happy, engaged employees doesn't mean they have the marketing skills to deploy your social advocacy initiative. It's important to give them easy-to-use tools. Here are a few suggestions for equipping employees with the support they need.
Provide resources and guidelines: what to say, what not to say, how frequently to post, and a list of potential topics and links to share
Recommend the social channels that are most important for your company (where your target buyers spend time) and a strategy for advocacy on each
Provide a list of appropriate hashtags
Offer a variety of pre-drafted messages that employees can easily copy and paste, or customize to reflect their own personalities
If an influential team member or company leader isn't comfortable posting or has limited time, suggest having a ghostwriter post on his/her behalf
Consider an email integration tool that instantly lets employees know when a new blog article publishes so they can share. Here's an example from Zapier: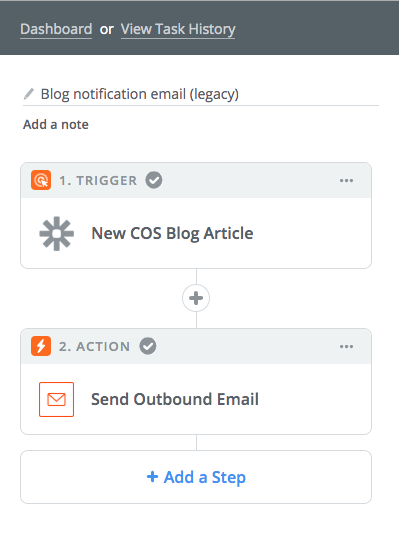 Consider creating an incentive program that rewards those who post and promote
Offer a lunch-and-learn session to educate employees and encourage them to get on board (hint: providing lunch increases participation considerably!)
Measuring the Impact of Employee Advocacy
Measuring social media success is not easy, especially when various staff members are involved in promotional efforts. Yes, each platform provides a large amount of data, but it's difficult to assess exactly how your staff is contributing because their data doesn't roll up into your company social accounts.
From our perspective, you should assess performance by the intended gross result, not individual performance. Instead of micromanaging every employee's stats, encourage a company-wide mindset shift by making this a team effort. If you really want to make a program out of your social media marketing strategy, consider regularly reporting KPIs:
Social Contribution to Website Visits: Is there a constant and steady increase in the percentage of website traffic sourced to social media at large?
The Number of New Followers Per Month: Are the number of company page followers increasing over time? Is that rate accelerating with greater staff engagement?
Average Number of Social Interactions Per Page/Blog: Does the average number of social interactions on website content pieces increase with more staff involvement
Engaged Employees Maximize Inbound Strategy
Are your workers among the 60 million American employees who already share positive comments about their workplaces online? Use these tips and begin seeing the results that a socially active workforce can have on your brand awareness and overall inbound strategy. You can go even further and ask your best clients and partners to become advocates and, of course, you can return the favor as well.
A well-optimized LinkedIn profile will boost your reach when acting as a company advocate on social media. Don't miss this infographic: 12 Tips for an Effective Manufacturing Sales LinkedIn Profile. Simply click the link below.