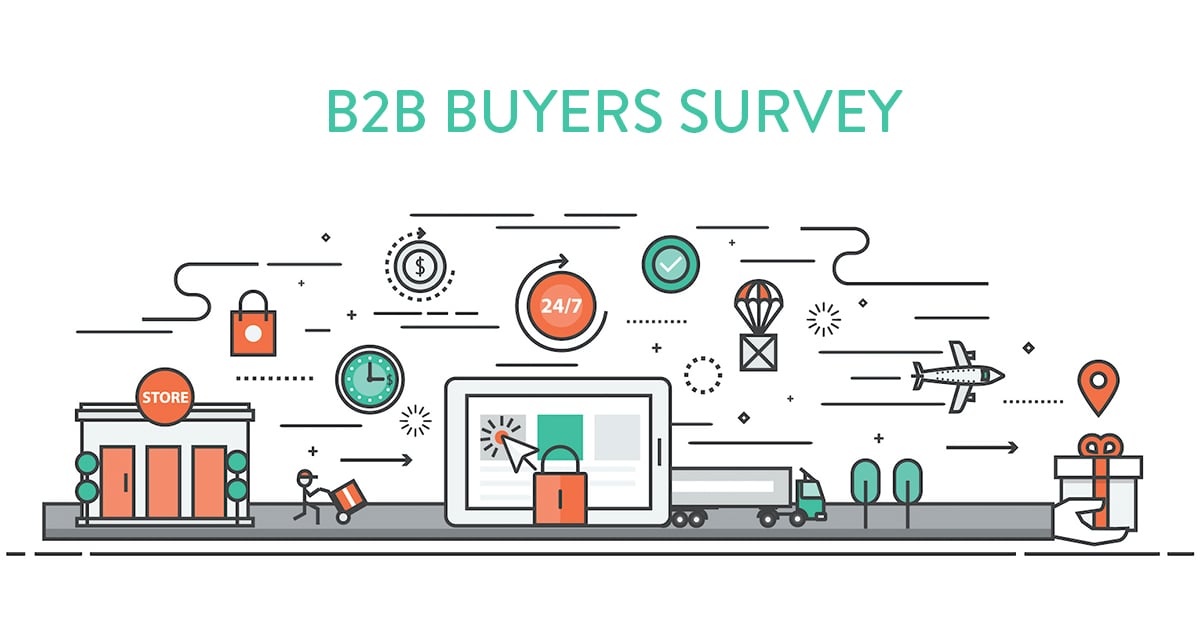 The annual B2B Buyer Behavior Study from Demand Gen Report is the touchstone for understanding B2B buying practices and preferences, improving sales and marketing strategies, and netting successful demand generation results.
This year's report does not disappoint. It is full of helpful information that manufacturers and other B2B businesses can use to enhance buyer relationships, a particularly important focus in the COVID-19 era. Why? The report itself answers the question: 47% of businesses are experiencing pandemic-related budget (and purchase) freezes. What's more, 30% have escalated some purchases based on how COVID-19 has forced a change in business needs.
It's a push-pull for manufacturers and other B2Bs. They must be available for purchase-ready buyers once budget freezes are lifted, yet flexible enough to lean into faster buying cycles for businesses with immediate needs.
While COVID-19 is certainly a major factor, it's not the only one shaping B2B buyer preferences. B2B sales and marketing teams need to be well-informed so as to foster proactive and valuable relationships.
6

Key Takeaways on B2B Buyers & Their Preferences

We're digging into six of the best findings from the 2020 B2B Buyers Survey Report to provide some takeaways that you can use this to improve your B2B buyer operations from a sales and marketing perspective.
1. The Length of the B2B Purchase Cycle Has Increased Significantly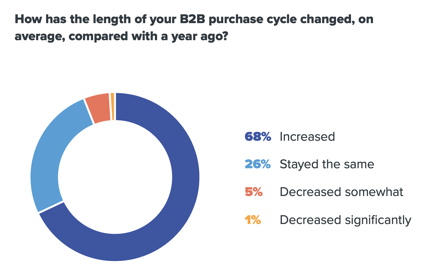 According to theB2B Buyer Behavior Study survey, 68% of buyers indicated that the length of their B2B purchase cycle has increased significantly compared with a year ago.
The 37% jump over 2019 numbers isn't the most noteworthy statistic. Rather, it's important to understand that 82% of buyer respondents are prioritizing changing business needs as they relate to purchase decisions. Further, 76% have heightened expectations around personalized solutions tailored to specific needs.
Armed with this information, sales and marketing teams can come alongside prospects and customers with practical ways to address lags in purchase cycles. Consistently providing relevant content to your potential B2B buyers makes your product or service easier to buy -- and that means gaining an advantage over your competitors.
2. The Time Required to Research Purchases Has Increased
A whopping 77% of buyers report they spend more time researching purchases compared with 2019.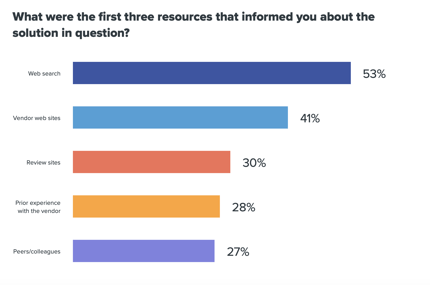 Deeper dives originate and largely remain online. The majority of buyers (91%) want a seamless user experience on websites, but they want easily accessible, applicable content even more:
48% of buyers report being positively impacted by vendor ads they see while doing research
70% of buyers consider "content that speaks directly to their industry" as very important
76% of buyers note that their ultimate vendor selection and buying decision are "significantly impacted" by content
91% of buyers want "easy access to content without long forms"
92% of buyers say that their choice of vendor is influenced by "an extensive menu of thought-leadership content"
Providing content that builds on each phase of the buyer's journey and is easily digestible -- paid ads, guides, infographics, and interactive tools, for example -- may reduce research time and tip the buyer scales in your favor.
3. Social Proof Influences B2B Buyers
Part and parcel to self-directed online research is the influence of social media. B2B buyers point to online review sites (30%) and peer/colleague recommendations (27%) as credible sources. While the latter percentage dipped considerably from the 2019 total of 65%, there's no shortage of supplemental information supporting the power of word of mouth.
In fact, HubSpot researchers recently concluded that word of mouth referrals are most persuasive in swaying certain purchase decisions 55% of the time: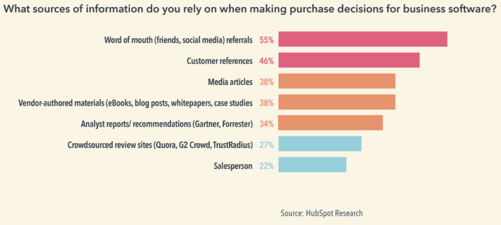 Having a strong online presence will provide additional ways for buyers to research your organization and decide whether they want to buy. Don't underestimate the power of testimonials on your site.
4. Committees Drive Purchase Cycles and Buying Decisions
The vast majority of B2B buyers (61%) report they involve more people in their purchase process than in years past. Further, 71% now have formal buying committees in place to review potential purchases.
Arguably, having more people involved can slow the process and potentially muddy buying decisions. However, larger teams can also provider manufacturers and other B2B operations with opportunities to customize the experience to very well-defined needs -- personal attention that 76% of buyers identify as wanting.
With this broad committee structure, make sure to have marketing content and messaging tailored to a range of target personas since there will be input from a number of internal voices. This basic step will help you develop a strategy that makes it easier for your buyers to get purchase agreement from all parties.
5. Features and Functionality Are Vital When Considering Solutions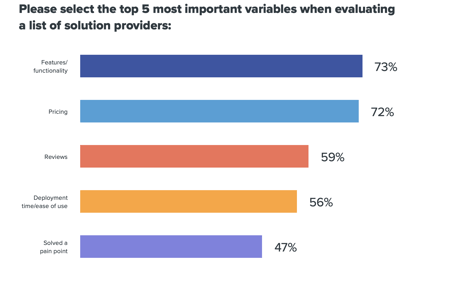 There are likely a number of competent solutions providers available to B2B buyers, but not every one will be an ideal partner. To narrow the choices, shrewd buyers also narrow the criteria. Topping the list of "must-haves" is features/functionality (product demonstrations, proof-of-concept, etc.) at 73%, followed closely by pricing at 72% — a hair-thin difference that underscores the fact that the two aren't mutually exclusive.
Manufacturers and other B2B businesses that can prove ease of use, fast deployment times, and effective yet affordable solutions to primary pain points may be able to earn buyers' trust faster than competitors.
6. Sales Teams Must Demonstrate Deep Experience/Understanding of Buyers' Industries
While there is a perception that the advent of online connectivity marginalizes their roles, sales teams remain instrumental in B2B buyers' purchase decisions.
The Demand Gen report cites that 36% of buyers are engaged with vendor sales reps within the first month of performing initial research, and 76% are working with their selected vendor's sales teams within three months.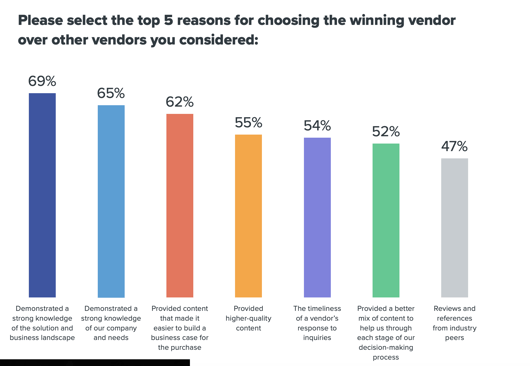 Not surprisingly, then, "strong knowledge of the solution and business landscape" leads the reasons behind vendor selection, which is nearly paralleled by needing vendors to "demonstrate a strong knowledge of [their] company and needs."
Vendor sales teams that do so bolster B2B buyer perceptions:
81% said their interactions with vendor sales reps positively influenced their decision to ultimately select that vendor
91% felt that the sales reps were well-informed about their company, situation, and industry
Provide content that is relevant and customized to buyer needs. Marketing and sales materials such as case studies, industry reports, and B2B partner strategies demonstrate knowledge and expertise while also being practical tools for B2B buyers to use as they assess potential purchases and partners.
Overall, the behaviors of B2B buyers are trending toward being more consumer-like, perhaps now more than ever. Some of this is due to greater influence of outside voices echoed on review sites and word of mouth exchanges, as well as more input from internal committees about purchase decisions. Also, the impact of COVID-19 cannot be denied. Purchases at all levels are becoming more involved and highly considered — an increasingly prevalent norm moving forward born out of the "new normal" of the pandemic.
Buyers want to be educated via content, and they want a personalized experience that is relevant and valuable at every stage of purchase consideration. Mapping the buyer's journey has taken on added importance, and is made easier using our Buyer's Journey Worksheet and Template.