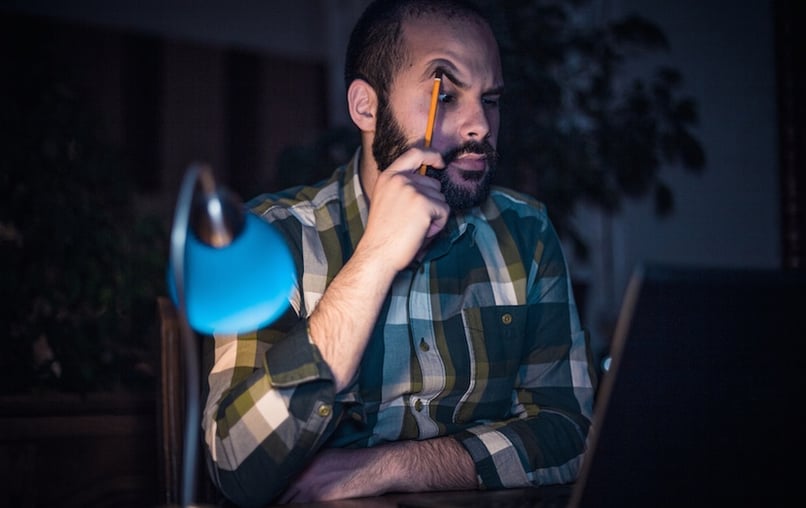 Bad news salespeople—just like the teenager/parent relationship, the modern, B2B buyer doesn't need you...well, at least until they decide they need you. And when that all-important moment occurs, it's definitely on their terms—so you best be ready to meet them at their time of need.
Unlike stereotypical teens, however, B2B buyers are much more rational beings. They plan ahead. They do their homework. They have initiative. They take notes. They look for solutions. They pick up their rooms.
Let's take a closer look at how these buyers conduct business and what the subsequent implications are for B2B companies' marketing and sales initiatives.
1. Buyers are Taking the Lead
While not ultra current (but we can assume current enough), 2015 consumer insights from Google show that 90% of B2B online buyers use search specifically to research business purchases, and they conduct an average of 12 searches BEFORE engaging on any particular brand's website. About 71% of these folks start on a generic search query, so they're looking for product options and solutions first, not specifically for you. By the time they do get to your site, many are well down the path toward making a decision about what they need and want.
The fact that buyers are taking the lead was acknowledged in a HubSpot research study in which almost 60% of front line sales reps acknowledged buyers are less dependent on sales during the buying process compared to just 2-3 years ago.
2. Buyers are Researching Longer
The 2016 B2B Buyer's Survey Report shows that buyers continue to carefully and thoroughly research potential purchases, with almost half of those surveyed stating that their purchase cycle is longer than the prior year. One key reason for this is these buyers are spending more time doing research and are reviewing more sources in the process. In addition, buyers are conducting more in-depth ROI analysis, and the number of people involved in the B2B buying process is larger, which means more information is required along with more time to review it.
3. Buyers Want Video
While you may not immediately think video is a big part of the B2B buying process, it's actually a vital part of research at both the awareness stage and the consideration stage. The same Google report mentioned above states that 70% of buyers use video in their research process. Most buyers are watching 30 minutes or more of that content, while one in five watch an hour or more. Videos that explain product features are among the top viewed ones, followed by how-to and professional reviews.
4. When Buyers are Ready to Talk, They're Ready to Talk
Given the amount of time spent doing research, when buyers are ready to talk to a sales rep, they're really ready to talk. Now. To quote my infamous teenager, "I want what I want when I want it."
According to the Demand Gen Report, buyers expect speedy, helpful service—almost three-quarters (70%) of those surveyed said "timeliness of a vendor's response to inquiries" was one of the reasons they selected the winning vendor. Also, when they were asked what their chosen vendor could have done better to improve the buying process, better follow up and response time and a better sense of urgency were among the top responses.
Read Our Complete Guide to Inbound Sales for Manufacturing
Implications for Sales & Marketing
1. Sales Must Have a Consultative Mindset
Because buyers are entering the sales funnel much later, due to the volume of research they're conducting, salespeople need to be ready to handle a more well-informed customer. As such, the traditional initial buyer and salesperson interaction becomes obsolete. A recent report from Forrester discussed the skills a successful salesperson needs to have today:
Embraces technology
Shares new ideas
Exhibits business acumen
Communicates effectively
Seeks collaboration
Leverages data
The buyer is in a more powerful position and is driving the conversation to get the information they need. Consequently, sales has to have a different mindset. They must be truly prepared to listen and have much more in-depth knowledge about what they're selling, and they must be skilled at showing how it aligns with customers' needs within the industries in which they work. They also may need to get a bit more creative in terms of how they communicate with customers and how they wrangle the information they want out of the buyer—things related to timeline, buying authority, etc., as their needs will need to come second to those of the buyer.
2. Provide Content That Teaches
Both sales and marketing need to be prepared to teach and find ways to help buyers decode and process all the information they need to make a decision. This means:
Making shared information extremely relevant to customers' unique needs. As the Demand Gen Report mentions, personalization ranks as especially crucial in the purchase process. When researching potential products, for example, buyers overwhelmingly gravitate toward companies that demonstrate "a stronger knowledge of our company and its needs." In other words, B2B buyers are asking "What can your solution do for me?" and "How can I be sure it's the right fit for my business?" If you're going to earn buyers' trust, you need to show them you understand their problems and the issues they're trying to resolve.
Being upfront and transparent. This means providing easy access to pricing and competitive information on your website (ranked by 90% of buyers as being highly important when doing research) as well as making it abundantly clear who the ideal users/purchasers of the product are.
Video is essential. Given its use and importance in the research process, marketers need to produce video content that helps buyers learn about what you offer, see how it works in the field, and compare options and other methods.
Looking for a way to better understand your B2B buyers? Download this Buyers Journey Worksheet for an easy-to-use template, and start offering the knowledge your next customers are waiting for!