What is Inbound Sales for Industrial Manufacturing?
Before the advent of the Internet, salespeople were essential to the buying/selling process because they were the only ones who could answer prospects' questions. Today, the information buyers need to make a purchase decision is just a click away–representing a significant shift in power from seller to buyer.
The shift may partially explain why online engagement is the last point of influence for 57% of industrial manufacturers. Many sellers don't take the following into consideration:
90% of B2B buyers use online search tools specifically to research business purchases
Buyers have completed nearly 70% of the buying process before they ever identify themselves to a sales representative
Buyers conduct an average of 12 product-related searches before ever engaging on any particular company's website
These statistics reflect a new reality: salespeople are increasingly cut out of the majority of a prospect's buying process, making it very difficult to influence purchase decisions.
That's why smart organizations are implementing an Inbound Sales approach to engage their best prospects. This methodology focuses on the buyer–not the seller–with a sales process that's personalized to the buyer's context.
Inbound Sales is comprised of four stages: Identify, Connect, Explore and Advise.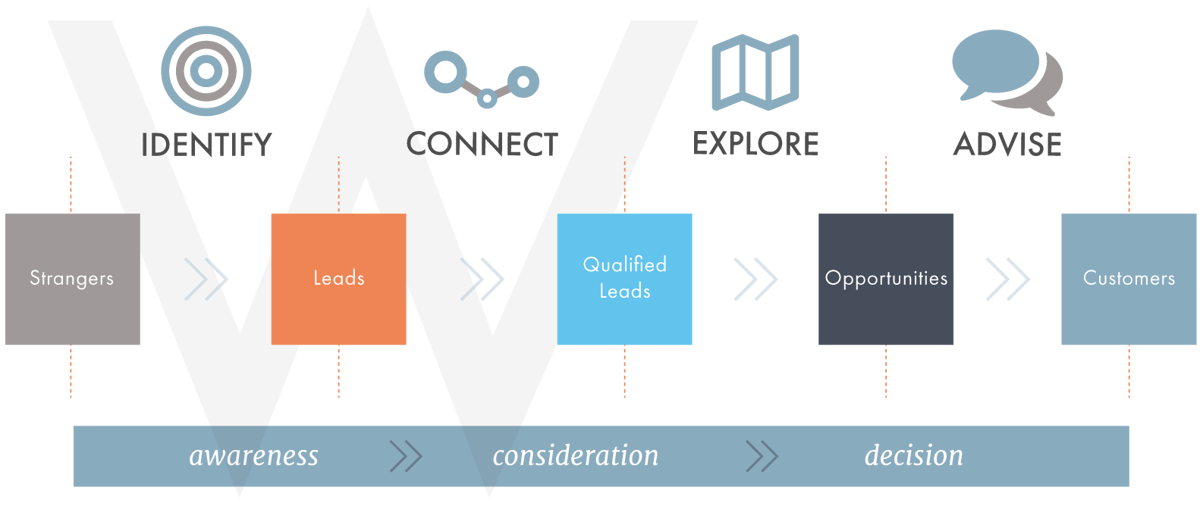 Identify
By engaging with marketing content or by directly reaching out to a sales representative, a prospect essentially "raises his or her hand" and self-identifies as a potential buyer. Inbound Sales lets you know if and when a lead is active in the buying process, eliminating the need for cold calls. This prioritizing of leads makes sales contact more effective, welcomed and even expected by potential buyers.

Connect
Lead nurturing is a key component in the Connect phase since your Marketing department develops and provides useful content so leads can evaluate the information and answer their own questions.
Traditional/legacy salespeople have a standard elevator pitch they deliver to everyone. Not surprisingly, this generic approach usually results in poor response rates, no meetings set, and lots of wasted time. With Inbound Sales, you connect with a prospect by personalizing a message to their specific context–something you're able to do because you know what they've downloaded, what pages of the site they've visited, how they've answered key questions on forms on your site, how frequently they are visiting, etc. Moreover, you connect with a disciplined approach called a Connect Attempt Sequence once the data reflects the lead is likely to engage in the sales process.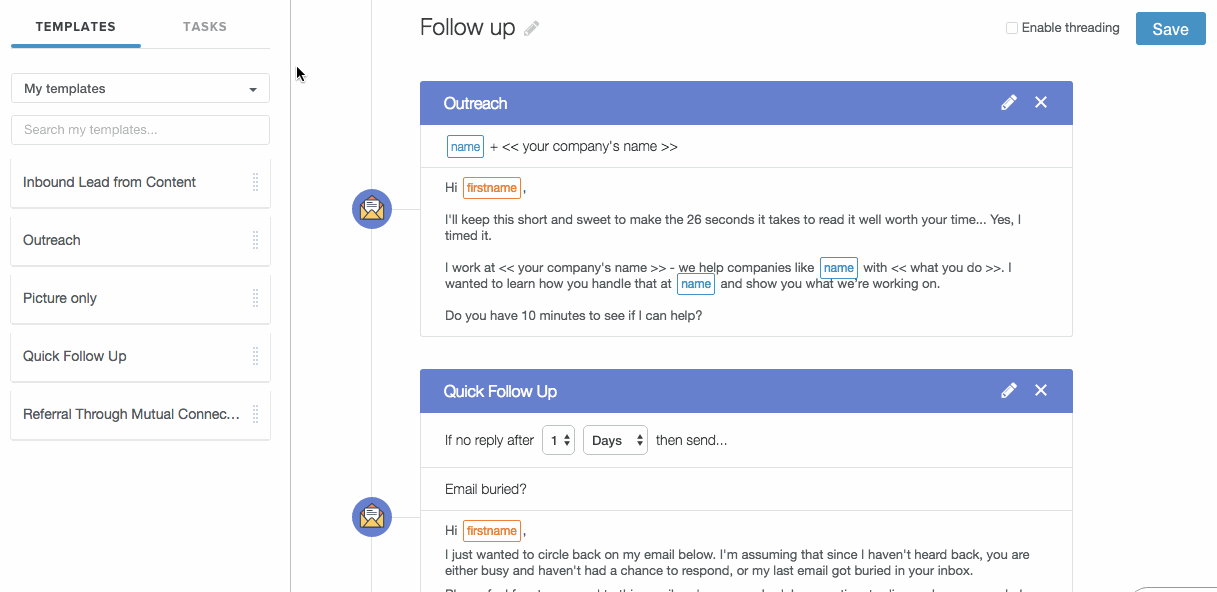 How Social Selling Fits into the Connect Phase of Inbound Sales
Social selling, not to be confused with social media marketing, is the process of using social media to develop relationships as part of the sales process. With buyers spending more time online researching their purchases, they're influenced by the content they see on social media and the people with whom they're connected. For salespeople, this provides opportunities to keep buyers informed, address pain points, maintain contact throughout a long sales process, keep your company top-of-mind, and much more.
B2B sales is no longer a phone and email game. LinkedIn is an important soft-touch selling tool for industrial manufacturers that, when combined with the right LinkedIn social selling tactics, allow sales reps to better engage their prospects.

Explore
By the time you reach the Explore phase of Inbound Sales, you've identified and connected with a lead and know that further conversation is warranted to determine if the partnership would be a good fit.
The Explore phase results in one of three potential outcomes:
Determine it's a fit and get buy-in for next steps

Determine it will never be a fit
Determine it's not a fit right now
Tools like BANT and GPCT will help you uncover if a prospect is ready to move to the Advise stage of the Inbound Sales process. There's no shame in disqualifying a lead early in this process. In fact, it's valuable. Inbound sales people avoid spending time with prospects who won't move forward–time they can redirect towards finding and helping buyers who need and want assistance.

Advise
The Advise phase of Inbound Sales essentially equates to the "close" stage. However, instead of a salesperson focusing on making a sale, they're focused on personalizing the approach and solution to the buyer's context, ultimately confirming that what is offered aligns with what's needed.
The ideal outcome at the conclusion of the Advise phase is, of course, a sale. A strong sales proposal will close the deal. There are nuances with all industries and companies that will shape the format and flow of a sales proposal. Getting input from both Sales and Marketing to determine what your essential pieces are goes a long way to preparing and leveraging a winning sales proposal template.